Tiffany Shlain's Dendrofemonology
Feminist History Tree Ring
Tiffany Shlain's Dendrofemonology, presented by the National Women's History Museum and Women Connect4Good, remakes the historical tree ring into a timeline of the story of women and power in society. The tree ring—a slice of deodar cedar—will be on display at the National Mall in Washington, DC from November 1-4. Together with an extensive coalition of participating organizations, the activation includes four days of live and live-streamed speakers, robust voter and educational resources, art, community, and a powerful social campaign to engage and inspire people around the country.  Learn more and sign-up to join us in-person or online here, and read our interview with Tiffany here.
As part of the activation, artist Tiffany Shlain is asking participants to reflect on the following questions, and submit your own answers here.
What's a line on the tree ring that's meaningful to you? Why?
What's a feminist history milestone not on the tree ring that has helped pave the path for you? How so?
What do you hope we vote as the next milestone in feminist history?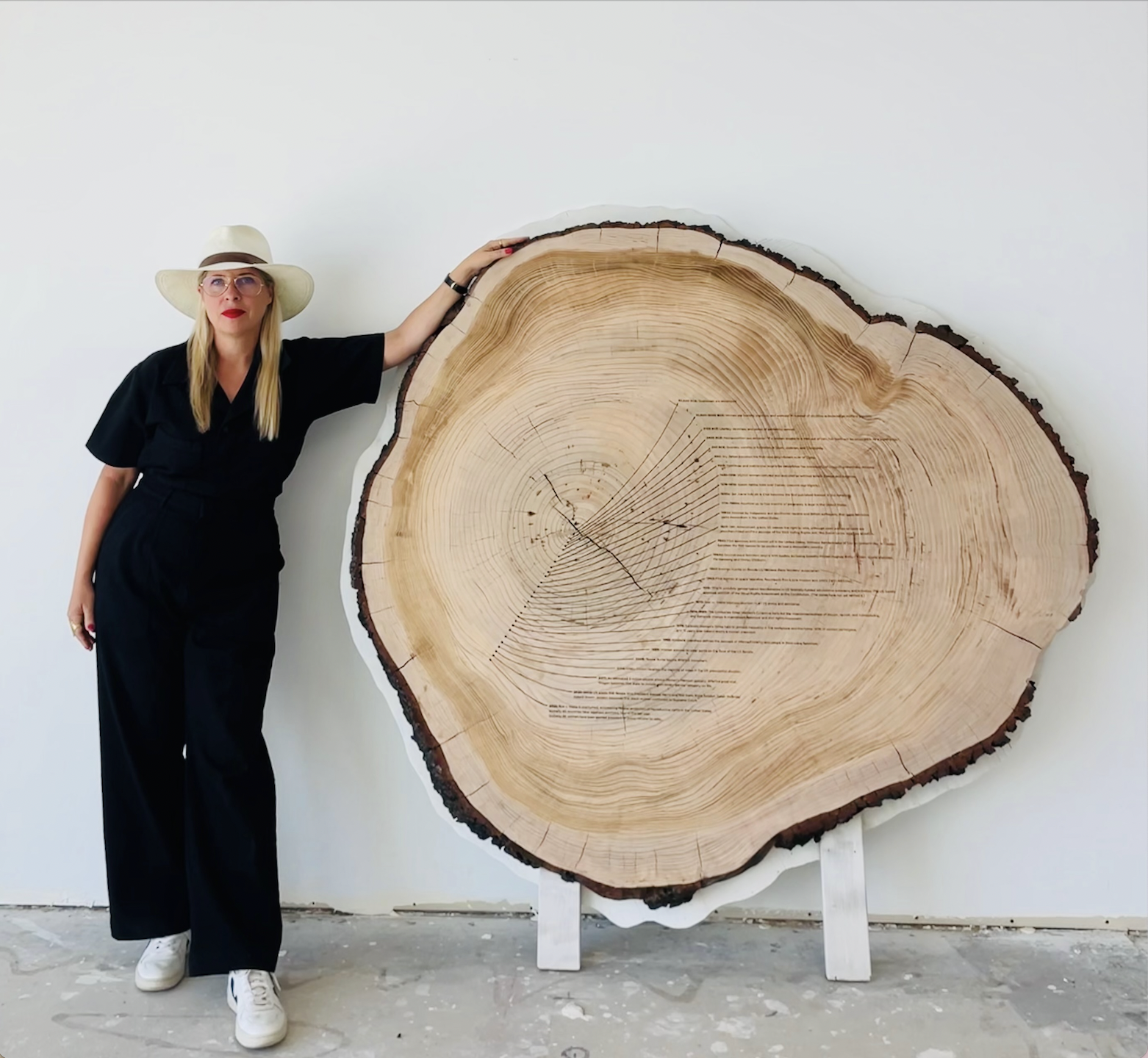 Art Exploration: Dendrofemonology 
At NWHM, women's history is history – we explore U.S. history through the lens of gender. Tiffany Shlain's artwork, Dendrofemonology, points to 30 specific ideas, people, and events that inspired her to think about history through this lens. You can use the following thinking routines and learning resources to explore the artwork itself as well as dive deeper into the historical people and actions that inspired the art work.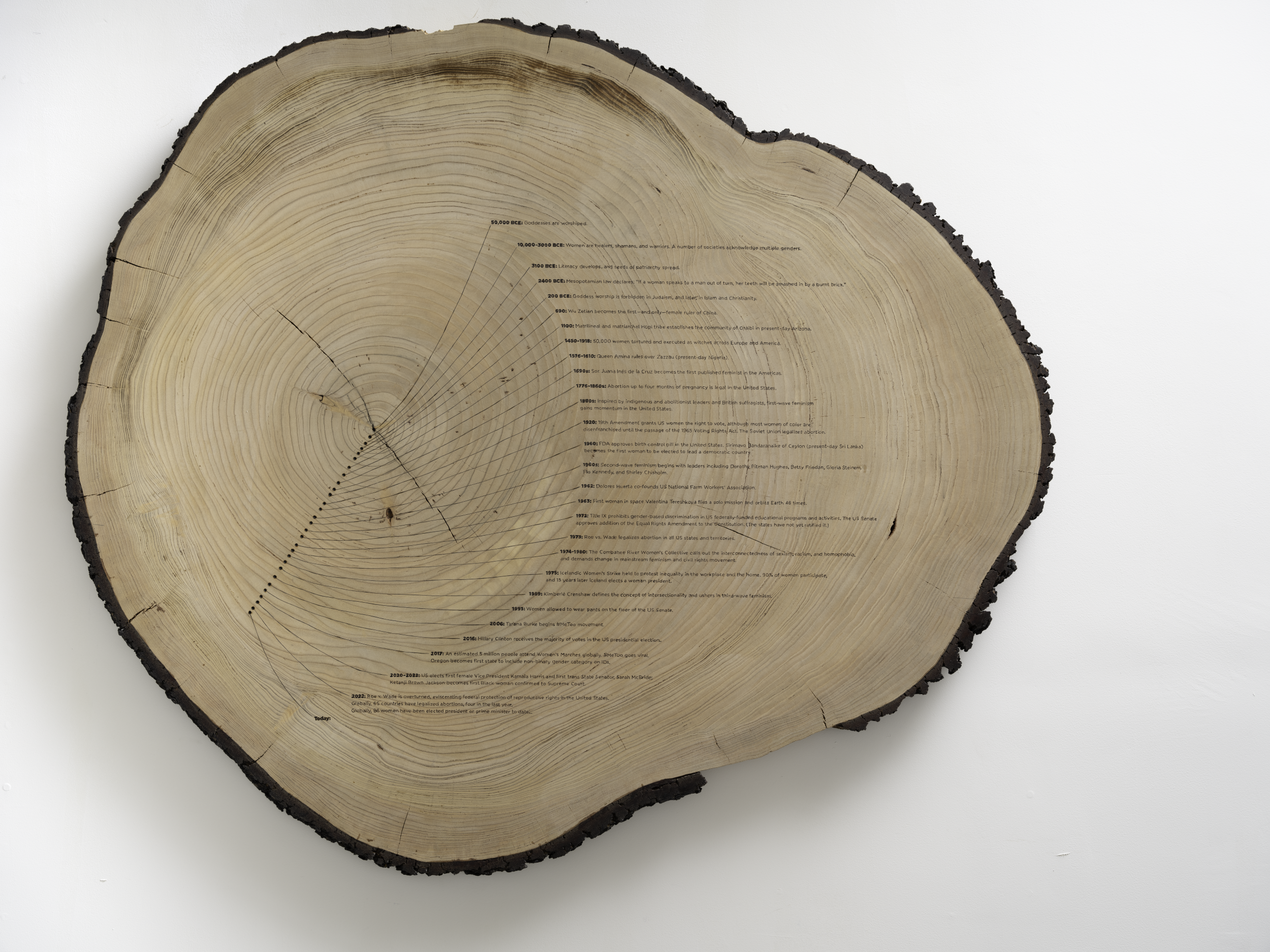 Take a closer look at Dendrofemonology, and use Project Zero's See Think Me We thinking routine to guide discussion: 
SEE: Look closely at the artwork. What do you notice? Make lots of observations. 

THINK: What thoughts do you have about the work? 

ME: What connections can you make between you and the work? 

WE: How might the work be connected to bigger stories – about the world and our place in it? 

As you wrap up your exploration of the art work, think about this final question: What events, ideas, or people would you include in an art work inspired by history? What stories from history do you wish were told more? 
Dendrofemonology includes the following events, ideas, and people (from top line downward): 
50,000 BCE Goddesses are worshiped.  

10,000-3000 BCE Women are healers, shamans, and warriors. A number of societies acknowledge multiple genders. 

3100 BCE Literacy develops, and seeds of patriarchy spread. 
2400 BCE Mesopotamian law declares: "If a woman speaks to a man out of turn, her teeth will be smashed in by a burnt brick."  

200 BCE Goddess worship is forbidden in Judaism, and later, in Islam and Christianity. 

690  Wu Zetian becomes the first—and only—female ruler of China.   

1100 Matrilineal and matriarchal Hopi tribe establishes the community of Oraibi in present-day Arizona. 

1450 to 1918 50,000 women tortured and executed as witches across Europe and America. 
1576-1610 Queen Amina rules over Zazzau (present-day Nigeria). 

1690s Sor Juana Inés de la Cruz becomes the first published feminist in the Americas. 

1776-1860s Abortion up to four months of pregnancy is legal in the tthe United States. 

1880s Inspired by indigenous and abolitionist leaders and British suffragists, first-wave feminism gains momentum in the United States. 

1920 19th Amendment grants US women the right to vote, although most women of color are disenfranchised until the passage of the 1965 Voting Rights Act. 
1920 The Soviet Union legalizes abortion. 

1960 FDA approves birth control pill in the United States. 

1960 Sirimavo Bandaranaike of Ceylon (present-day Sri Lanka) becomes the first woman to be elected to lead a democratic country. 

1962 Dolores Huerta co-founds US National Farm Workers' Association. 

1960s Second-wave feminism begins with leaders including Dorothy Pitman Hughes, Betty Friedan, Gloria Steinem, Flo Kennedy, and Shirley Chisholm. 
1963 First woman in space Valentina Tereshkova flies a solo mission and orbits Earth 48 times. 

1972 Title IX in prohibits gender-based discrimination in US federally-funded educational programs and activities. 

1972 The US Senate approves addition of the Equal Rights Amendment to the Constitution. (The states have not yet ratified it.) 

1973 Roe vs. Wade legalizes abortion in all US states and territories. 

1974-1980 The Combahee River Women's Collective calls out the interconnectedness of sexism, racism, and homophobia, and demands change in mainstream feminism and civil rights movement. 
1975 Icelandic Women's Strike held to protest inequality in the workplace and the home. 90% of women participate, and 15 years later Iceland elects a woman president. 

1989 Kimberlé Crenshaw defines the concept of intersectionality and ushers in third-wave feminism. 

1993 Women allowed to wear pants on the floor of the US Senate. 

2006 Tarana Burke begins #MeToo movement. 

2016 Hillary Rodham Clinton receives the majority of votes in the US presidential election. 
2017 An estimated 5 million people attend Women's Marches globally. #MeToo goes viral. 

2017 Oregon becomes first state to include non-binary gender category on IDs. 

2020-2022 US elects first female Vice President Kamala Harris and first trans State Senator, Sarah McBride; Ketanji Brown Jackson becomes first Black woman confirmed to  Supreme Court. 

2022  

Roe v. Wade is overturned, eviscerating federal protection of reproductive rights in the United States. 
Globally, 65 countries have legalized abortions, four in the last year. 

Globally, 86 women have been elected president or prime minister to date… 
Further Resources for Dendrofemonology
Biographies
Explore the stories featured in Dendrofemonology or tied to events highlighted in the art work. 
Exhibits 
Learn more about women's history in the U.S., including the four waves of feminism series. 
Lesson Plans 
You can explore the people, ideas, and events that inspired Dendrofemonology in your classroom! 
Videos 
Watch presentations on important moments in U.S. history that connect to the people, ideas, and events featured in the art work. 
Further Reading 
Follow up on the historical events and figures that inspired Dendrofemonology.  
"I have always been fascinated by the tree ring timelines at the entrance of the National Parks, but felt like they usually tell colonial/patriarchal stories. I wanted to reimagine what it would like if they recounted women's history and the struggle for equality. We always say history is written by the victors. Perhaps when that same story is written from a different perspective, a better present and future will emerge."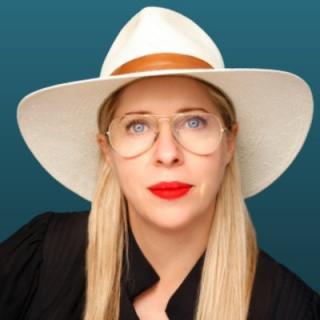 About Tiffany Shlain
Honored by Newsweek as one of the "Women Shaping the 21st Century," Tiffany Shlain is an artist, activist, Emmy-nominated filmmaker, national bestselling author, and the founder of the Webby Awards. Working across film, art, and performance, Shlain's work explores the intersection of feminism, philosophy, technology, neuroscience, and nature. The Museum of Modern Art in New York premiered her one-woman spoken cinema show, Dear Human.  Her recent art exhibition, Human Nature, was presented by the National Women's History Museum and one of the sculptures from that show DENDROFEMONOLOGY, a feminist history tree ring, is set to be displayed on the National Mall in DC this fall. Her awards and distinctions include selection by the Albert Einstein Foundation for their Genius100 list, the Neil Postman Award for Career Achievement in Intellectual Activity, and inclusion in NPR's list of best commencement speeches. Shlain is known for her dynamic cinematic talk experiences and performs internationally. Her films have had multiple premieres at the Sundance Film Festival, received over 60 awards.and have been shown at US Embassies around the world to represent America. Her book, 24/6: Giving up Screens One Day a Week to Get More Time, Creativity, and Connection, received the Marshall McLuhan Outstanding Book Award. Shlain next exhibition is part of the Getty Museum's Pacific Standard Time: Art & Science Collide art event with Ken Goldberg at the Skirball Cultural Center in Los Angeles set for Oct 2024.  Follow Tiffany at @tiffanyshlain.