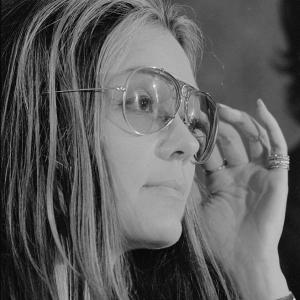 From her humble Ohio childhood, Gloria Steinem grew up to become an acclaimed journalist, trailblazing feminist, and one of the most visible, passionate leaders and spokeswomen of the women's rights movement in the late 20th and early 21st centuries.
Steinem was born on March 25, 1934 in Toledo, Ohio, the second child and daughter of Leo and Ruth Steinem. Her father worked as a traveling salesman. In 1944, her parents divorced, leaving a young Steinem to take care of her mentally ill mother in Toledo. After graduating high school, her sister came to care for their mother, and Steinem attended Smith College in Massachusetts where she studied government. She graduated magna cum laude in 1956 and earned the Chester Bowles Fellowship, which enabled her to spend two years studying and researching in India. Her time abroad inspired an interest in grassroots activism, which would later manifest itself in her work with the women's liberation movement and the Equal Rights Amendment.
Steinem started her professional career as a journalist in New York, writing freelance pieces for various publications. Getting plumb assignments was tough for women in the late 1950s and 1960s, when men ran the newsrooms and women were largely relegated to secretarial and behind-the-scenes research roles. Steinem's early articles tended to be for what was then called "the women's pages," lifestyle or service features about such female-centered or fashion topics as nylon stockings. Steinem once recalled that, "When I suggested political stories to The New York Times Sunday Magazine, my editor just said something like, 'I don't think of you that way.'"
Undeterred, Steinem pushed on, seeking more substantial social and political reporting assignments. She gained national attention in 1963 when Show magazine hired her to go undercover to report on the working conditions at Hugh Hefner's Playboy Club. While Steinem's expose—"I Was a Playboy Bunny"—revealed the not-so-glamorous, sexist, and underpaid life of the bunny/waitresses, Steinem struggled to be taken seriously as a journalist after this assignment. She worked hard to make a name for herself, and in 1968, she helped found New York magazine, where she became an editor and political writer.
At New York magazine, Steinem reported on political campaigns and progressive social issues, including the women's liberation movement. In fact, Steinem first spoke publicly in 1969 at a speak-out event to legalize abortion in New York State, where she shared the story of the abortion she had overseas when she was 22 years old. The event proved life-changing, sparking Steinem's feminism and engagement with the women's movement. She attended and spoke at numerous protests and demonstrations, and her strong intellect and good looks made her an in-demand media guest and movement spokesperson.
In 1970, feminist activists staged a take-over of Ladies Home Journal, arguing that the magazine only offered articles on housekeeping but failed to cover women's rights and the women's movement. Steinem soon realized the value of a women's movement magazine, and joined forces with journalists Patricia Carbine and Letty Cottin Pogrebin to found Ms. Magazine. It debuted in 1971 as an insert in New York magazine. In 1972, Ms. became an independent, regular circulation magazine. Steinem remained an editor and writer for the magazine for the next fifteen years and continues in an emeritus capacity to the present.
Steinem's life has been dedicated to the cause of women's rights, as she led marches and toured the country as an in-demand speaker. In 1972, Steinem and feminists such as Congresswoman Bella Abzug, Congresswoman Shirley Chisholm, and feminist Betty Friedan formed the National Women's Political Caucus. It continues to support gender equality and to ensure the election of more pro-equality women to public office. Other organizations Steinem has co-founded in her vast career include the Women's Action Alliance (1971), which promotes non-sexist, multi-racial children's education; the Women's Media Center (2004) to promote positive images of women in media; Voters for Choice (1977), a prochoice political action committee; and the Ms. Foundation for Women. In the 1990s, she helped establish Take Our Daughters to Work Day, the first national effort to empower young girls to learn about career opportunities.
In 2000, at age 66, the long single Steinem married for the first time in a Cherokee ceremony in Oklahoma. Her husband, entrepreneur and activist David Bale, sadly died of lymphoma four years later.
An award-winning and prolific writer, Steinem has authored several books, including a biography on Marilyn Monroe, and the best-selling My Life on the Road. Her work has also been published and reprinted in numerous anthologies and textbooks. In 2013, President Barack Obama presented her with the Presidential Medal of Freedom, the highest civilian honor. In her honor, in 2017, Rutgers University created The Gloria Steinem Endowed Chair in Media, Culture, and Feminist Studies.
Heilbrun, Carolyn G. The Education of a Woman: The Life of Gloria Steinem. (Dial Press, 1995).

HBO Documentaries. Gloria: In Her Own Words.

Steinem, Gloria. My Life on the Road. (Random House, 2016).

Steinem, Gloria. Outrageous Acts and Everyday Rebellions, Second Edition. (Holt Paperbacks: 1995).

PHOTO: Library of Congress
MLA – Michals, Debra. "Gloria Steinem." National Women's History Museum, 2017. Date accessed.
Chicago – Michals, Debra "Gloria Steinem." National Women's History Museum. 2017. www.womenshistory.org/education-resources/biographies/gloria-steinem.
Web Sites:
Books:
Marcello, Patricia Cronin. Gloria Steinem: A Biography. (Greenwood Press, 2004).

Steinem, Gloria. Revolution from Within: A Book of Self-Esteem. (Little Brown and Co., 1993).

Steinem, Gloria. Moving Beyond Words: Age, Rage, Sex, Power, Money, Muscles: Breaking the Boundaries of Gender
Videos: