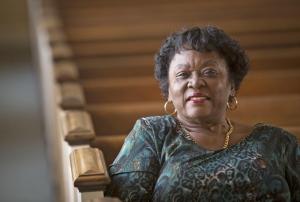 Mrs. Willie Pearl Mackey King, civil rights activist
In April 1963, days after Martin Luther King, Jr. was jailed for public protests in Birmingham, Alabama, he began smuggling notes out of jail through his lawyers. The notes, which became known as the "Letter From a Birmingham Jail," were written along newspaper edges, table napkins, toilet paper and whatever scraps of paper that Dr. King could find to write on. The job of deciphering King's handwritten notes and transcribing them fell to Mrs. Willie Mackey King, a member of the executive staff for the Southern Christian Leadership Conference under the leadership of Dr. King.
Mrs. King kindly shared her life story with the National Women's History Museum.
Listen here. 
Recorded on June 5, 2021 in Silver Spring, MD, by Michelle Gleeson.
Image credit: Toby Jorrin.
---
Rosie the Riveter Oral Histories Project: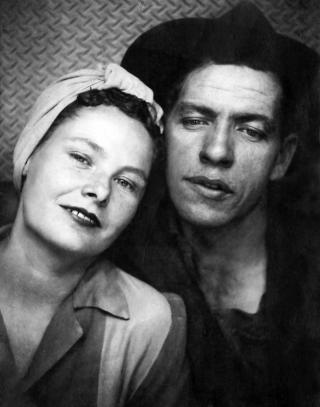 As American men left the industrial labor force to enlist during World War II, more American women entered the workforce in unprecedented numbers. The demands of a wartime labor market made it more acceptable for women to take on jobs in manufacturing, utilities, and transport that in peacetime had mostly been done by men. The War Advertising Council, which implemented a massive national campaign to further usher women into the workplace, became an integral part in organizing the movement.
Recruiting an additional two million women into the workforce to support the war economy, the "Women in War Jobs" campaign is considered to be the advertising industry's most successful recruitment campaign in the United States. The iconic image of Rosie the Riveter was explicitly aimed to change public opinion about women's work, and the underlying theme of the campaign was to show that the social change required to bring more women into the workforce was both a patriotic responsibility for women, and an opportunity for employers to support the war economy. In movies, newspapers, posters, photographs and articles, the Rosie the Riveter campaign stressed the patriotic need for women to enter the workforce in greater numbers and Rosie encouraged women to apply for industrial jobs they may not have previously considered.
Women came from all over the country to work in the assembly lines of defense production plants that were converted or built to mass produce ever more sophisticated armaments. Between 1940 and 1945, the female percentage of the workforce in the United States increased from 27 percent to nearly 37 percent, and nearly one out of every four married women worked outside of the home by 1945. At the peak of wartime industrial production, upwards of 2 million women were working in war-related industries, and the strong, bandana-clad image of Rosie had come to symbolize the role that six million American women played in expanding the United States' industrial production capacity after 1941.
The American Rosie Movement has worked since 2008 to pull together interviews of "Rosies" from across the nation. The organization has worked tirelessly to find and interview these women so that their legacy becomes part of America's identity and future, and the stories that these women tell help to highlight the contributions that women made towards the war effort. Highlighted below are just a few of these women, telling their stories in their own words:
Anna Hess-Part 1  |  Anna Hess-Part 2
Connie Palaczio-Part 1  |  Connie Palaczio-Part 2
Modesta Echols-Part 1  |  Modesta Echols-Part 2