Each time a girl opens a book and reads a womanless history, she learns she is worth less.

Myra Pollack Sadker

Professor, Author, Researcher, and Activist
Articles & Features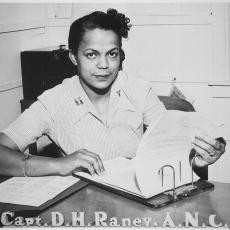 Throughout the history of the United States, African American nurses have served with courage and distinction. During the Civil War, black nurses, such as Sojourner Truth and Harriet Tubman, worked in Union hospitals caring for the sick and wounded. At the end of the nineteenth century, African American nurses served as contract nurses in the Army during the Spanish American War, helping to combat yellow fever and typhoid epidemics that overwhelmed the military. The performance of all nurses during this war led to the establishment of the Army Nurse Corps in February of 1901, but despite these accomplishments and achievements, African Americans continued to fight for acceptance as nurses both in civilian and military venues.
Students and Educators
Discover our educational resources. Find lesson plans, biographies, posters, timelines, videos, and more on a wide variety of women's history topics.