Each time a girl opens a book and reads a womanless history, she learns she is worth less.

Myra Pollack Sadker

Professor, Author, Researcher, and Activist
Articles & Features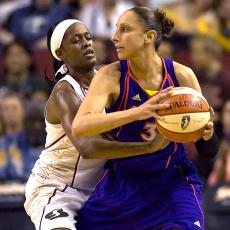 On June 21st, 1997, Lisa Leslie, center for the Los Angeles Sparks, and Kym Hampton, center for the New York Liberty, took the ceremonial "jump ball" marking the official start of the Women's National Basketball Association (WNBA). The WNBA's birth is rooted in history, weighed down by forces that have sought to stifle the existence of women's team sports, and inspired by men and women who believed that women could and should play in a professional league in the United States.
Students and Educators
Discover our educational resources. Find lesson plans, biographies, posters, timelines, videos, and more on a wide variety of women's history topics.