About Us
Founded in 1996, the National Women's History Museum (NWHM) is an innovative online museum dedicated to uncovering, interpreting, and celebrating women's diverse contributions to society. A renowned leader in women's history education, the Museum brings to life the countless untold stories of women throughout history, and serves as a space for all to inspire, experience, collaborate, and amplify women's impact—past, present, and future. We strive to fundamentally change the way women and girls see their potential and power.
Each time a girl opens a book and reads a womanless history, she learns she is worth less.

Myra Pollack Sadker

Professor, Author, Researcher, and Activist
Explore More!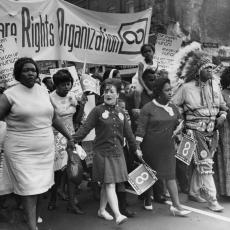 Explore the history of Black feminism in Washington, DC with the National Women's History Museum and National Coalition Partner A Tour Of Her Own.
Each walking tour in the three-part series will include a private tour of the NWHM's exhibition We Who Believe in Freedom: Black Feminist DC at the Martin Luther King Jr. Memorial Library as well as a custom tour of downtown DC sites. Each tour will feature different routes, and participants are welcome to sign up for multiple tours in the series.
Featured Biographies for November
In 1942, at the age of 17, Maria Tallchief moved to New York City to pursue her dreams of becoming a dancer. With luck, grit, and determination she joined the famed Ballet Russe Monte Carlo as an apprentice and moved quickly through the ranks, dancing first in the corps de ballet and later performing leading roles.  Tallchief is widely considered America's first major prima ballerina. 
You can learn more about Maria Tallchief (Osage Nation), featured on a new quarter from the US Mint, and other Indigenous women in our featured biographies this month. 
Use the NWHM's compendium of online biographies to spark curiosity and dig deeper into women's impact throughout our shared national history. Explore more here. 
If we want our girls to benefit from the courage and wisdom of the women before them, we have to share the stories.

Shireen Dodson
Students and Educators
Discover our educational resources. Find lesson plans, biographies, posters, timelines, videos, and more on a wide variety of women's history topics.