Each time a girl opens a book and reads a womanless history, she learns she is worth less.

Myra Pollack Sadker

Professor, Author, Researcher, and Activist
Articles & Features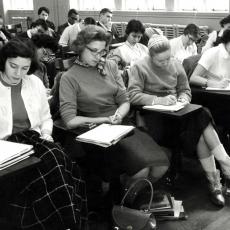 Ms. magazine and the Woodstock music festival were still years in the future.  Betty Friedan published The Feminine Mystique only a year before we graduated. Yet, unbeknownst even to us, a small group of women in the University of Pennsylvania's Class of 1964 was already in the vanguard of what ultimately became one of the largest cultural and economic revolutions in American History.
Students and Educators
Discover our educational resources. Find lesson plans, biographies, posters, timelines, videos, and more on a wide variety of women's history topics.