Each time a girl opens a book and reads a womanless history, she learns she is worth less.

Myra Pollack Sadker

Professor, Author, Researcher, and Activist
Articles & Features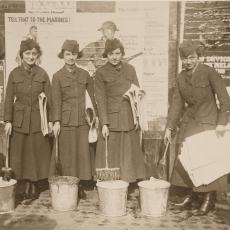 Prior to World War I, if a woman wanted to join the military, she would have to join as a nurse or disguise her sex. Some historians estimate that hundreds of women served in the Civil War dressed as men. World War I was the turning point for women wishing to enter the military.
Students and Educators
Discover our educational resources. Find lesson plans, biographies, posters, timelines, videos, and more on a wide variety of women's history topics.