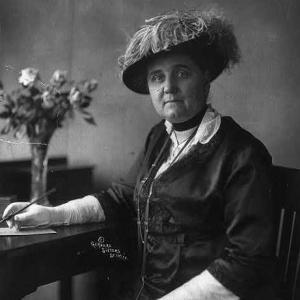 A progressive social reformer and activist, Jane Addams was on the frontline of the settlement house movement in the late 19th and early 20th centuries. She later became internationally respected for the peace activism that ultimately won her a Nobel Peace Prize in 1931, the first American woman to receive this honor.  
Born on September 6, 1860 in the small farming town of Cedarville, Illinois, Addams was the eighth of John Huy and Sarah Weber Addams' nine children. Only five of the Addams children survived infancy. Her mother died in childbirth when Addams was only two years old. Nonetheless, she grew up with privilege; her father was among the town's wealthiest citizens. He owned a successful mill, fought in the Civil War, was a local politician, and counted Abraham Lincoln among his friends. Addams also grew up with liberal Christian values and a deep sense of social mission.
Addams graduated at the top of her class from Rockford Female Seminary in 1881. Part of a new generation of college-educated, independent women that historians have called "New Women," she sought to put her education to greater use. Although her religiosity waned under the heavy Christianity of Rockford, her commitment to the greater good increased. For the next six years, she attempted to study medicine, but her own poor health derailed her. Addams found her true calling while in London with her friend Ellen Gates Starr in 1888. The pair visited Toynbee Hall, a settlement house on the city's East End that provided much-needed services to poor industrial workers. Addams vowed to bring that model to the United States, which was in the early years of escalating industrialization and immigration.   
In 1889, Addams and Starr founded Hull House in Chicago's poor, industrial west side, the first settlement house in the United States. The goal was for educated women to share all kinds of knowledge, from basic skills to arts and literature with poorer people in the neighborhood. They also envisioned women living in the community center, among the people they served. Addams and Starr were joined in this effort by women who would become leading progressive reformers: Florence Kelley, Julia Lathrop, Sophonisba Breckinridge, Alice Hamilton, and Grace and Edith Abbott. Under Addams direction, the Hull House team provided an array of vital services to thousands of people each week: they established a kindergarten and day-care for working mothers; provided job training; English language, cooking, and acculturation classes for immigrants; established a job-placement bureau, community center, gymnasium, and art gallery.
Aside from writing articles and giving speeches nationally about Hull House, Addams expanded her efforts to improve society. Along with other progressive women reformers, she was instrumental in successfully lobbying for the establishment of a juvenile court system, better urban sanitation and factory laws, protective labor legislation for women, and more playgrounds and kindergartens throughout Chicago. In 1907, Addams was a founding member of the National Child Labor Committee, which played a significant role in passage of a Federal Child Labor Law in 1916. Addams led an initiative to establish a School of Social Work at the University of Chicago, creating institutional support for a new profession for women. Addams also served as president of the National Conference of Charities and Corrections from 1909-1915, the first woman to hold that title, and became active in the women's suffrage movement as an officer in the National American Women's Suffrage Association and pro-suffrage columnist. She was also among the founders of the National Association for the Advancement of Colored People (NAACP).
During World War I, Addams found her second major calling: promoting international peace. An avowed pacifist, she protested US entry into World War I, which dinged her popularity and prompted harsh criticism from some newspapers. Addams, however, believed human beings were capable of solving disputes without violence. She joined a group of women peace activists who toured the warring nations, hoping to bring about peace. In 1915, she headed the Women's Peace Party and shortly thereafter also became president of the International Congress of Women. Addams wrote articles and gave speeches worldwide promoting peace and she helped found the Women's International League for Peace and Freedom in 1919, serving as its president until 1929 and honorary president until her death in 1935. She was awarded the Nobel Peace Prize for her efforts in 1931, the first American woman to receive the award. She also wrote a book about her work at Hull House, as well as other books promoting peace. A heart attack in 1926 took a toll on her health and though she pushed on, she never fully recovered. Addams died on May 21, 1935.
Addams, Jane. Twenty Years at Hull House with Autobiographical Notes. (New York: MacMillan, 1910). 

Hull House Museum. http://www.hullhousemuseum.org/about-jane-addams/

Scott, Anne Firor. Jane Addams, in James, Edward T., Janet Wilson James, and Paul S. Boyer, editors. Notable American Women: A Biographical Dictionary, 1607-1950. (Cambridge: Belknap Press of Harvard University, 1971). p. 16-21.

PHOTO: Library of Congress
MLA – Michals, Debra. "Jane Addams." National Women's History Museum, 2017. Date accessed.
Chicago – Michals, Debra "Jane Addams." National Women's History Museum. 2017. www.womenshistory.org/education-resources/biographies/jane-addams.
Web sites:
Books:
Alonso, Harriet Hyman. Peace as a Women's Issue: A History of the U.S. Movement for World Peace and Women's Rights. (Syracuse University Press, 1993)m

Davis, Allen F. American Heroine: The Life and Legend of Jane Addams. (Oxford University Press, 1973).

Farrell, John C. Beloved Lady: A History of Jane Addams' Ideas on Reform and Peace. (The Johns Hopkins Press, 1967).

Knight, Louise W. Jane Addams and the Struggle for Democracy. (University of Chicago Press, 2006).