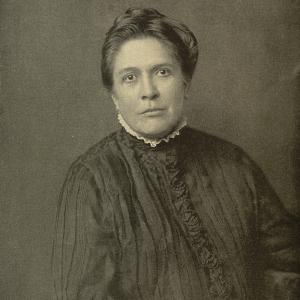 Florence Kelley dedicated her life to social reform. She worked to end many social problems, including labor and racial discrimination. She influenced many social movements in the United States.
Born on September 12, 1859 in Philadelphia Pennsylvania, Florence Kelley was pushed into social activism as a child. Her parents, both abolitionists, supported Kelley's early interest in education and women's rights. At 16 she entered Cornell University. After she graduated, she moved to Europe to study at the University of Zurich. While in Europe, Kelley joined the Germany Social Democratic Party and translated many of the party's important works. She returned to the United States in 1891 and joined the reform movement in Chicago. While working with Hull-House founded by Jane Addams, Kelley was hired to investigate the labor industry in the city. Her findings led to changes in working conditions for laborers. She was selected to be the Chief Factory Inspector for the state of Illinois. She was the first woman to hold this position. As inspector, Kelley, tried to force sweatshops to follow the rules to treat their employees better. She sued several businesses. Unfortunately, she never won, this inspired her to become a lawyer. In 1895, Kelley graduated with a law degree from Northwestern University.
In 1899, she moved to New York City and became the head of the National Consumers League (NCL). At the NCL Kelley worked to shorten work days and pay workers more money. Kelley's work helped create 10-hour workdays and some state minimum wage laws. Her time with the NCL led to the creation of the white label. The "white label" was given to stores that treated employees fairly. Citizens were asked to support worker's rights by only shopping at businesses that had the "white label". Kelley's investigation into labor conditions made her aware of how different races were being treated differently in the workplace. In 1909, Kelley, helped organize the (NAACP) National Advancement of Colored People.
Kelley also worked to end child labor. In 1911, she founded the National Labor Committee. She also joined the fight for women's rights as the Vice President of the National American Woman Suffrage Association. She was a founding member of the Women's International League for Peace. She died in 1932, having spent her entire life fighting for better conditions for worker and equality for women and African Americans.
Kelley, Florence. The Selected Letters of Florence Kelley 1869-1931. Champaign: Illnois, 2009.
Sklar, Kathryn. Florence Kelley and the Nation's Work: The Rise of Women's Political Culture 1830-1900. New Haven: Yale University Press, 1997.
"Florence Kelley." Women Working 1800-1930, Accessed 30 March 2017, http://ocp.hul.harvard.edu/ww/kelley.html.