Each time a girl opens a book and reads a womanless history, she learns she is worth less.

Myra Pollack Sadker

Professor, Author, Researcher, and Activist
Fab Five Biographies
In honor of Latinx Heritage Month, September's Fab Five highlights Five Latina Ladies!
Articles & Features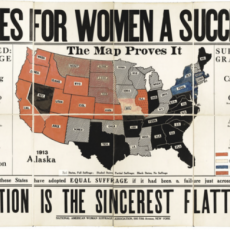 The Path to Women's Suffrage: Westward Expansion to the Nineteenth Amendment Ratified is a unit designed to expand student horizons as they analyze maps and primary documents and share stories of the Westward Expansion relating to gaining women's suffrage through ratifying the Nineteenth Amendment to the U.S. Constitution.
Students and Educators
Discover our educational resources. Find lesson plans, biographies, posters, timelines, videos, and more on a wide variety of women's history topics.