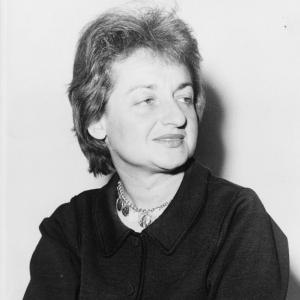 Journalist, activist, and co-founder of the National Organization for Women, Betty Friedan was one of the early leaders of the women's rights movement of the 1960s and 1970s. Her 1963 best-selling book, The Feminine Mystique, gave voice to millions of American women's frustrations with their limited gender roles and helped spark widespread public activism for gender equality.
Bettye Naomi Goldstein was born on February 4, 1921 in Peoria, Illinois, the oldest of three children of Harry Goldstein, a Russian immigrant and jeweler, and Miriam Horowitz Goldstein, a Hungarian immigrant who worked as a journalist until Bettye was born. 
A summa cum laude psychology graduate of Smith College in 1942, Friedan spent a year on a graduate fellowship to train as a psychologist at the University of California Berkeley. There, she dropped the "e" from her name. As World War II raged on, Friedan became involved in a number of political causes. She left the graduate program after a year to move to New York, where she spent three years as a reporter for the Federated Press. Next, she became a writer for the UE News, the media organ for the United Electric, Radio, and Machine Workers of America. Her politics increasingly moved toward the left, as Friedan became involved with various labor and union issues. Glimmers of her later interest in women's rights also emerged at this time, as she authored union pamphlets arguing for workplace rights for women.
In 1947, Friedan married Carl Friedan, a would-be theater producer and advertising maven. Friedan had three children—in 1948, 1952, and 1956—continuing to work throughout. In 1956, the couple moved from Queens, New York, to suburban Rockland County, where Friedan became a housewife, supplementing her family's income with freelance writing for women's magazines.
Friedan also began the research for what would become The Feminine Mystique in the late 1950s. After conducting a survey of her Smith classmates at a 15-year reunion, Friedan found that most were, as she was, dissatisfied with the limited world of suburban housewives. She spent five years conducting interviews with women across the country, charting white, middle-class women's metamorphosis from the independent, career-minded New Woman of the 1920s and 1930s to the housewives of the postwar era who were expected to find total fulfillment as wives and mothers.
Published in 1963, The Feminine Mystique hit a nerve, becoming an instant best-seller that continues to be regarded as one of the most influential nonfiction books of the 20th century. Women everywhere voiced a similar "malaise" from what Friedan dubbed, "the problem that has no name." The book helped transform public awareness and brought many women into the vanguard of the women's movement, just as it propelled Friedan into its early leadership. In 1966, Friedan joined forces with Pauli Murray and Aileen Hernandez to found the National Organization for Women (which remains a leading feminist organization), with Friedan as its first president. She also authored NOW's mission statement: "…to bring women into full participation in the mainstream of American society now, exercising all the privileges and responsibilities thereof in truly equal partnership with men." The organization's first action: to demand that the Equal Employment Opportunity Commission enforce the provisions of Title VII guaranteeing equality in employment. Specifically, NOW successfully sought to end the long-standing practice of sex-segregated help wanted advertising.
A busy activist throughout the 1960s and 1970s, Friedan helped found the National Association for the Repeal of Abortion Laws in 1969, later renamed National Abortion Rights Action League and more recently NARAL Pro-choice America. She organized the Women's Strike for Equality on August 26, 1970 on the 50th anniversary of women's suffrage, to raise awareness about gender discrimination. In addition, in 1971, Friedan was a co-founder of the National Women's Political Caucus with Congresswoman Bella Abzug, Congresswoman Shirley Chisholm, and feminist Gloria Steinem. Through these organizations, Friedan was influential in changing outdated laws such as unfair hiring practices, gender pay inequality, and pregnancy discrimination.
As more diverse voices emerged within the women's movement, Friedan not only struggled to retain her leadership but was criticized by other feminists for focusing on issues facing primarily white, middle-class, educated, heterosexual women. Radical feminists also blasted Friedan for referring to lesbian women in the movement as the "lavender menace," and for Friedan's willingness to cooperate with men. Ever politically expedient, Friedan believed the only hope for change was by retaining the movement's mainstream ties and veneer. This alienated her from younger, radical, and visionary feminists who were increasingly becoming the vanguard of the movement.
Friedan nonetheless remained a visible, ardent, and important advocate for women's rights who some dubbed the "mother" of the modern women's movement. Since the 1970s, she published several books, taught at New York University and the University of Southern California, and lectured widely at women's conferences around the world. Friedan died in 2006 of congestive heart failure.
Reprinted from a 2006 NWHM press release

PHOTO: Smith College

Friedan, Betty. The Feminine Mystique. (Dell, 1963).

Friedan, Betty. Life So Far, A Memoir. (Simon & Schuster, 2006).

Founding of the National Organization for Women. Accessed 8 August 2017 http://now.org/about/history/founding-2/.

Horowitz, Daniel. Betty Friedan and the Making of The Feminine Mystique: The American Left, the Cold War, and Modern Feminism. (UMass Amherst Press, 2000).

Kaplan, Marion. Betty Friedan. Jewish Women's Archives. Accessed 6 August 2017. https://jwa.org/encyclopedia/article/friedan-betty

Mission Statement of the National Organization for Women. Accessed 8 August 2017 http://now.org/about/history/statement-of-purpose/

Ware, Susan. Betty Friedan. American National Biography. Accessed 6 August 2017.

PHOTO: Library of Congress
MLA – Michals, Debra. "Betty Friedan." National Women's History Museum, 2017. Date accessed.
Chicago – Michals, Debra "Betty Friedan." National Women's History Museum. 2017. www.womenshistory.org/education-resources/biographies/betty-friedan.
Web sites:
Books:
Friedan, Betty. It Changed My Life: Writings on the Women's Movement (revised with a new introduction). (Harvard University Press, 1998).

Friedan, Betty. The Fountain of Age. (Simon & Schuster, 1993).
Videos: