Inspiring Voices: A Conversation with Tiffany Shlain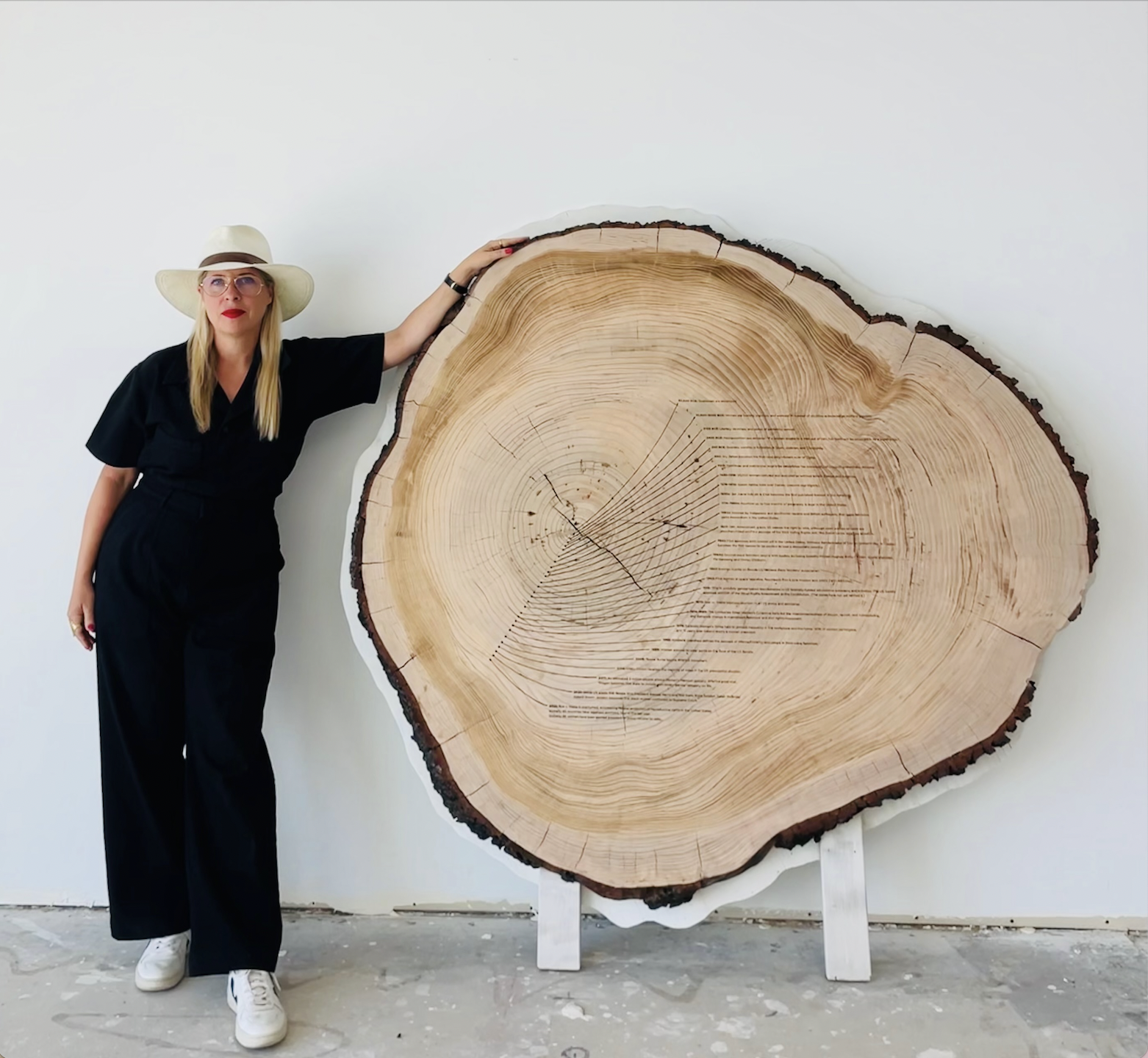 Tiffany Shlain
Honored by Newsweek as one of their "Women Shaping the 21st Century," Tiffany Shlain is an Emmy-nominated filmmaker, author, and founder of the Webby Awards. Shlain's body of work includes an extensive examination of gender and women's rights. As a multidisciplinary artist, she works across film, animation, video, and performance. The National Women's History Museum, in partnership with Women Connect4Good, is proud to have recently presented Tiffany's solo exhibition, Human Nature, featuring "Dendrofemonology" (feminist tree ring). "Dendrofemonology" remakes the historical tree ring into a timeline of the story of women and power in society (explore the dates on the tree ring here). The exhibit will be on display at the San Francisco Ferry Building's SHACK15, where Tiffany is the artist-inresidence, through the end of January 2023. We talked with Tiffany about her background, her art, and her commitment to championing women's voices.

Tell us about your background and how you began your career.
Where I live in Northern California, we're surrounded by two things: some of the oldest redwood trees in the world; and some of the newest technology. My career began in the former, in a dual dance between making films and working in tech, until those two loves merged. I founded the Webby Awards in my twenties, and after running it for nearly a decade, I made a film for Planned Parenthood called "Life Liberty & The Pursuit of Happiness." After it was accepted to Sundance, I knew I wanted to devote my time to making films about issues I cared about, using the power of the web to expand their reach. From there I worked in many different mediums. I explore the intersection and interdependence of nature, humanity, and technology through my work across film, the written word, stage performance, and visual art.

What are you most proud of professionally?
Taking many creative risks over the years. I always feel like I'm jumping out of a plane with my projects, having a vision in my mind of the place I want it to go and hoping I can build that landscape for the landing. That unknowing is the thrill of living a creative life. In terms of moments I felt proud: when my UC Berkeley graduation speech to over 11,000 people was included on NPR's list of best commencement speeches since 1776. Then this past summer I was given the Neil Postman Award for Career Achievement in Public Intellectual Activity. I love breaking into any list normally filled with men.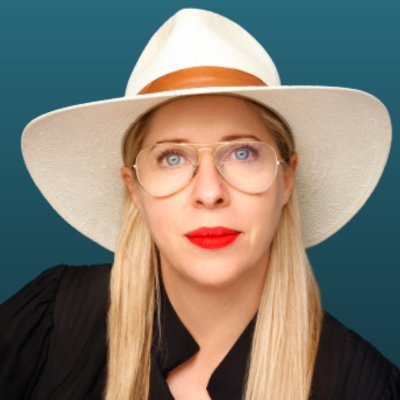 "I love breaking into any list normally filled with men."
Who were your biggest influences growing up?
My parents. My mother, Carole Lewis, went back to school when I was eight to get her Ph.D. in psychology (her thesis was on the importance of mentors and mothers on successful women). And my dad, Leonard Shlain, a surgeon, also wrote books about women and power and the connection between art and science. They both taught me the importance of following your passions and being your own boss.

Who are the women who most inspire you?
Any woman who creates boldly and doesn't ask for permission. A short, not comprehensive list: philosophers Hannah Arendt and Rebecca Newberger Goldstein; comedian Gilda Radner; filmmaker Agnes Varda; musician Grace Jones; activists Rosa Park, Shirley Chisholm, Gloria Steinem, and Tarana Burke; inventor Hedy Lamarr; scientists Rosalind Franklin and Marie Curie; and artists Judy Chicago and Laurie Anderson. I could fill all the pages of this magazine with their names. I keep a list of these heroes in my journal, holding them in mind when I take on something new.

Talk about your dedication to championing women's representation in your work — why have you focused so extensively on this and why is this important to you?
I feel it is my duty to champion and widen the path as so many women did before me. I want to tell the stories that have not been told, to reframe history with a new perspective that can also reframe our present. It's important to go deep into history with a new lens to understand where we are today and where we want to go. Though it sometimes feels like things are going backwards, we are making progress. Just thinking about how radically our way of life has changed in the past one hundred years gives you an idea of how different this future world could be. Around a hundred years ago, you could die from a paper cut. Women couldn't vote. People commuted by horse.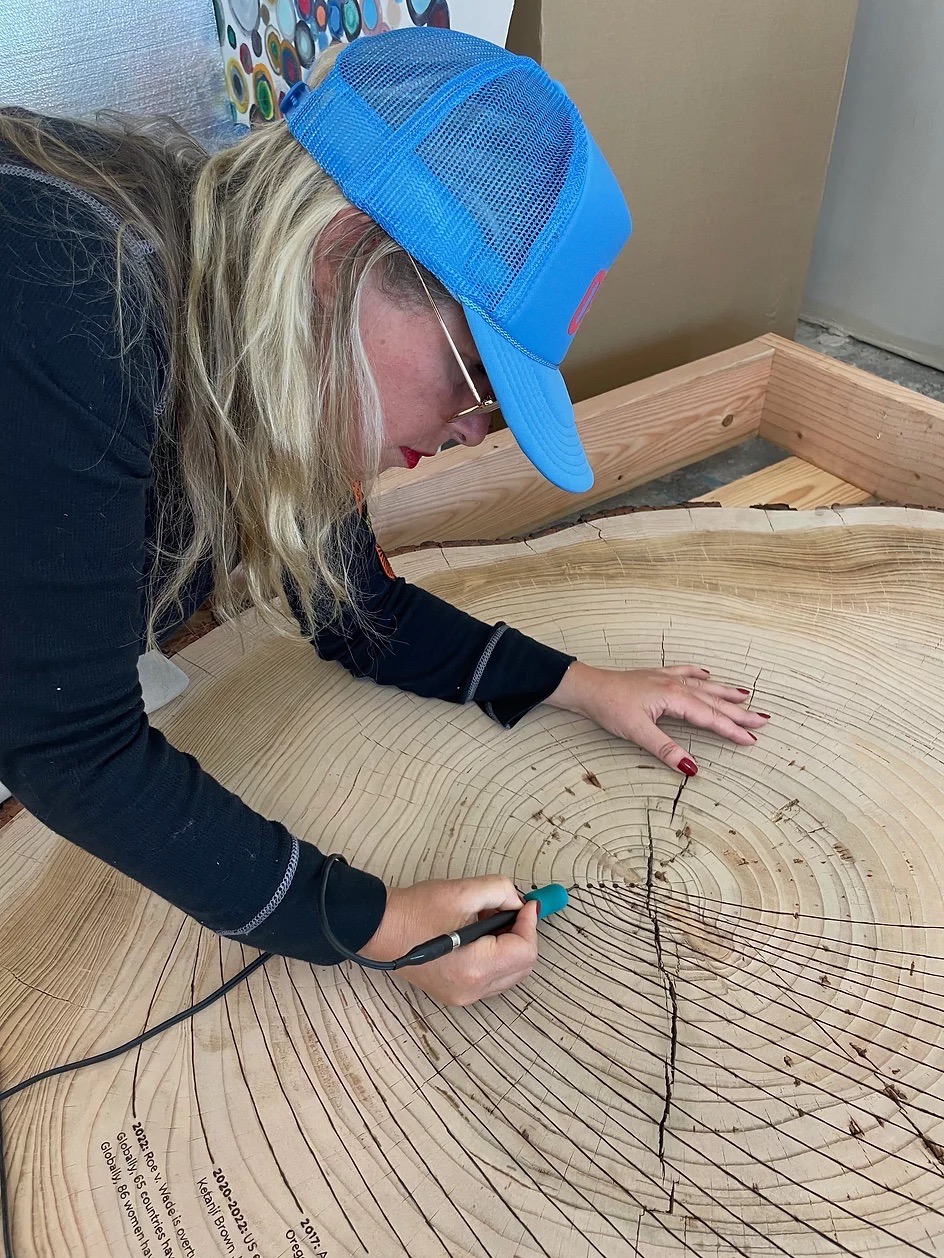 "I feel it is my duty to champion and widen the path as so many women did before me. I want to tell the stories that have not been told, to reframe history with a new perspective that can also reframe our present."
Tell us about your film, 50/50: Rethinking The Past, Present and Future of Women and Power.
We often think we are only a small percentage of presidents, CEOs, etc. trying to become a rightful stronger percentage of leadership. I wanted to go back into history, really far back to when women were worshiped as goddesses and start the story from there. That's a much stronger place to start, tracing the many women leaders throughout history to reframe this story we tell of scarcity to a story of abundance.

Do you find there is gender equality in the art and/or filmmaking industries?
In the documentary space, there's a very equal gender balance among funders and filmmakers. I know this is not the case in the narrative Hollywood world. In the art world, I've been fortunate to work with many incredible and powerful women, especially the staff of the National Women's History Museum and Dr. Nancy O'Reilly from Women Connect4Good. Having all these brilliant women help me make my vision for my new show a reality and bring it to a wide audience has been fantastic.

The Museum recently partnered with you and Dr. Nancy O'Reilly's Women Connect4Good Foundation on your groundbreaking exhibit, Human Nature. What was the inspiration for this exhibit and why was this important for you to create?
Walking into the majesty of Muir Woods National park was a ritual of my childhood. I have always been fascinated by the tree rings at the entrance of the National Parks, and how they've borne witness to humanity. But I felt like the events depicted on their timelines tell colonial/patriarchal stories. I wanted to reimagine what it would be like if they recounted women's history and the struggle for equality. So I created a feminist history tree ring, "Dendrofemonology," firmly in the center of my new solo exhibition, Human Nature. It opened November 2 at SHACK15 on top of the San Francisco Ferry Building, and it explores perspectives shifting through a feminist, philosophical, and ecological lens.  My aim is to evoke the humility, humor, and realignment we can feel when we understand ourselves in a new context within the expansiveness of nature and time. We always say history is written by the victors. Perhaps when that same story is written from a different perspective, a better present and future will emerge.

Finally, what advice do you have for girls and women looking to make a career in the arts?
See as much art as you can. You are a sponge to absorb every idea and thought you can then build on and reference as you create something that only you can bring to life. And like anything, you must focus and hone in on your craft. I believe everyone is creative and just needs an environment to foster that creativity and focus. So see and create as much as you can! And one other key piece of advice that I think is the special sauce to all of this: One day a week, turn off your phone and all your screens and look instead to what is around and inside of you. I have been doing this practice for 13 years, and my day without screens is literally the day all the best creative ideas come to me.

To learn more about Tiffany, her art, and how you can see "Dendrofemonology" or watch 50/50, visit tiffanyshlain.com/art.