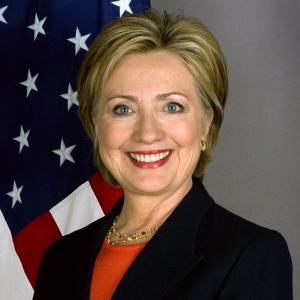 In July of 2016, Hillary Rodham Clinton became the first woman in history to represent a major party in a United States presidential election. She is also the first woman to win the Iowa Presidential Caucus, the first First Lady elected to the United States Senate, and the first female senator from New York.
Hillary Diane Rodham was born in a suburb outside of Chicago, Illinois in 1947 to middle-class parents. They encouraged her to take education seriously, and she earned entrance to Massachusetts' Wellesley College. Her parents were Republicans and Clinton served as president of Wellesley's Republican club, but the social issues of the late 1960s led her to become a dedicated Democrat. When her classmates elected her as Wellesley's first student speaker at graduation, she said to her peers: "The challenge now is to practice politics as the art of making what appears to be impossible, possible."
In 1969, Clinton attended Yale Law School, where she served on the Board of Editors for the Yale Review of Law and Social Action. It was there that Clinton met her future husband, William "Bill" Clinton. After she graduated, Clinton turned down offers from lucrative law firms to work for the Children's Defense Fund, as well as on the congressional committee that investigated the Watergate scandal.
Clinton then moved to the university town of Fayetteville, Arkansas, where she joined the faculty of the University of Arkansas Law School. In 1975 she and Bill Clinton were married. The following year, Clinton joined the Rose Law Firm in Little Rock. The couple's daughter, Chelsea, was born in 1980. In 1988 and 1991, Clinton was named one of the 100 most influential lawyers in America.
Clinton continued to practice law after Bill Clinton became governor of Arkansas, while also serving as a very active first lady. She led the Arkansas Educational Standards Committee, which greatly improved schools, and promoted programs that benefit women.
In 1992, when Bill Clinton was elected president, Clinton became the first First Lady to hold a law degree. She continued her tradition of public service, most notably leading an attempt to reform the nation's health care. However, the effort failed in the mid-1990s. Clinton continued to work on the edges of the issue, helping to establish the 1997 Children's Health Insurance Program.
Clinton constantly traveled during her time as First Lady. She often took her daughter along when she visited women in Africa and Asia, and in 1995, she was criticized for joining the American delegation to Beijing for the United Nation's conference on women's rights. This convocation had been held every five years since 1975, but no first lady had attended it.
Clinton ran in 2000 for the New York Senate seat being vacated by Daniel Monahan, who supported her. Many accused her of being a "carpetbagger" because she had never lived in New York, but voters chose her by a solid 55% majority. She served on four major Senate committees: Armed Services; Budget; Environment and Public Works; and Health, Education, Labor and Pensions. New Yorkers gained confidence in her, and Clinton easily won her 2006 reelection.
On January 20, 2007, Clinton announced her candidacy for president and joined the historic 2008 race. Although Clinton received roughly 18 million votes, she lost in the Democratic Primary to Senator Barack Obama, who went on to win the presidency. Clinton served as secretary of state for the Obama administration from 2009-2013. During this time, Clinton focused on women and human rights.
On April 12, 2015, Clinton announced her second run for the Democratic presidential nomination. Vermont's Independent Senator, Bernie Sanders, mounted an unexpectedly strong challenge. In July of 2016, Clinton secured the nomination at the Democratic National Convention in Philadelphia and became the first woman in history to represent a major party in a U.S. presidential election. Though she won the popular vote 48.2% to 46.1%, she lost the presidential race to her Republican opponent, Donald Trump, in the Electoral College.
MLA – Patrick, Jeanette. "Hillary Rodham Clinton." National Women's History Museum. National Women's History Museum, 2016. Date accessed. 
Chicago – Patrick, Jeanette. "Hillary Rodham Clinton." National Women's History Museum. 2016. www.womenshistory.org/education-resources/biographies/hillary-clinton.