Feminism: The Fourth Wave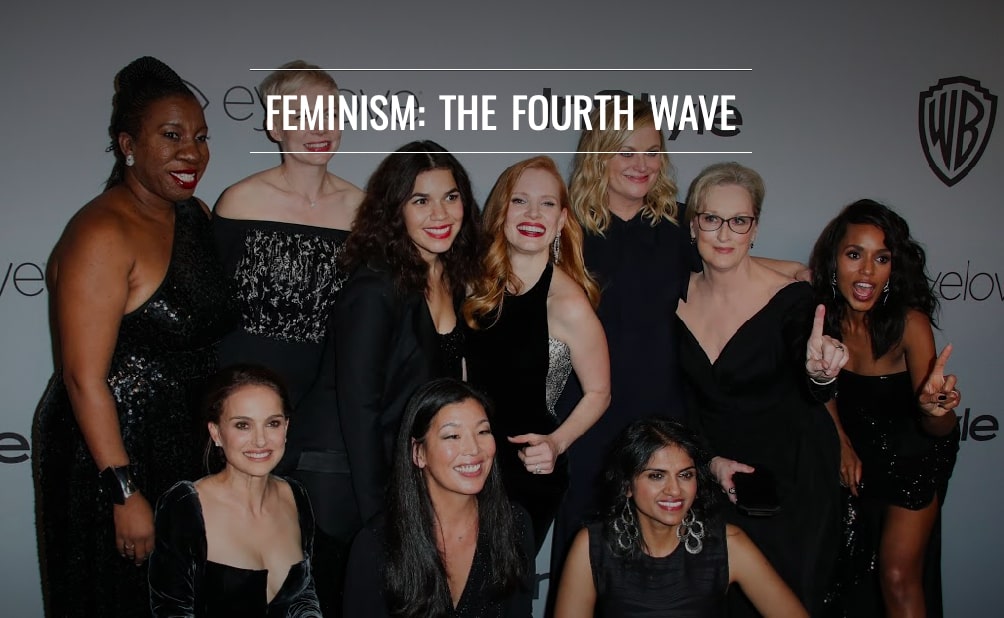 FEMINISM : The Fourth Wave
---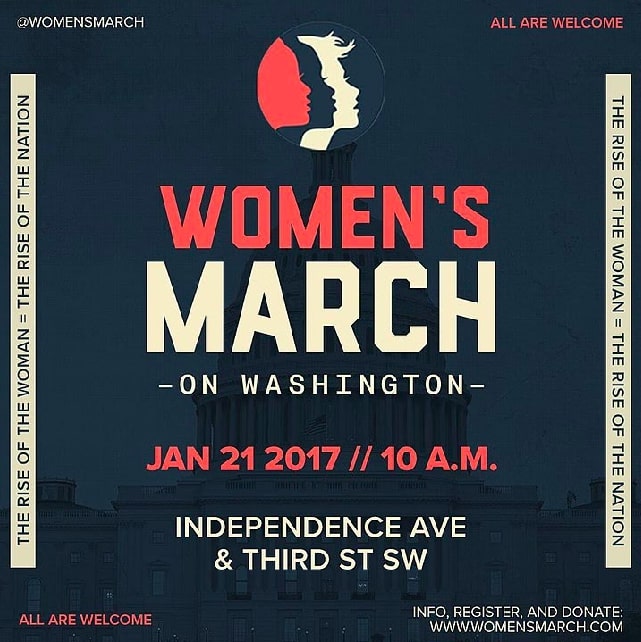 Women's March on Washington 2017 Flyer Jan 27, 2017
Elvert Barnes | National Women's History Museum
The Fourth Wave
For many scholars and historians, the feminist movement consists of three waves. These "waves" or surges of feminism are historical benchmarks that include large-scale women's activism. Due to the complexity of this movement, it is impossible to accurately pinpoint specific dates that started or ended each wave. These dates become increasingly more difficult when trying to discuss the third and fourth waves. Although the third wave never truly had an official "end," activists recognize that the 21st century has ushered in a new type of activism.
---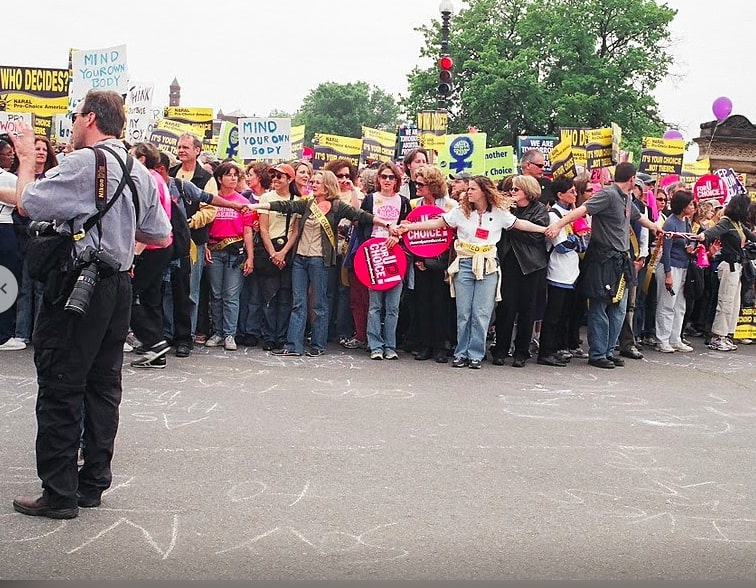 MARCH FOR WOMEN'S LIVES Apr 25, 2004
Elvert Barnes | National Women's History Museum
As feminists moved out of the third wave, they continued to advocate for their rights. One of the constant concerns across all of the waves was their access to reproductive healthcare. Many women in the movement believed that they should have reproductive freedom and the option to have an abortion if they chose to have one. However, various controversial legislation often prevented them from achieving full autonomy when it comes to their reproductive health. The National Organization for Women (NOW) organized several marches to fight against restrictive legislation and advocate for women's reproductive rights, including three separate "March for Women's Lives" in 1989, 1992, and 2004.
---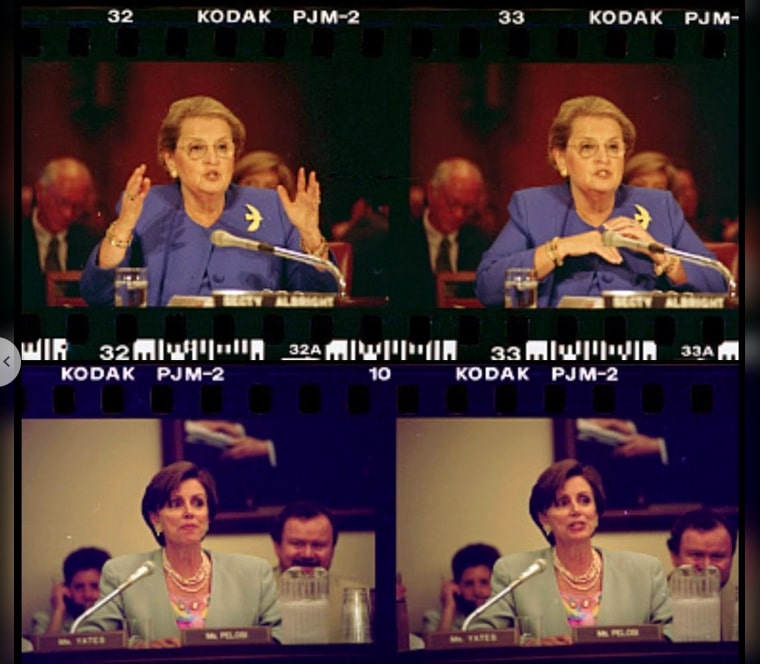 Image Collage: Madeleine K. Albright and Nancy Pelosi 1997
Graham, Douglas (Photographer) | National Women's History Museum
In addition to these marches, women continued to make great strides in the political realm. Several women made history by assuming political leadership in various state and national offices. In 1997, Madeleine Albright became the first woman to serve as the United States Secretary of State. She served until 2001 under President Bill Clinton. A decade after Albright's appointment, another milestone was reached. Nancy Pelosi became the first and only woman to serve as Speaker of the United States House of Representatives. Since her election to the position in 2007, Pelosi has been the highest-ranking woman, and second after the vice president in the presidential line of succession.
---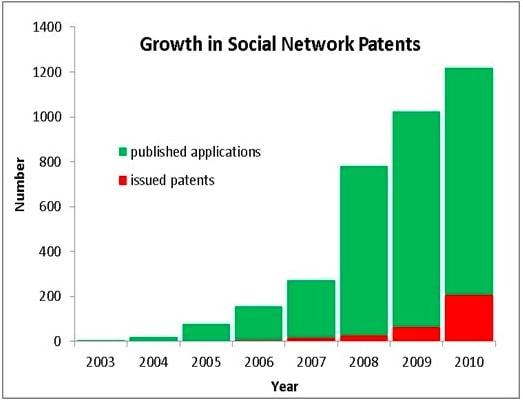 Social network patent growth chart 2011
Mark Nowotarski | National Women's History Museum
Technological Advancements
While women progressed in politics, social networking and media platforms also began to grow exponentially. One of the earliest recognized social networks was a site called SixDegrees.com that launched in 1997. Unfortunately, their success was short lived, and the company closed in 2001. Following the closure of SixDegrees, social networking applications experienced the "golden age" of invention. The next successful network was a social and gaming platform called Friendster that launched in 2002. A year later, LinkedIn launched and expanded the opportunity to connect and communicate with people outside of your immediate area. New social media applications continued to emerge during this "golden age" including Myspace in 2003, Facebook in 2004, and Twitter in 2006.
---
During this period of technological growth and expansion, activists now had more tools at their disposal to promote their causes. Several advocacy groups developed campaigns using hashtags (#) to raise awareness and gain community support. These short phrases quickly became trending topics on social media websites and strategically spread the word about various issues. Popular hashtags like, #BringBackOurGirls, #BlackLivesMatter, and #YesAllWomen brought attention to pressing matters of social justice and reform. Even hashtags such as the #icebucketchallenge gained the attention of millions to raise awareness and money for research for ALS (amyotrophic lateral sclerosis). Another popular hashtag that emerged was #MeToo, a women's advocacy campaign founded by Tarana Burke in 2007.
---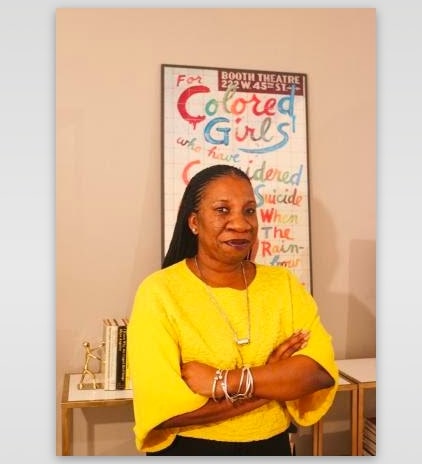 Tarana Burke Headshot 2018
National Women's History Museum
"Me Too"
In 1996, Tarana Burke had an encounter with a young woman that she would never forget. While Burke was working as the director of a youth camp, a young lady privately disclosed that she was a victim of sexual abuse. Also a survivor of sexual abuse, Burke identified with her immediately, and all she wanted to say was "me too." Although Burke was unable to respond how she wanted to in the moment, this encounter would become the foundation for the 'me too' campaign she created a decade later. By 2007, Burke had launched 'me too' as a way for young women of color to share their stories. To start, she began using the phrase 'me too' specifically to promote the idea of "empowerment through empathy." Her campaign was not only designed to facilitate healing, but she also wanted to train survivors to work in communities of color.
---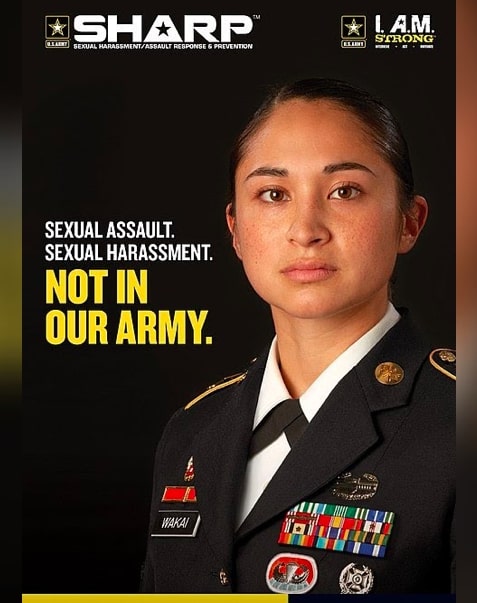 U.S. Army and SHARP (Sexual Harassment/Assault Response & Prevention) Jan 30, 2017
U.S. Army and SHARP (Sexual Harassment/Assault Response & Prevention) | National Women's History Museum
For the next ten years, Burke developed 'me too' while serving as the director of various art and cultural institutions across the country. However in 2017, Burke's hashtag #metoo went viral on social media. In October of that year, a controversial sex scandal made headlines. Hollywood producer Harvey Weinstein was exposed for using his power to sexually harass and exploit women in the entertainment industry for over thirty years. In addition to the over ninety women that came forward against Weinstein, women around the world publicly shared their own experiences with sexual assault.
Shortly after the scandal broke, actress Alyssa Milano helped popularize the #metoo movement by tweeting: "If all the women who have been sexually harassed or assaulted wrote 'Me too.' as a status, we might give people a sense of the magnitude of the problem." In less than 24 hours, 4.7 million people engaged in the "Me too" conversation, with more than 12 million posts, comments or reactions on Facebook.
---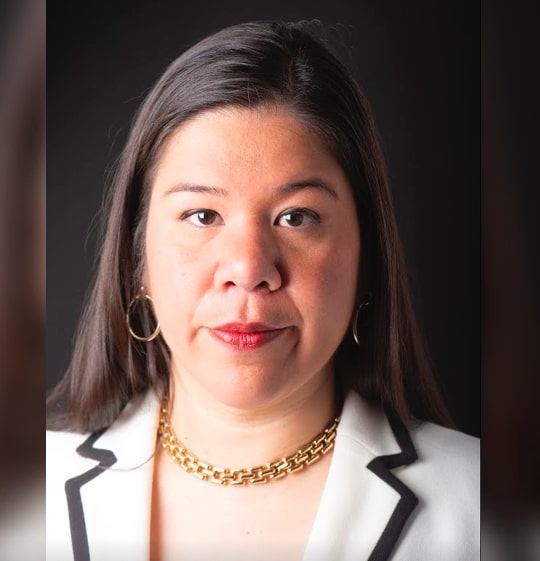 Mónica Ramírez (Activist) May 17, 2018
By: Joseramoh | National Women's History Museum
In 2017, TIME Magazine named Tarana Burke, Alyssa Milano, and many other "Silence Breakers" as their "Time Person of the Year." The public outcry grew as women and men internationally translated 'me too' into their various languages and aligned with the movement. These allegations spurred a global "reckoning" against sexual assault and harassment that became known as the "Weinstein effect."
A month after the scandal broke, a group of 700,000 Latina farmworkers from across the country wrote an open letter of support to the Silence Breakers in Hollywood that came forward against Harvey Weinstein. These women shared similar experiences and signed their message with: "We believe and stand with you." These women were all members of a coalition of women farmworkers called Alianza Nacional de Campesinas (the National Farmworker Women's Alliance).
---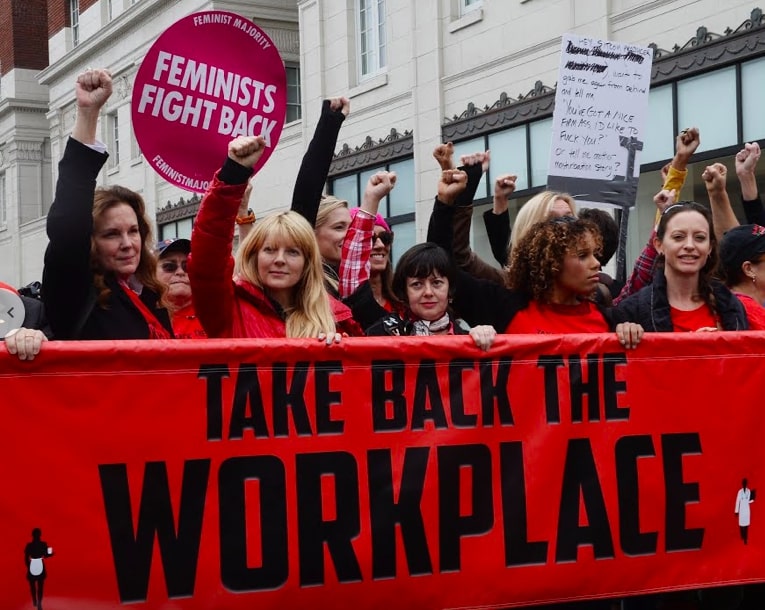 Take Back The Workplace Nov 12, 2017
Photo by Jim Ruymen/UPI | National Women's History Museum
Two days after the letter was released, hundreds of women in Los Angeles marched to protest sexual harassment. The Me Too Survivors March took place on November 12th, 2017 in downtown Los Angeles to create a safe space for survivors and allies to rally against sexual misconduct. On that same day, the Take Back the Workplace March also met in downtown Los Angeles to take a stand against sexual harassment in the workplace. The two marches met in the same place and joined forces to advocate for social reform and legislation that would support survivors of these crimes.
---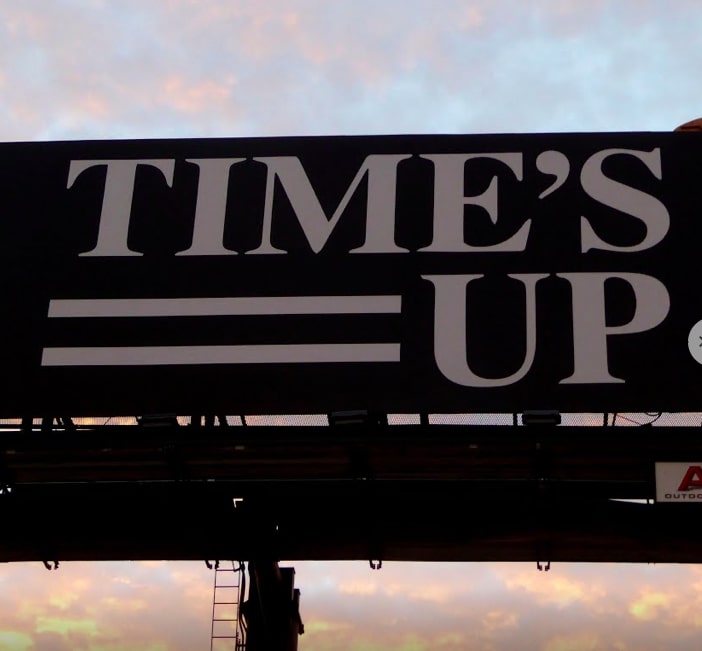 TIME'S UP Jan 19, 2018
Credit: Barry King/Alamy Live News | National Women's History Museum
TIME'S UP
During this time, another campaign prepared to launch in Hollywood to contribute to the widespread surge of women's activism. In response to the letter of support from 700,000 women farmworkers, TIME'S UP publicly launched on January 1st, 2018 with their own open letter signed by over 300 women in the entertainment industry. Published in the New York Times, this letter thanked the farmworkers and announced that they would be using their network and platforms to advocate for survivors of harassment and injustice. TIME'S Up women said, "enough is enough," and created a movement that "insists upon a world where work is safe, fair, and dignified for women of all kinds."
---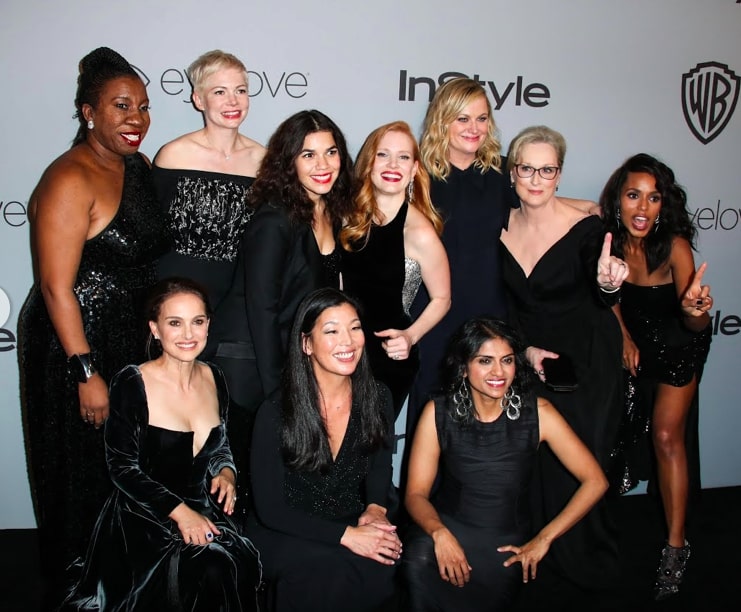 Time's Up Women Jan 7, 2018
Photo by Xavier Collin/Image Press Agency | National Women's History Museum
TIME'S UP also launched several initiatives to ensure gender parity and workplace safety in various industries. The TIME'S UP Legal Defense Fund™ was established to help survivors, especially women of color and low-income women, get connected to lawyers and resources. This network has over 800 lawyers working to fight for women's causes. In addition, TIME'S UP Now was established to prevent future acts of harassment and discrimination. In an effort to raise awareness for the cause, many attendees of the 75th Golden Globe Awards wore black with #MeToo and TIME'S UP pins to support the movement. A few activists including Tarana Burke and Mónica Ramírez (Board President of Alianza Nacional de Campesinas) were invited as guests of various actresses. Many other award shows followed suit including the 2018 Grammys and the 2018 BAFTA Film Awards in London.
---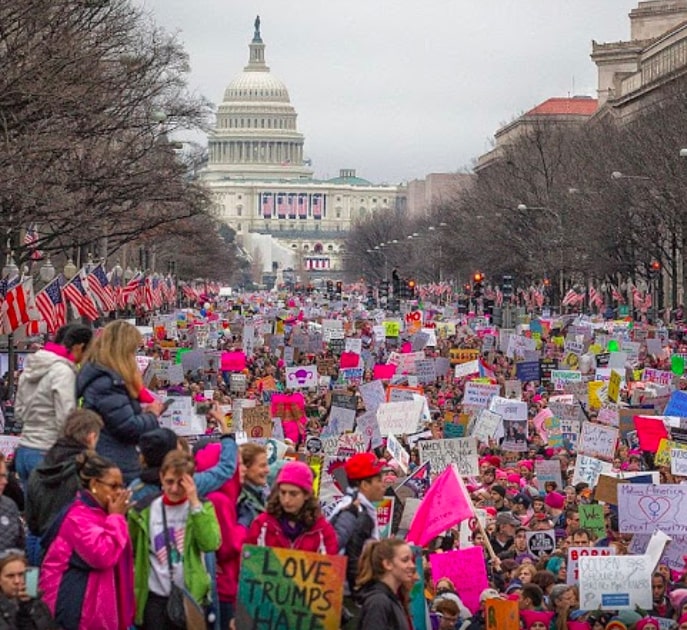 Women's March on Washington Jan 21, 2017
By: Mobilus In Mobili | National Women's History Museum>
The March
While fourth wave feminists were exploring new ways to promote women's rights, they continued to organize in more "traditional" ways. Prior to the scandals of 2017, women were already actively marching against sexual assault across the country. In January of 2017, the Women's March on Washington attracted an estimated 1,500,000 protesters after the inauguration of President Donald Trump. This march became the largest single-day protest in U.S. history, with Women's Marches happening simultaneously across the country. In total there were between 3.3 and 4.6 million protesters advocating for women's rights and various social justice issues including racial equity, immigration reform, reproductive rights, the environment, and LGBTQ rights. Second wave feminists Angela Davis and Gloria Steinem both gave speeches at the march.
---
Footage of the Women's March on Washington
---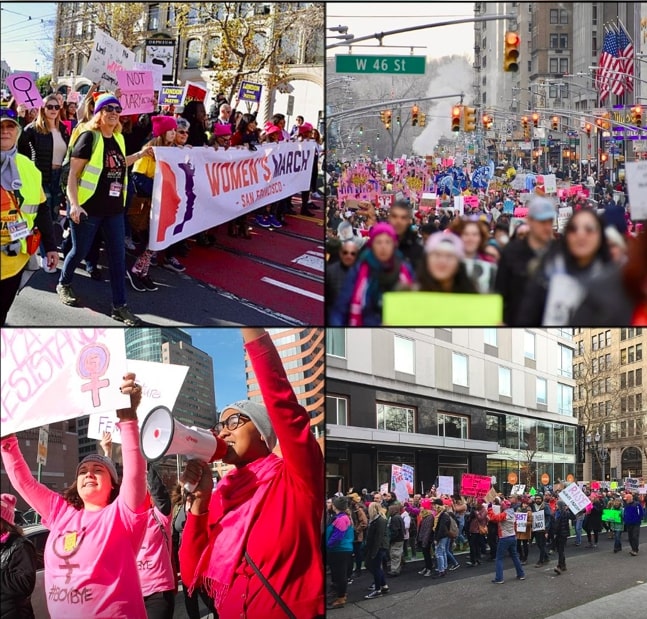 Image Collage: Women's Marches held on January 20, 2018
By: Lev Lazinskiy, Alec Perkins, Kingofthedead, and Elvert Barnes | National Women's History Museum
In January of 2018, feminist activists drew from the momentum of the 'me too' and TIME'S UP movements to celebrate the anniversary of the 2017 Women's March. Although the attendance was lower than the previous year, over 250 marches and rallies were held across the country to commemorate the first march and advocate for more change. Nancy Pelosi was one of the speakers at the Washington, D.C. march, while Whoopi Goldberg, Padma Lakshmi, Drew Barrymore, and Halsey were speakers at the New York City march.
---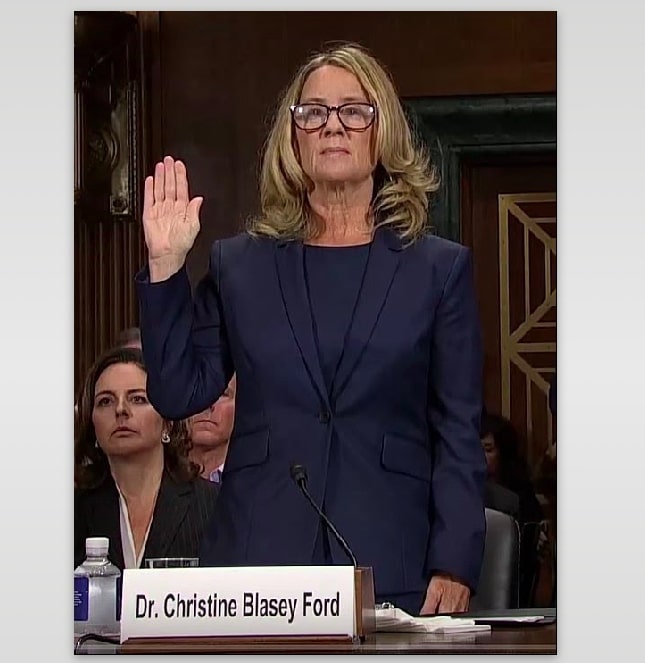 Christine Blasey Ford swearing in - Sep 27, 2018
United States Senate Committee on the Judiciary | National Women's History Museum
The Supreme Court…Again
By the summer of 2018, another scandal made headlines that connected third wave feminists to the fourth wave. Similar to the Anita Hill case of 1991, Professor Christine Blasey Ford testified against a U.S. Supreme Court nominee for sexual misconduct. After writing a letter to Senator Dianne Feinstein, Ford appeared before the Senate Judiciary Committee on September 27, 2018 to testify against Brett Kavanaugh. Ford declared that Kavanaugh attempted to rape her at a house party when they were teenagers. Afraid and traumatized, Ford chose not to report the incident for decades and wanted to remain anonymous during the case. However, she ultimately chose to speak out. Two other women, Deborah Ramirez and Julie Swetnick, also accused Kavanaugh of sexual assault in the past. Despite their testimonies, Kavanaugh was still confirmed as a Supreme Court Justice.
---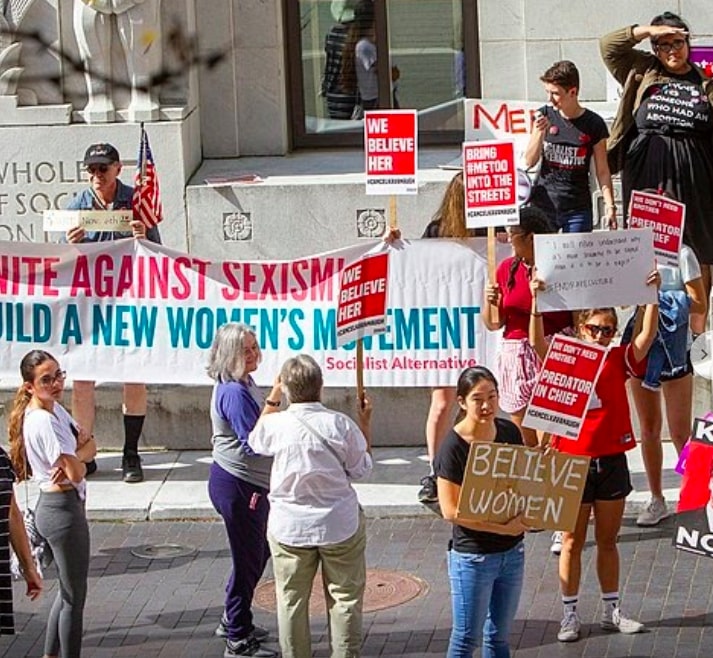 Columbus Ohio Kavanaugh protest - Oct 6, 2018
By: Becker1999 from Grove City, OH | National Women's History Museum
Believe Women
A day after the court proceedings, women rallied around another feminist campaign slogan. The popular dating app "Bumble," known for its women-centric approach to matching potential partners, decided to take out a full-page add in the New York Times with just two words printed: "Believe Women." Their campaign phrase was a call to believe women such as Ford, Ramirez, and Swetnick, who decided to come forward about sexual assault. Designed as a sign of support and solidarity, Bumble also donated $25,000 to the Rape, Assault and Incest National Network (RAINN) to support of victims of sexual violence.
---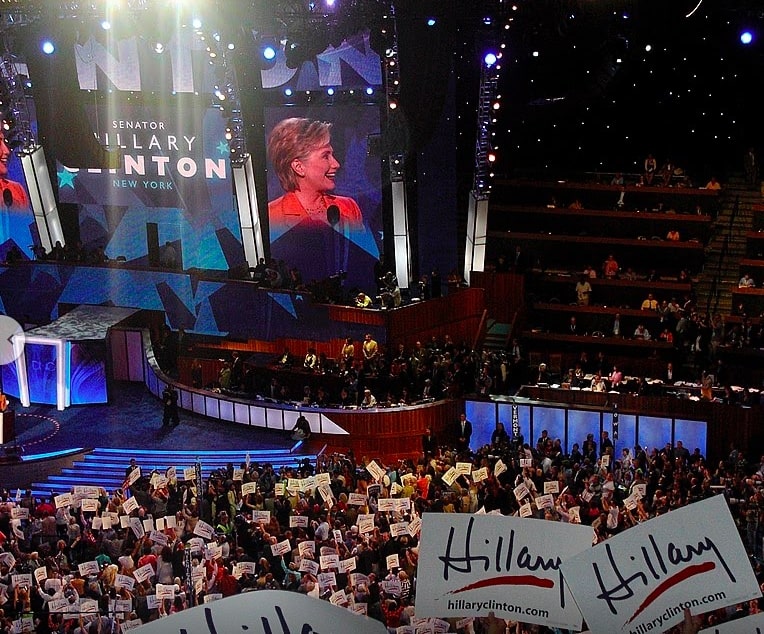 Hillary Rodham Clinton DNC 2008 - Aug 26, 2008
Attribution: Qqqqqq | National Women's History Museum
Amidst the controversies and assault accusations, fourth wave feminists have used their political voice to stand up against sexual misconduct and injustice. In addition, they have continued to reach higher levels of political leadership. In 2016, Hillary Rodham Clinton won the Democratic presidential nomination and became the first U.S. woman to lead a major party's ticket. The following year, there were a record number of women in Congress, including 21 Senators, 104 House members, and the first Latina member to serve in the upper chamber. Unfortunately, the fight is far from over.
---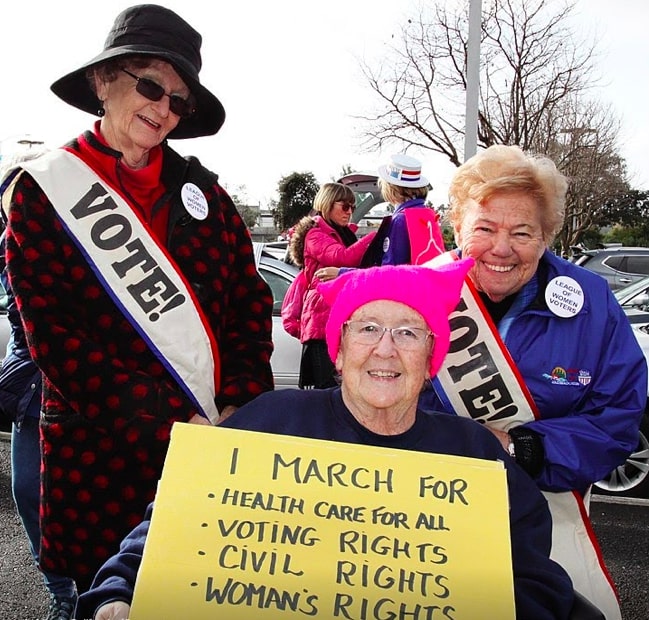 2017 Women's March California - Jan 20, 2017
League of Women Voters of California | National Women's History Museum
As various forms of activism emerge, fourth wave feminists continue to provide innovative ways to advocate for women's rights. Although many of the same issues have plagued each wave of feminism across generations, fourth wave feminists are incorporating new methods of activism to address issues such as; reproductive rights, equal pay, and sexual assault to name a few. With every small step, these feminists continue to fight until full equality and participation is achieved for women everywhere.
---
Credits
Exhibit written and curated by Kerri Lee Alexander, NWHM Fellow 2018-2020​
Alexander, Kerri Lee. "Tarana Burke" National Women's History Museum. 2020. www.womenshistory.org/education-resources/biographies/tarana-burke.​
​
Alexander, Kerri Lee. "Tina Tchen." National Women's History Museum. 2020. www.womenshistory.org/education-resources/biographies/tina-tchen.​
​
JOHN, Arit, and STEVEN T. DENNIS. "Blasey Ford Says Alleged Kavanaugh Attack 'Altered My Life'." Time Magazine, September 27, 2018. https://time.com/5407627/christine-blasey-ford-senate-testimony-brett-kavanaugh/.​
​
"700,000 Female Farmworkers Stand Up Against Sexual Assault." Time Magazine, November 10, 2017. https://time.com/5018813/farmworkers-solidarity-hollywood-sexual-assault/.​
​
Byrd, Ayana. "Q&A With Tina Tchen, The New President of Time's Up." Colorlines, November 1, 2019. https://www.colorlines.com/articles/qa-tina-tchen-new-president-times.​
​
Edwards, Haley Sweetland. "How Christine Blasey Ford's Testimony Changed America." Time Magazine, October 4, 2018. https://time.com/5415027/christine-blasey-ford-testimony/.​
​
"Our Staff: Tina Tchen, President and Chief Executive Officer." TIME'S UP Now. Accessed May 15, 2020. https://timesupnow.org/about/our-staff/.​
​
"Take Back the Workplace March." Take Back The Workplace March - November 12, 2017. Accessed May 16, 2020. http://www.takebacktheworkplacemarch.com/.​
​
Zraick, Karen. "Tina Tchen, Ex-Obama Aide, Will Take Over Time's Up." The New York Times, October 7, 2019. https://www.nytimes.com/2019/10/07/arts/tina-tchen-times-up.html.