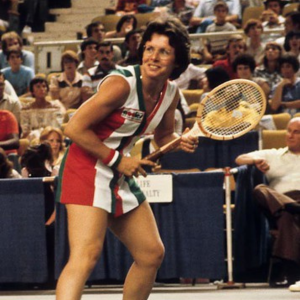 One of the greatest tennis players of all time and a Presidential Medal of Freedom recipient for her advocacy for women in sports and LGBTQ rights, Billie Jean King won 39 Grand Slam titles in her tennis career and led the fight for equal pay in tennis. Known for beating Bobby Riggs in 1973's "Battle of the Sexes," King also helped establish the Women's Tennis Association, the organization that oversees women's professional tennis.
Billie Jean King was born Billie Jean Moffitt on November 22, 1943 in Long Beach, California. Her father, Bill, was a fire fighter and her mother, Betty, was a homemaker. An athlete from a young age, King played basketball and softball as a child. Her younger brother, Randy, went on to pitch in Major League Baseball. King began playing tennis at the age of 11 and immediately fell in love with the sport. She played on public tennis courts and bought her racquet with money she earned from odd jobs. She soon told her mother, "I am going to be No. 1 in the world."
In 1958, King won her age bracket in the Southern California championship. She first garnered international attention in 1961, when she and Karen Hantze Susman became the youngest pair to win the Wimbledon doubles title. King attended California State University, Los Angeles from 1961-1964 and competed in tennis tournaments while also working as a tennis instructor. In 1965, she married law student Larry King.
King won her first major singles title at Wimbledon in 1966, a feat she repeated in 1967 and 1968. In 1966, she achieved her childhood dream when she became the #1-ranked women's tennis player in the world. She claimed that title five more times in her career: 1967, 1968, 1971, 1972, and 1974. Between 1961-1979, playing both singles and doubles, King won Wimbledon a record 20 times and claimed 13 U.S. titles, four French titles, and two Australian titles. In 1972, she won the U.S. Open, the French Open, and Wimbledon – three Grand Slam victories in one year. King was named Sports Illustrated's 1972 Sportsperson of the Year, the first woman and first tennis player ever to earn the title.
King was at the top of the women's tennis game, but the prize money for women's tennis was a fraction of that for men's tennis at the time. King became a vocal advocate for equal prize money. In 1970, she was one of nine players who broke away from the tennis establishment in protest. Soon, they organized their own tour, the Virginia Slims Circuit (sharing the sponsor cigarette's slogan "You've Come A Long Way, Baby"). In 1971, King became the first female athlete to earn over $100,000 in a single season. Still, when she won the U.S. Open in 1972, King received $15,000 less than the male champion. She declared that if the prize money was not equal the following year, she wouldn't play. King persuaded her fellow players to form a union, the Women's Tennis Association, and served as its first president in 1973. That same year, the U.S. Open became the first major tournament to offer equal prizes to the male and female players.
In 1973, King's campaign for gender equality in sports received global attention when she took part in the "Battle of the Sexes" tennis match against Bobby Riggs, a former professional tennis player and self-proclaimed male chauvinist. Riggs was determined to prove that women's tennis was inferior to men's tennis. Amid the match's circus-like atmosphere, King defeated Riggs in straight sets while over 90 million people watched across the world.
 In 1974, King and her husband established the Women's Sports Foundation, an organization that helps provide access to sports for girls. They also founded World TeamTennis (WTT), the first mixed-gender professional sports league. With WTT, King became the first woman to coach a co-ed professional team and, in 1984, the first female commissioner of a professional sports league.
In the early 1970s, King began a secret romantic relationship with another woman. She feared coming out because of her parents' homophobia and potential harm the news could cause the women's tennis tour. King was publicly outed as a lesbian in 1981 and immediately lost all her endorsement deals. After the news broke, her representatives urged her not to confirm it, but King refused to deny her lesbianism. She and her husband divorced in 1987, but remained friendly. King then began a relationship with her current partner, Illana Kloss, a fellow professional tennis player.
King retired from competition in 1983, but her career in tennis continued. King coached the U.S. Fed Cup team from 1995-1996 and 1998-2003, bringing home victories in 1999 and 2000. (The Fed Cup was renamed the Billie Jean King Cup in 2020.) She also coached the 1996 and 2000 U.S. women's Olympic tennis teams that both won gold medals. King has served as a tennis commentator for several major TV networks as well.  
In 1990, Life magazine named King one of the "100 Most Important Americans" of the twentieth century. Of the four athletes on the list, she was the only woman. King established the Billie Jean King WTT Charities Foundation in 1998 and has also served as a director of the Elton John AIDS Foundation and the National AIDS Fund.
King has continued to garner recognition for her social justice work. The USTA National Tennis Center in Flushing, NY, where the U.S. Open is played, was named in her honor in 2006. In 2009, President Barack Obama presented King with the Presidential Medal of Freedom, the nation's highest civilian honor, for championing the rights of women and the LGBTQ community. King was the first female athlete to receive the award. King and Kloss founded the Billie Jean King Leadership Initiative in 2014, a non-profit organization that seeks to rid workplaces of discrimination based on race, gender, and sexuality.
King's legacy of achievement and advocacy continues to inspire female and LGBTQ athletes around the world. In 2019, ESPN established the Billie Jean King Youth Leadership Award to recognize young athletes who use sports to improve their communities.
Published June 2021.
Works Cited:
"About BJKLI." Billie Jean King Leadership Initiative. Accessed May 18, 2021. https://bjkli.org/about-bjkli/
"Billie Jean King." National Women's Hall of Fame. Accessed May 18, 2021. https://www.womenofthehall.org/inductee/billie-jean-king/
"Billie Jean King." Women's Sports Foundation. Accessed May 18, 2021. https://www.womenssportsfoundation.org/athlete/billie-jean-king/
"Billie Jean King." WTA Tour. Accessed May 18, 2021. https://www.wtatennis.com/players/110100/billie-jean-king/bio
"Biography." Billie Jean King. Accessed May 18, 2021. https://www.billiejeanking.com/biography/
Buzinski, Jim. "Moment #3: Tennis great Billie Jean King outed." Outsports. Oct. 2, 2011. Accessed May 18, 2021. https://www.outsports.com/2011/10/2/4051938/moment-3-tennis-great-billie-jean-king-outed
Jackson, Sierra C. "'It Was Horrible': Billie Jean King Recalls Being Outed in 1981." NBC News. Sept. 25, 2017. Accessed May 18, 2021. https://www.nbcnews.com/feature/nbc-out/it-was-horrible-billie-jean-king-recalls-being-publicly-outed-n804451
Schwartz, Larry. "Billie Jean won for all women." ESPN. Accessed May 18, 2021. http://www.espn.com/sportscentury/features/00016060.html
"Sports Personality of the Year: Billie Jean King given lifetime achievement award." BBC. Dec. 16, 2018. Accessed May 18, 2021. https://www.bbc.com/sport/sports-personality/46551058
Image:
Photo credit: "Billie Jean King" by qtschlepper is licensed under CC BY-ND 2.0 https://search.creativecommons.org/photos/8b8c6251-097b-483d-b6ed-e5c1a6587ed5