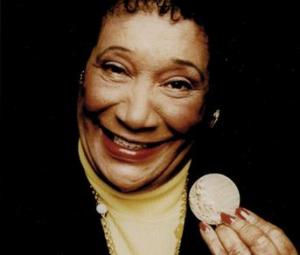 Alice Coachman was the first Black woman from any country to win an Olympic gold medal. Growing up in the segregated South, she overcame discrimination and unequal access to inspire generations of other black athletes to reach for their athletic goals.
Alice Coachman was born on November 9, 1923 in Albany, Georgia. She was the fifth of ten children born to Fred, a plasterer, and Evelyn Coachman. The family worked hard, and a young Coachman helped. Her daily routine included going to school and supplementing the family income by picking cotton, supplying corn to local mills, or picking plums and pecans to sell. Beyond these tasks, the young Coachman was also very athletic.
When Coachman was a child, it was questionable for women to compete in sports. More "ladylike" sports included tennis or swimming, but many thought women should not compete in sports at all. Coachman's father subscribed to these ideas and discouraged Coachman from playing sports. He sometimes whipped her for pursuing athletics, preferring that she sit on the front porch and look "dainty." Neither these social expectations nor her father's discouragement stopped Coachman. Not only did she run, but she played softball and baseball with the boys. Coachman did not think of pursuing athletics as career, and instead thought about becoming a musician or a dancer. It was her fifth-grade teacher at Monroe Street Elementary School, Cora Bailey, and her aunt, Carrie Spry, who encouraged her to continue running. By seventh grade, she was one of the best athletes in Albany, boy or girl. Yet that did not give her equal access to training facilities. Barred from training with white children or using white athletic facilities, young Coachman trained on her own. She ran barefoot on dusty roads to improve her stamina and used sticks and rope to practice the high jump.
While competing for her high school track team in Albany, she caught the attention of the Tuskegee Institute in Alabama. The Tuskegee Institute is one of the earliest Historically Black Colleges and Universities (HBCUs) in the United States and is famous for its connections to Booker T. Washington and the highly decorated Tuskegee Airmen of WWII. A coach at Tuskegee asked her parents if Coachman could train with their high school team during the summer. Coachman ended up transferring to Tuskegee in her sophomore year to complete high school. Coachman said that "track and field was my key to getting a degree and meeting great people and opening a lot of doors in high school and college." In 1943, Coachman entered the Tuskegee Institute college division to study dressmaking while continuing to compete for the school's track-and-field and basketball teams. As a member of the track-and-field team, she won four national championships for sprinting and high jumping.
People started pushing Coachman to try out for the Olympics. She was one of the best track-and-field competitors in the country, winning national titles in the 50m, 100m, and 400m relay. High jump was her event, and from 1939 to 1948 she won the American national title annually. Yet for many of those years, the Olympics were out of reach. In 1940 and 1944, the games were canceled due to World War II. When the games were back on 1948, Coachman was still reluctant to try out for the team. She eventually attended the trials and, while competing with a back injury, destroyed the existing US high jump record.
On a rainy afternoon at Wembley Stadium in London in August 1948, Coachman competed for her Olympic gold in the high jump. She became the Gold Medalist when she cleared the 5 feet 6 1/8-inch bar on her first attempt. It was a new Olympic record. King George VI of Great Britain put the medal around her neck. With this medal, Coachman became not only the first black woman to win Olympic gold, but the only American woman to win a gold medal at the 1948 Olympic Games.
Upon her return to the United States, she was celebrated. Count Basie, the famous jazz musician, threw her a party. President Truman congratulated her. She also got a 175-mile motorcade from Atlanta to Albany and an "Alice Coachman Day" in Georgia to celebrate her accomplishment. Yet these latter celebrations occurred in the segregated South. In the Albany auditorium, where she was honored, whites and African Americans had to sit separately. The white mayor of Albany sat on the stage with Coachman but refused to shake her hand. She had to leave her own celebration by a side door.
After the 1948 Olympics, Coachman's track career ended at the age of 24. She completed her degree at Albany State College (now University), where she had enrolled in 1947. She graduated with a B.S. in Home Economics and a minor in science in 1949. She then became an elementary and high school teacher and track coach. She married N.F. Davis and had two children, a daughter and a son (Richmond). They divorced and later Coachman married Frank Davis, who died five years before her. In 1952, Coachman became the first Black female athlete to endorse an international consumer brand, Coca Cola.
Coachman was inducted into nine halls of fame including the National Track-and-Field Hall of Fame (1975) and the U.S. Olympic & Paralympic Hall of Fame (2004). In 1994, she started the Alice Coachman Track and Field Foundation to aid young athletes and former competitors in financial need. She was an inspiration to many, reminding them that "when the going gets tough and you feel like throwing your hands in the air, listen to that voice that tell you 'Keep going. Hang in there.'...Guts and determination will pull you through." Alice Coachman died on July 14, 2014 at the age of 90.
"Alice Coachman, the first woman of colour to win athletics gold," Olympics.com, https://olympics.com/en/news/alice-coachman-athletics
Amy Essington, "Alice Marie Coachman (1923-2014)," Blackpast.org, March 8, 2009, https://www.blackpast.org/african-american-history/coachman-alice-marie-1923/
Alan Greenblatt, "Why an African-American Sports Pioneer Remains Obscure," CodeSw!tch, NPR, July 19, 2014, https://www.npr.org/sections/codeswitch/2014/07/19/332665921/why-an-african-american-sports-pioneer-remains-obscure
Richard Goldstein, "Alice Coachman, 90, Dies; First Black Woman to Win Olympic Gold," The New York Times, July 14, 2014, https://www.nytimes.com/2014/07/15/sports/alice-coachman-90-dies-groundbreaking-medalist.html?_r=0
William C. Rhoden, "Good Things Happening for One Who Decided to Wait," The New York Times, April 27, 1995
MLA – Rothberg, Emma. "Alice Coachman." National Women's History Museum, 2022. Date accessed.
Chicago – Rothberg, Emma. "Alice Coachman." National Women's History Museum. 2022. www.womenshistory.org/education-resources/biographies/alice-coachman.
Image Credit: By unknown - Original publication: Albany HeraldImmediate source: http://www.albanyherald.com/photos/2012/jan/29/35507/, Fair use, https://en.wikipedia.org/w/index.php?curid=46868328
"Alice Coachman—Gold Medal Moments," Team USA, Youtube, Alice Coachman - Gold Medal Moments
Emily Langer, "Alice Coachman, first black woman to win an Olympic gold medal, dies at 91," The Washington Post, July 15, 2014, https://www.washingtonpost.com/sports/alice-coachman-first-black-woman-to-win-an-olympic-gold-medal-dies-at-91/2014/07/15/f48251d0-0c2e-11e4-b8e5-d0de80767fc2_story.html