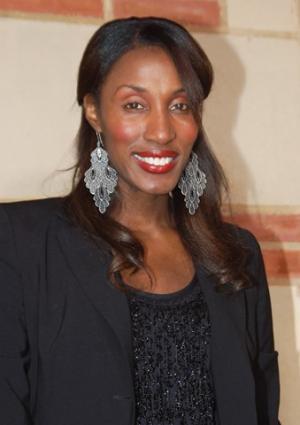 An early star of the WNBA and a four-time Olympic gold medalist, Lisa Leslie is one of the greatest basketball players of all time. The first player to dunk in the WNBA, Leslie continues to make an impact in the sports world as a coach, team owner, commentator, and role model.
Lisa Leslie was born on July 7, 1972 in Gardena, California and grew up in Compton. Her mother, Christine Leslie-Espinoza, worked as a mail carrier and truck driver. While her mother was on the road, Leslie lived with other family members and, from a young age, cared for her baby sister, Tiffany.
At 12 years old, Leslie already stood over six feet tall. Because of her height, people always assumed she'd play basketball, but she had no exposure to the sport before junior high school. When a classmate asked her to join the team, the shy Leslie decided to give it a try in hopes of making friends. On the first day of practice, the coach divided the players into right-handed and left-handed groups. The only left-handed player, Leslie did not like being on her own, so she vowed to learn to use her right hand for all basketball skills. That decision led her to become ambidextrous, a significant asset for a basketball player. Leslie's cousin and uncle helped her train, teaching her the fundamentals and encouraging her to play a tough, physical style of basketball.
In eighth grade, Leslie joined a boys' club team. Initially the boys refused to give her the ball, but after she intercepted a pass between two of her teammates and scored, they started shouting "give the ball to the girl!" She soon began playing in the Olympic Girls' Development League, often competing against girls several years older. The OGDL exposed Leslie to college basketball coaches and she received more than 100 college recruiting letters before even starting high school.
Leslie went to Morningside High School and was named California's "Freshman of the Year" after her first high school basketball season. In her sophomore year (1987-88), the team made it to the state championship game. Leslie played a great game, but she missed the final shot as time expired and Morningside lost by one point to Fremont High School. The crushing defeat made Leslie determined to lead her team to the championship the following year. She did just that when they defeated Fremont in a state championship rematch in 1989. USA Today and Parade magazine named Leslie to their first-team high school All-America squads that year.
At 16, Leslie made the U.S. Junior National Team and traveled abroad for the first time to play in the World Championship Tournament in Spain. The only high school player on the team, Leslie led the team in scoring and rebounding during the tournament. In her senior year, Leslie set a national record by scoring 101 points in the first half of a game, led her team to a second consecutive state championship, and won the Naismith Award, given to the nation's top high school basketball player.
Leslie attended the University of Southern California (USC). During her collegiate career, she led the team to an 89-31 overall record and four consecutive NCAA tournament appearances. She was named the 1991 National Freshman of the Year and the 1994 Naismith College Player of the Year. Leslie also received All-American honors for 1992, 1993, and 1994. Leslie set Pac-10 conference records for scoring, rebounding, and blocked shots, and became the first player to make the first all-conference team in each of her four years. Leslie graduated from USC with a bachelor's degree in communications.
At the time, there were no opportunities for women to play professional basketball in the U.S. So, like many other college stars, Leslie signed with a team in the European women's professional league. She joined Sicilgesso, based in Alcamo, Italy, for the 1994-95 season. Leslie then made the 1996 Olympic team and helped lead the team to a gold medal. In the process, she set a record when she scored 35 points in one game.
After the Olympics, rather than return overseas, Leslie began modeling professionally. She worked with major fashion designers like Armani, Tommy Hilfiger, and Anne Klein.  When the WNBA was established in the summer of 1997, Leslie, along with Sheryl Swoopes and Rebecca Lobo, became the faces of the new league. Leslie anchored her hometown team, the Los Angeles Sparks.
Leslie played in the WNBA for twelve seasons, during which she led the Sparks to league championships in 2001 and 2002. She was a seven-time All-Star (and three-time All-Star Game MVP), three-time WNBA MVP, eight-time first team All-WNBA honoree, and two-time Defensive Player of the Year. Leslie made history when she became the first player in the WNBA to dunk on July 30, 2002.
Off the court, Leslie was recognized by the Big Sisters Guild of Los Angeles for her work with foster children, and earned her master's degree in business administration from the University of Phoenix. In 2005, Leslie married Michael Lockwood, a commercial pilot. They have two children, Lauren and Michael II.
Leslie continued bring home victories with Team USA during these years. In addition to World Championship titles in 1998 and 2002, the U.S. women's basketball team won gold in the Olympics in 2000, 2004, and 2008, making Leslie a four-time Olympic gold medalist. In 2019, Leslie was selected for the U.S. Olympic & Paralympic Hall of Fame.
Leslie retired from the WNBA in 2009, but remains the Sparks' leading scorer and rebounder. Since retiring, Leslie has published her autobiography (Don't Let the Lipstick Fool You), served as a broadcast commentator, and become a part-owner of the Sparks. In 2013, she established the Lisa Leslie Basketball & Leadership Academy, an organization that provides basketball training and academic tutoring to Los Angeles youth. Leslie was inducted into the Naismith Memorial Basketball Hall of Fame in 2015. Today, Leslie coaches the Triplets team in the men's BIG3 league, where she and Nancy Lieberman are the only female head coaches of professional men's basketball teams.
Burnett, Larry, Leslie, Lisa. Don't Let the Lipstick Fool You. United Kingdom: Kensington Books, 2009.
Caple, Jim. "Lisa Leslie: Achieving her basketball dream." United States Olympic and Paralympic Museum. Accessed Jan. 26, 2021. https://usopm.org/lisa-leslie-achieving-her-basketball-dream/
"Lisa Leslie." Team USA. Accessed Jan. 26, 2021. https://www.teamusa.org/usa-basketball/athletes/lisa-leslie
"Lisa Leslie: Class of 2015." Women's Basketball Hall of Fame. Accessed Jan. 26, 2021. https://www.wbhof.com/famers/lisa-leslie/
"Lisa Leslie: Coach." BIG3. Accessed Jan. 26, 2021. https://big3.com/players/lisa-leslie/
Samuel, Naya. "Lisa Leslie Is Never Scared." Sports Illustrated. Oct. 28, 2021. Accessed Jan. 26, 2021. https://www.si.com/wnba/2021/10/28/lisa-leslie-los-angeles-sparks-100-influential-black-women-in-sports
Burnett, Larry, Leslie, Lisa. Don't Let the Lipstick Fool You. United Kingdom: Kensington Books, 2009.