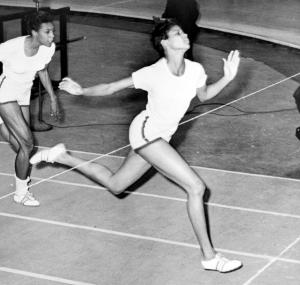 Despite being told as a child she would never walk again, Wilma Rudolph relentlessly pursued her dreams becoming an international track and field star. At the height of her career, "the fastest woman in the world" used her platform to shed light on social issues.
Wilma Glodean Rudolph was born on June 23, 1940 in Saint Bethlehem, Tennessee. As one of 22 children, she was constantly surrounded by support and care, which she needed given her poor health. Rudolph survived bouts of polio and scarlet fever. Her illness forced her to wear a brace on her leg. Rudolph's diagnosis was very bleak, "my doctor told me I would never walk again. My mother told me I would. I believed my mother." Together, Rudolph's parents and siblings took turns taking care of her. They would often remove her leg brace and massage her injured leg. At the age of six, Rudolph began to hop on one leg. By eight she could move around with a leg brace. At the age of 11, Rudolph's mother discovered her playing basketball outside. She quickly turned to sports, becoming a natural athlete. She was nominated as All-American in basketball during high school. However, after a chance meeting with a college coach she turned to track and field. 
While still in high school Rudolph competed on the collegiate level. She competed in the 1956 Olympic games and won a bronze medal in 4x100 relay. Four years later, Rudolph headed to the 1960 summer Olympics determined to get gold. Her performance in Rome cemented her as one of the greatest athletes of the 20th century. She won three gold medals and broke at least three world records. Rudolph became the first American woman to win three gold medals in track and field at the same Olympic game. Her performance also earned her the title of "the fastest woman in the world." 
Returning home an Olympic champion Rudolph refused to attend her homecoming parade if it was not integrated. She won the Associated Press Female Athlete of the Year award in 1961. The following year, Rudolph retired from track and field. She went on to finish her degree at Tennessee State University and began working in education. She continued her involvement in sports, working at several community centers throughout the United States. She was inducted into the US Olympic Hall of Fame and started an organization to help amateur track and field stars. In 1990, Rudolph became the first woman to receive the National Collegiate Athletic Association's Silver Anniversary Award. The indoor track and dormitory at Tennessee State University are named in honor of Rudolph. In 1977, her life was the subject of a prime-time television movie. Rudolph died of a brain tumor on November 12, 1994.
Schraff, Anne E. Wilma Rudolph: The Greatest Woman Sprinter in History. New York: Enslow Publishers, 2004.
Sherrow, Victoria. Wilma Rudolph (On My Own Biographies). New York:Carolrhoda Books, 2000.
Smith, Maureen M. Wilma Rudolph: A Biography. New York: Greenwood Press, 2006.
PHOTO: Library of Congress
MLA – Norwood, Arlisha. "Wilma Rudolph." National Women's History Museum. National Women's History Museum, 2017. Date accessed.
Chicago- Norwood, Arlisha. "Wilma Rudolph." National Women's History Museum. 2017. www.womenshistory.org/education-resources/biographies/wilma-rudolph.