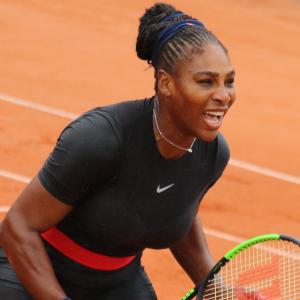 Considered the greatest women's tennis player of all time, and perhaps the greatest athlete of all time, Serena Williams has revolutionized women's tennis since the 1990s. With 23 Grand Slam titles, Williams rose from the public courts of Compton, California to shatter records and dominate the field.
Serena Jameka Williams was born to parents Richard Williams and Oracene Price on September 26, 1981 in Saginaw, Michigan. Williams is the youngest of Price's five daughters, who include fellow tennis superstar Venus Williams. Richard Williams, a former sharecropper from Louisiana, was determined that daughters Serena and Venus would succeed in life. Seeing opportunity in tennis, he and Oracene taught themselves the game from books and videos so that they could coach their children. Richard moved the family to Compton, California, where Williams began intensive tennis training with her father and older sister around the age of three. The Williams sisters practiced for hours every day on rundown public tennis courts.
Williams joined the junior United States Tennis Association tour and by 1991 she ranked first in the 10-and-under division. Richard then moved the family to Palm Beach, Florida, where the sisters trained with coach Rick Macci. Richard kept Williams and her sister from competing in the junior tournaments, hoping to ensure that they would not burn out before turning professional.
In 1995, at the age of 14, Williams made her professional debut at a qualifying event in Quebec City. Fellow American Annie Miller defeated her soundly. Williams did not play another professional match until 1997, but by the end of that year she rose to number 99 in the world rankings. In 1998, Williams's ranking rose to number 20 and she surpassed Monica Seles to become the fastest player to record five victories against Top 10 players.
Williams graduated from Driftwood Academy in 1999 and soon after signed a $12 million endorsement deal with Puma. She won her first Grand Slam title that year, when she defeated Martina Hingis 6-3, 7–6 to win the U.S. Open, and rose to number four in the world rankings. Two years later, Williams lost to her sister in the U.S. Open final – it was the first time that sisters played against each other in a Grand Slam final since 1884.
The African-American Williams and her sister made an immediate impact in the predominately white tennis world: their strength and athleticism on the court overmatched many opponents and their colorful, fashionable styles garnered media attention. The Williams sisters are credited with ushering in the power era of women's tennis, characterized by blindingly-fast serves and commanding groundstrokes. They competed together as doubles partners, eventually winning 14 Grand Slam doubles titles. They took gold at the 2000, 2008, and 2012 Olympics and are the winningest doubles tennis team in Olympic history.
In 2001, Williams won California's Indian Wells tournament for the second time. Williams, along with her father and sister who were watching in the stands, claimed spectators hurled racial slurs their way while booing them. Williams later described the racist treatment as traumatizing and she boycotted the tournament until 2015.
Williams continued to amass victories and rise in the rankings. In 2002, she won her second, third, and fourth Grand Slam titles at Roland-Garros (the French Open), Wimbledon, and the U.S. Open, respectively. In each of those tournaments, she defeated her sister Venus in the final match. On July 8, 2002 she reached the ranking of number one in the world, a position she held for 57 straight weeks. In 2003, Williams won her first Australian Open, becoming one of only six women in the Open Era (post-1968) to complete a career Grand Slam (in which a player wins all four major championships). Williams actually held all four titles at once, an accomplishment she dubbed "The Serena Slam."
However, 2003 also brought troubles for Williams. She underwent knee surgery in August and in September her older sister, Yetunde Price, was murdered in Los Angeles. The loss of her sister was difficult for Williams. She came back from the knee injury in the 2004 season, but other injuries plagued her for the next three years. She won the Australian Open in 2005 and 2007, but her injuries and losses resulted in her ranking dropping to number 139.
In 2008, Williams began her return to championship form by winning the U.S. Open. The following year, she won the Australian Open and Wimbledon, and reclaimed her number one world ranking. Her five-year gap between number one rankings is the longest of any player ever. Williams cited her faith as a Jehovah's Witness as well as an inspirational trip to West Africa for restoring her competitive spirit. In 2009, she faced fines and probation after an altercation with a referee at the U.S. Open, but the following year Williams added two more Grand Slam titles and finished the season ranked number four.
Williams suffered from a blood clot in her lung in 2011, but returned to dominance later that year. In 2012, Williams earned a gold medal for singles' tennis at the London Olympic Games. The 2013-2015 seasons marked her third, fourth, and fifth number-one seasons, after which she had won her 21st Grand Slam championship and completed her second Serena Slam.
In 2017, Williams won the Australian Open. It was her 23rd Grand Slam title, meaning she surpassed Steffi Graf's record for Grand Slam singles' titles in the Open Era. A few months later, she revealed she was expecting her first child and had been pregnant when she won the Australian Open. That September, Williams gave birth to her daughter, Alexis Olympia Ohanian, Jr., and married Reddit co-founder Alexis Ohanian shortly after. Williams experienced a difficult childbirth: she had an emergency cesarean section and suffered from another blood clot and other severe complications. By telling her story publicly, Williams contributed to a growing national dialogue about the disproportionately high number of Black women that suffer from pregnancy and postpartum complications. 
Williams returned to tennis in 2018, ranked number 549. The attention Williams brought to the issue of rankings after giving birth led the Women's Tennis Association (WTA) to take action. The WTA's new rule allowed players who leave the sport for childbirth or injury to use their previous rankings to enter up to 12 tournaments within three years of their return. Williams, whose career winnings exceed $90 million, also advocates for female tennis players regarding equitable prize money.
Outside of tennis, Williams has been busy as well. She realized her fashion design dreams when she released her clothing line ("S by Serena") in 2018 as well as a jewelry line in 2019. She serves as a UNICEF International Goodwill Ambassador; has opened two secondary schools in Kenya; and sits on the board of the Billie Jean King Leadership Initiative. She has her own venture capital firm, Serena Ventures, that invests in technology companies owned or led by women and African Americans.
Williams was named the AP Female Athlete of the Decade for her dominance in the 2010s. She continues to inspire tennis hopefuls and the wider public through her hard work and pursuit of excellence on and off the court.
Allen, JA. "The Williams Sisters and the Rise of the Women's Power Game." Bleacher Report. Sept. 28, 2012. Accessed Jan. 31, 2022. https://bleacherreport.com/articles/1350759-the-williams-sisters-and-the-rise-of-the-womens-power-game
Berkok, John. "On this day, 25 years ago, Serena Williams made her pro tennis debut." Tennis.com. Oct. 28, 2020. Accessed Jan. 31, 2022. https://www.tennis.com/news/articles/on-this-day-25-years-ago-serena-williams-made-her-pro-tennis-debut
"Bio." Serena Williams.com. Accessed Jan. 31, 2022. https://www.serenawilliams.com/pages/bio
Biography.com Editors. "Serena Williams Biography." The Biography.com website. A&E Television Networks. April 23, 2021. Accessed Jan. 31, 2022. https://www.biography.com/athlete/serena-williams
Chiu, Allyson. "Beyoncé, Serena Williams open up about potentially fatal childbirths, a problem especially for black mothers." The Washington Post. Aug. 7, 2018. Accessed Jan. 31, 2022. https://www.washingtonpost.com/news/morning-mix/wp/2018/08/07/beyonce-serena-williams-open-up-about-potentially-fatal-childbirths-a-problem-especially-for-black-mothers/
Elliott, Helene. "Serena: 'What she does and what she achieved, it's something unbelievable.'" Los Angeles Times. March 9, 2020. Accessed Jan. 31, 2022. https://www.latimes.com/sports/story/2020-03-09/serena-williams-tennis-grand-slam-compton
Haskell, Rob. "Serena Williams on Motherhood, Marriage, and Making Her Comeback." Vogue. Jan. 10, 2018. Accessed Jan. 31, 2022. https://www.vogue.com/article/serena-williams-vogue-cover-interview-february-2018
Maine, D'Arcy. "Serena Williams still haunted by booing, jeers at Indian Wells tennis tournament in 2001." ESPN.com. Nov. 17, 2021. Accessed Jan. 31, 2022. https://www.espn.com/tennis/story/_/id/32655164/serena-williams-haunted-booing-jeers-indian-wells-tennis-tournament-2001
"Serena Williams: Bio." WTA Tour. Accessed Jan. 31, 2022. https://www.wtatennis.com/players/230234/serena-williams/bio
"Serena Williams: Tennis." TEAM USA. Accessed Jan. 31, 2022. https://www.teamusa.org/usa-tennis/athletes/serena-williams
Zakarin, Jordan "How Serena and Venus Williams' Father Helped Push the Sisters to Tennis Stardom." The Biography.com website. A&E Television Networks. Nov. 2, 2020. Accessed Jan. 31, 2022. https://www.biography.com/news/richard-williams-serena-venus-williams-father
Williams, Serena, and Paisner, Daniel. My Life: Queen of the Court. United Kingdom: Simon & Schuster, Limited, 2010.
Being Serena. HBO Documentary Series, 2018. https://www.hbo.com/being-serena