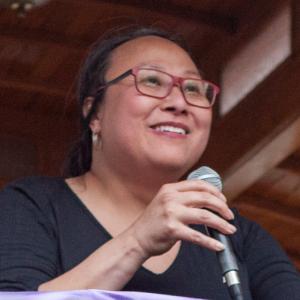 Cecilia Chung is a groundbreaking advocate for the transgender community and those living with HIV/AIDS. For decades, she has worked on the local, state, and national levels to end the discrimination and violence that her communities face.
Cecilia Chung was born in Hong Kong in 1965. Chung was assigned male at birth and from a young age, she described feeling different and misunderstood in her gender identity, but didn't know how to express it. In grade school, she realized she was attracted to boys and, as a teenager, thought it meant that she was gay.
Chung immigrated to the U.S. with her parents in 1984. They settled in Los Angeles, but Chung soon moved to San Francisco to attend the City College of San Francisco. She transferred to Golden Gate University and graduated in 1987 with a degree in International Management. After college, she worked in finance and as an interpreter for the Santa Clara County court system. At the age of 22, Chung began her gender transition. Living as her authentic self brought significant challenges for Chung. Her parents opposed her transition and Chung did not speak to them for over three years. She lost her job at in the court system, likely due to her transition, and then became homeless.
Chung turned to sex work in San Francisco's Tenderloin neighborhood in order to survive. She also started using drugs and soon learned that she was HIV positive. But Chung never regretted transitioning. She said that this difficult period in her life "sounds painful, but it's actually more painful to not know who you are. I would rather be really trying hard to survive than to look in the mirror and not see myself." These experiences led Chung to devote her energy to working on behalf of the transgender community and those living with HIV/AIDS.
In 1994, she joined the city's Transgender Discrimination Task Force, which issued a landmark report on the injustices that trans individuals faced every day. The task force's efforts led the city to enact several pioneering anti-discrimination policies. She also worked as an HIV test counselor and a counselor for residential facilities, and then as a caseworker for a housing program.
In 1995, two men attempted to sexually assault Chung. She fought back and one of the assailants stabbed her in the arm. She suffered a punctured artery, a severed tendon, and nerve damage. Chung was rushed to the emergency room, where she was joined by her mother, whom the hospital notified of the attack.
Though it took some difficult conversations, Chung and her family reconciled before long. Chung also continued her groundbreaking work as an advocate for transgender rights. She was the first transgender woman and first Asian individual elected to chair the Board of Directors of the San Francisco Lesbian, Gay, Bisexual, and Transgender Pride Celebration. She was also the first transgender woman and first person living openly HIV to lead the San Francisco Human Rights Commission.
Chung joined the Board of the Asian Pacific Islander Wellness Center in 2002 and worked on their mobile HIV testing project for transgender youth. In 2004, Chung served as one of the founding organizers of Trans March, an annual event that now takes place in cities across the country. The following year, she was named the first Deputy Director of the Transgender Law Center and in 2011, Chung served on California's Civil Rights Enforcement Working Group.
Chung's advocacy work rose to the national level in 2013 when President Barack Obama appointed her to the Presidential Advisory Council on HIV/AIDS. She served two terms on the council, retiring at the end of President Obama's time in office. In 2015, Chung founded Positively Trans, a network intended to address the stigma and inequities faced by transgender people, particularly people of color, living with HIV. The network is supported by the Transgender Law Center and the Elton John AIDS Foundation and focuses on story-telling, policy lobbying, and leadership development.
Today, Chung is the Director of Evaluation and Strategic Initiatives for the Transgender Law Center, as well as a member of the San Francisco Health Commission. Chung's long record of public service has been recognized with the Levi Strauss & Co. Pioneer Award; the San Francisco AIDS Foundation Cleve Jones Award; the Human Right Campaign Community Service Award; and as a California State Assembly's Woman of the Year award, among others. Her life story also inspired a character on the ABC miniseries When We Rise (2017), which documented the history of the LGBTQ+ movement from the 1970s-2010s.
Chung continues to make history as a passionate civil rights advocate and dedicated public servant.
"About Cecilia Chung." Cecilia Chung.com. Accessed May 26, 2022. http://www.ceciliachung.com/bio
"Cecilia Chung: 2018 Phoenix Award Honoree." APIQWTC. 2018. Accessed May 26, 2022. https://apiqwtc.org/phoenix-award-honoree/2017-cecilia-chung/
"Cecilia Chung joins the Transgender Law Center team as a Senior Strategist." Transgender Law Center. Jan. 18, 2013. Accessed May 26, 2022. https://transgenderlawcenter.org/archives/3086
Ford, Olivia G. "This Positive Life: Cecilia Chung on Violence, Gender, Prisons, Family and Healing." The Body. May 16, 2013. Accessed May 26, 2022. https://www.thebody.com/article/this-positive-life-cecilia-chung-on-violence-gende
Glover, Julian. "'Possibilities are limitless': Trans activist shares journey from homelessness to policy advocacy." ABC 7 News. June 21, 2021. Accessed May 26, 2022. https://abc7ny.com/cecilia-chung-transgender-law-center-positively-trans-our-america-who-im-meant-to-be/10734669/
Knight, Heather. "Cecilia Chung, transgender health advocate." SFGate. Jan. 12, 2013. Accessed May 26, 2022. https://www.sfgate.com/bayarea/article/Cecilia-Chung-transgender-health-advocate-4189493.php
Pham, Xoai. "Honor Trans Elders: Cecilia Chung Is the Mother We All Wanted." Autostraddle. May 7, 2020. Accessed May 26, 2022. https://www.autostraddle.com/honor-trans-elders-cecilia-chung-is-the-mother-we-all-wanted/
MLA – Brandman, Mariana. "Cecilia Chung." National Women's History Museum, 2022. Date accessed.
Chicago – Brandman, Mariana. "Cecilia Chung." National Women's History Museum. 2022. www.womenshistory.org/education-resources/biographies/cecilia-chung
Image Credit: "Cecilia Chung at Trans March San Francisco 20170623-6639.jpg" by Pax Ahimsa Gethen, CC BY-SA 4.0.