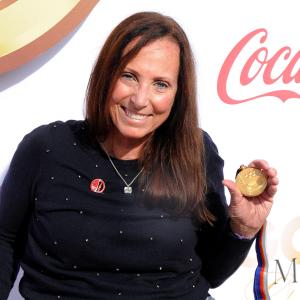 In 1992, Candace Cable became the first woman to medal at the summer and winter Paralympic Games. During her career, she competed at nine Paralympics and won 12 medals in track and field, alpine skiing, and Nordic skiing. Cable also won 84 marathons, including six Boston Marathon victories. Cable now works to improve the lives of people with disabilities worldwide.
Born July 15, 1954, Cable was raised in Southern California and enjoyed hiking and swimming. She moved to Lake Tahoe in Northern California when she was in her late teens and began working at a casino while skiing in her free time.
Cable's life changed when she was involved in a car accident in 1975 at 21 years old. A serious spinal cord injury left her unable to walk. She spent six months in the hospital as surgeons tried to repair her spine. The experience left her depressed, isolated from her friends, and addicted to pain medication. She says that she felt "worthless." Finally, in 1978, Cable decided that she needed help and sought counselling to help her deal with her traumatic accident.
Later that year, Cable enrolled at Long Beach State University. There she joined the Disabled Student Services group. This group provided her with the opportunity to try a variety of sports. She tried swimming and wheelchair tennis but did not enjoy them enough to continue. She found her passion after an invitation to take part in a 5km wheelchair race at Griffith Park in Los Angeles.
Although she had no prior knowledge of what a 5km wheelchair race entailed, Cable was hooked and wondered if it was a sport at which she could excel. The sport was in its early years and Cable joined the movement to build it and ensure equity for its athletes. She helped design wheelchair racing equipment and assisted in the creation of guidelines and rules for races.
Cable soon found she had the potential to succeed at the most elite levels of wheelchair racing. She debuted at the Paralympics in Arnhem, Netherlands in 1980 and won gold in the 200m and 400m races and silver in the 4x60 relay. Four years later, she competed in an exhibition wheelchair race at the Summer Olympic Games in Los Angeles.
Further appearances at the Paralympic Summer Games followed in 1988, 1992, and 1996 as well as five Paralympic Winter Games in 1992, 1994, 1998, 2002, and 2006. At the 1992 Paralympic Games, Cable competed in Nordic and Alpine skiing; she won a silver medal in the slalom and bronzes in the downhill and giant slalom. This achievement made her the first woman to win medals at both the Summer and Winter Paralympic Games.
Cable's achievements at the Paralympics are only one part of her sporting successes. She has also won 84 marathons, including six wins at the Boston Marathon. In 2000, she took part in the Outward Bound Girls on the Move project. This task entailed riding her handcycle (a hand-powered recumbent tricycle) 3,865 miles in three months. Entrants stopped at 1,500 communities during the event to encourage women and girls to be healthy and active. Cable shared how sports enabled her to rebuild her self-esteem and lead a healthy, purposeful life.
Cable has made her most significant contributions to disabled sports and those with disabilities since her retirement in 2006. During her sporting career, Cable became aware of the stigmas and stereotypes facing disabled athletes. This experience made her determined to educate people and improve opportunities for others.
She has volunteered for several organizations, including UNICEF, the Christopher and Dana Reeve Foundation, and the Open Doors Organization. She is also involved in United Nations meetings for the Convention on the Rights of People with Disabilities, as well as other groups dedicated to advancing the rights of people with disabilities. In 2016, she co-founded Social Cohesion Resources. The organization offers training programs for non-disabled people to help them understand the life experiences of people with disabilities.
In 2019, Cable became a Public Policy/Employment Fellow for RespectAbility's National Leadership Program. RespectAbility fights stigma and increases opportunities for people with disabilities to make sure that they can fully take part in their communities. Between 2011 and 2019, Cable was a trainer for the Open Doors Organization, a non-profit that helps people with disabilities access the same travel and tourism opportunities as non-disabled people.
She has also continued to work in the sports world. She served as the Vice-Chair of the LA2024 bid for the Olympic and Paralympic Games, and helped to bring the Games back to Los Angeles in 2028. She was also a Paralympic Skiing Representative for the United States Olympic Committee between 2012 and 2016. Additionally, Cable has used her expertise to advise the creation of the U.S. Adaptive Nordic Skiing instruction manual.
The Foundation for Global Sports Development recognized Cable's achievements with their Athletes in Excellence Award in 2014. Two years later, she joined the organization as a Champion Ambassador. Ambassadors provide mentoring and motivational speaking to engage young people in sports. In 2019, Cable was inducted into the Team USA Hall of Fame.
Cable states that after her accident, she did not have any role models to follow. She has dedicated herself to being a role model to others and has succeeded both on and off the Olympic stage.
"About Us." RespectAbility. Accessed June 23, 2021. https://www.respectability.org/about-us/
"Athlete Spotlight – Candace Cable," Global Sports Development. Accessed May 28, 2021. http://globalsportsdevelopment.org/2015/08/07/athlete-spotlight-candace-cable/
"Candace Cable." Team USA Hall of Fame. Accessed May 28, 2021. https://www.teamusa.org/Hall-of-Fame/Hall-of-Fame-Members/Candace-Cable#halloffame
"Candace Cable, Policy Fellow," Respectability. Accessed May 28, 2021. https://www.respectability.org/2019/02/candace-cable-policy-fellow/
Edholm, Eric. "Changed the Game: Candace Cable Overcame Drug Abuse to Become an Adaptive-Sport Legend." MSN/Yahoo Sports. March 27 2021. https://www.msn.com/en-us/health/wellness/changed-the-game-candace-cable-overcame-drug-abuse-to-become-an-adaptive-sport-legend/ar-BB1f1TH3
"GSD Names Paralympian Candace Cable as Ambassador," International Paralympic Committee. April 24, 2016. https://www.paralympic.org/news/gsd-names-paralympian-candace-cable-ambassador
Hauserman, Tim. "Advocating for Change." Tahoe Weekly. August 26, 2015. http://thetahoeweekly.com/2015/08/advocating-for-change-%C2%B7-candace-cable/
Roth, Erin. "A New Life: Since Losing the Use of Her Legs, Candace Cable Has Taken Her Life in a New Direction." Sierra Sun. December 19, 2021. https://www.sierrasun.com/sports/a-new-life-since-losing-the-use-of-her-legs-candace-cable-has-taken-her-life-in-a-new-direction/
MLA - Taylor, Katie. "Candace Cable." National Women's History Museum, 2021. Date Accessed.
Chicago - Taylor, Katie. "Candace Cable." National Women's History Museum. 2021. www.womenshistory.org/education-resources/biographies/candace-cable
Photo Credit: Barry King / Alamy Stock Photo