Mildred "Babe" Didrikson Zaharias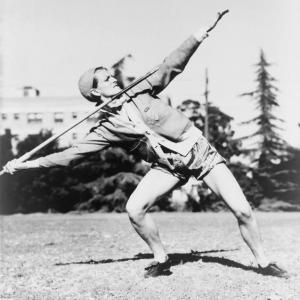 One of America's foremost female athletes, Mildred Ella "Babe" Didrikson Zaharias was an Olympic gold medal winner who broke world records in multiple sports and went on to found the Ladies Pro Golf Association.
Born on June 26, 1911 in Port Arthur, Texas, she was the sixth of seven children born to Norwegian immigrants Hannah Marie and Ole. Her mother took in laundry while her father worked as a seaman and furniture maker. In 1915 her family moved to Beaumont and Zaharias began her amateur sports career playing neighborhood baseball. Her frequent homeruns earned her the nickname "Babe" after baseball legend Babe Ruth. She excelled in every sport she tried, especially basketball. While working at Employers Casualty Company in Dallas, she played on the company basketball team, the Golden Cyclones, from 1929 to 1932.
After reading about the 1928 Olympics, she vowed she would one day compete in Olympic track and field. She trained daily with her sister, jumping hedges in the neighborhood. During the qualifying trials, she made the cut in five events, but women were only allowed to participate in three. At the 1932 Olympics in Los Angeles, 21-year-old Zaharias received a gold medal for the javelin throw, setting a new world record at 143 feet. The next day she set a new world record (breaking her own) of 11.7 seconds in the 80-meter hurdle, winning another gold medal. After a much-debated tie for first in the high-jump (at 5'5"), the judges disqualified the technique she used and gave her the silver medal.
Despite these records, Zaharias is best known for her achievements in golf, winning 82 tournaments throughout her career. She took up golf in 1933, though initially faced discrimination and resistance as a woman. That changed as she began her winning streak. She was considered a professional because of her advertising endorsements. At the 1938 Los Angeles Open, she met George Zaharias, a wrestler and part-time actor from Colorado. They married in December 1938, and Zaharias became his wife's manager. While on vacation in Australia months after their wedding, he lined up a golf exhibition for her.
In 1943 Didrikson was awarded amateur status as a golfer, which enabled her to play in a wider range of tournaments. Between 1943 and 1947 (when she turned professional again), she won 17 amateur tournaments in a row. She also became the first American woman to win the British Women's Amateur Golf Tournament. In 1947, she won seventeen gold championships. There were limited options for female golfers in the 1940s, so Zaharias joined with golfer Patty Berg to co-found the Ladies Professional Golf Association (LPGA) in 1949. Berg was the president the first year, after which Didrikson held the position for the rest of her life. In 1950 the Associated Press voted Babe Didrikson Woman Athlete of the Half-Century. In her final years as a professional athlete, Zaharias was reportedly earning $100,000 annually from tournaments and endorsements (equal to $1 million in current dollars).
In 1953 Didrikson was diagnosed with cancer and underwent surgery including a colostomy. Ever resilient, she entered a golf tournament just three months after surgery and was back to winning a month after that, including the U.S. Women's Open in Salem, Massachusetts. Three years after her diagnosis, Zaharias succumbed to cancer.
MLA - Michals, Debra.  "Mildred Ella 'Babe' Didrikson Zaharias."  National Women's History Museum.  National Women's History Museum, 2015.  Date accessed.
Chicago - Michals, Debra.  "Mildred Ella 'Babe' Didrikson Zaharias."  National Women's History Museum.  2015.  www.womenshistory.org/education-resources/biographies/mildred-babe-didrikson-zaharias. 
Web Sites:
Books:
Babe Didrikson Zaharias tells her own story: This Life I've Led. As told to Harry Paxton. New York: Dell Publishing Company, 1955.

Freedman, Russell. Babe Didrikson Zaharias: The Making of a Champion. New York: Clarion Books, 1999.