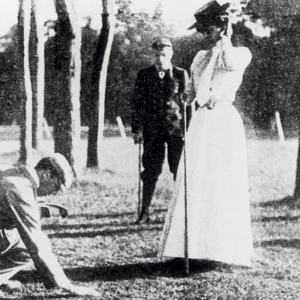 Imagine being the first woman to win an Olympic event for the United States, but never knowing that you had done so. This is what happened to Margaret Ives Abbott. In 1900, Abbott won the women's Olympic golf tournament, but she never knew what she had achieved.
Born in Calcutta (now Kolkata) in June 1878, Abbott spent her early years in India, where her father, Charles, was a wealthy merchant. Following her father's death, Abbott moved to Boston when she was young. As a teenager, her family moved to Chicago, where Abbott's mother worked as a novelist and literary editor for the Chicago Herald. It was while living in Chicago that Abbott took up golf.
In the late nineteenth century, women from the upper classes of society could not compete in many sports. Doctors were worried that the physical exertion of sports might cause permanent damage to women. Women were also expected to dress conservatively, which limited their sporting activity. Golf, however, was one sport that women could play. It was not too physically demanding and they could wear clothing that covered them up.
Despite this, golf clubs, run by men, did not allow women to join. Yet, they were able to play the sport if a man accompanied them. Abbott began playing golf at Charles Blair MacDonald's Chicago Golf Club in Wheaton, Illinois. MacDonald and HJ Wigham, two successful amateur players, coached Abbott and she won several local tournaments.
Like many young American women from the upper classes of society, Abbott, spent some time living in Paris to learn about art and culture. She lived there between 1899 and 1902, studying art alongside famous artists Auguste Rodin and Edgar Degas. While Abbott was living in Paris, the city hosted the second modern Olympic Games in 1900. Unlike the two-week Olympic Games that happen now, events in 1900 took place between May and October.
The Olympic Games coincided with the 1900 Paris Exposition. This scheduling made it difficult to know which event a competition was linked with, the Olympic Games or the Paris Exposition. Baron Pierre de Coubertin, the founder of the modern Olympic Games, planned that the modern Olympics would be for men only. However, some women found a way to participate. The 1900 Olympics were the first to include female competitors, although they could not participate in many events. The sports that they could take part in included golf, tennis, sailing, rowing, and equestrianism.
The golf tournament took place at the Compiègne Golf Club, about 30 miles away from Paris. Its proximity to Paris made it easy for Abbott and her mother, Mary, to participate. Abbott and her mother are still the only mother and daughter to have competed in the same event at the same time. The competition consisted of nine holes that ranged in distance from 68 to 230 yards. Abbott shot 47 to win, while Mary shot 65, tying for seventh place.
It had been Mary's friendship with Charles Blair MacDonald, the first US Amateur champion, and a famous golf course designer, that introduced the two women to the sport. Americans Polly Whittier and Daria Pratt came in second and third place, respectively. Abbott said that her success was because the French women wore high heels and tight skirts, which prevented them from playing as well.
Unlike the gold medals awarded today, Abbott won an antique porcelain bowl embellished with gold. Remarkably, it was not clear to Abbott that the competition was part of the Olympics: she believed that the golf tournament was connected to the Paris Exposition. The Chicago Tribune reported on the competition, and Abbott wrote about her win to relatives in America. However, neither she nor the newspaper were aware that she had just become America's first female Olympic champion. Two years later, Abbott won the 1902 Femina Cup, the forerunner of the French Women's Championship.
Abbott returned to America in 1902 and married Finley Peter Dunne in New York. She continued to play golf in New York at Shinnecock Hills Golf Club. She and her husband had four children and later moved to Greenwich, Connecticut, where Abbott died in 1955.
Abbott's story might have remained hidden without the research of Paula Welch, a professor at the University of Florida specializing in the Olympics and sports history. Welch spent a decade researching Abbott's life. Welch first discovered Abbott's name on a plaque at the United States Olympic Committee's headquarters in New York. She searched newspaper records, Paris Exposition reports, and Abbott's death certificate in order to uncover more of her story. Welch contacted Abbott's son Philip Dunne who had no idea that his mother had won the Olympic golf competition in 1900. Because the US Olympic team did not list Abbott as a member and she just showed up for the competition, some of her history was lost until the 1990s.
Margaret Ives Abbott did not know about her place in America's Olympic history, but she was a pioneer. She took part in the event purely for the love of the sport and made history at the same time.
Linda K. Fuller, Female Olympian and Paralympian Events: Analyses, Backgrounds, and Timelines(New York: Springer International Publishing, 2018), 111-113.
Bill Mallon and Randon Jerris, Historical Dictionary of Golf(Lanham: Scarecrow Press, 2011), 25.
"Margaret Ives ABBOTT," International Olympic Committee, accessed May 26, 2021, https://olympics.com/en/athletes/margaret-ives-abbott.
"The First American Woman to Win an Olympic Championship Didn't Even Know It," Tao Tao Holmes, last modified August 10, 2016. https://www.atlasobscura.com/articles/the-first-american-woman-to-win-an-olympic-championship-didnt-even-know-it 26/5/21.
Margalit Fox, "Margaret Abbott," New York Times, March 11, 2018. https://www.nytimes.com/interactive/2018/obituaries/overlooked-margaret-abbott.html"Margaret Abbott, the Olympic golf champion who died without knowing it," accessed October 6, 2021. https://olympics.com/tokyo-2020/en/news/margaret-abbott-the-olympic-golf-champion-who-died-without-knowing-it
MLA - Taylor, Katie. "Margaret Ives Abbott." National Women's History Museum. National Women's History Museum, 2021. Date Accessed.
Chicago - Taylor, Katie. "Margaret Ives Abbott." National Women's History Museum. 2021. www.womenshistory.org/education-resources/biographies/margaret-ives-abbott.
Photo Credit: Wikipedia, Public Domain.
"Getting into the Games: Women and the Olympics" National Women's History Museum. https://www.womenshistory.org/exhibits/getting-games