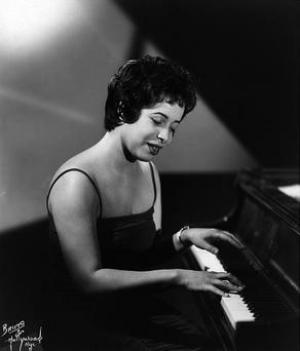 Jazz singer and pianist Shirley Horn was one of the leading jazz musicians of her generation. With her distinctive voice and the slow pace of her music, Horn had a long and storied career which touched both national and international audiences.
Shirley Horn was born on May 1, 1934, in Washington, D.C. Her father was a General Accounting Office clerk and her mother was a homemaker. At the encouragement of her mother, who wanted Horn to become a pioneering African American classical artist, she began playing piano at age 4. She learned on her grandmother's parlor upright piano. By age 12, she was studying classical music at Howard University's Junior School of Music. Horn recalled her childhood was "all about music" and "going to school" and even her "mother used to say, why don't you go and play with the kids outside?" As a teenager, Horn won a scholarship to study music at the Julliard School in New York. Deciding it was too expensive for her parents to support her living in NYC, Horn stayed in D.C.
She began playing in clubs and cocktail lounges around D.C., attracting a small following. One night, an older customer offered the then 17-year-old Horn a four-foot-tall turquois teddy bear if she would sing "My Melancholy Baby," which Ella Fitzgerald had sung. Horn recalled "I was very shy and it was hard for me to sing" but "I wanted that teddy bear." Horn cites this moment as the one that convinced her she could both sing and play jazz music. While she was reluctant to do anything besides classical, she realized she could make more money as a jazz musician. Of her transition from classical to jazz, she liked to say, "I loved Rachmaninoff, but then Oscar Peterson became my Rachmaninoff. And Ahmad Jamal became my Debussy." At age 20, she began leading her own jazz trio in Washington, D.C. They played at many of the clubs in the U Street jazz corridor.
Horn was a perfectionist and worked hard to develop her sound. She had one of the slowest deliveries in jazz, a genre known for its fast pace, and a unique phrasing in her singing. She sung with a soft, sensitive voice that distinguished her from other performers of the era.
In 1960, Horn recorded her first album, Embers and Ashes, for a small label called Stere-O-Craft. While the record was not widely heard, one person who did listen was Miles Davis. Davis immediately tracked down Horn and asked her to open for his performance at the Village Vanguard in New York. Miles told the Village Vanguard's management that if Horn, an unknown outside of D.C., did not play the opening set then he would not play. Opening for Davis at the Vanguard led to many new opportunities for Horn. At the Vanguard, she met actor Sidney Poitier. Horn recalled Poitier came "up to me and said how much he enjoyed my music and kissed my hand. I almost fainted." Horn went on to sing on the soundtrack of Poitier's film "For the Love of Ivy" (1968).
The Vanguard performances also led her to a contract with Mercury Records. At Mercury, Horn worked with Quincy Jones on two albums, Shirley Horn with Horns and Loads of Love, both released in 1963. Despite the success of these albums, Horn was displeased. Horn said Mercury "wanted to groom me as a stand-up singer" which she thought was not right since she was a piano player. She "felt so uncomfortable, standing in this little booth, singing off the lyric sheets there in front of me...those records were not me." By the mid-1960s she stopped touring. At the urging of her husband Sheppard Deering, a Metro mechanic, Horn only played gigs in the D.C.-Baltimore area. She too wanted to remain close to home and family so she could raise her daughter, Rainy. Between 1963 and 1978, Horn only made two records: Travelin' Light (1965) and Where Are You Going? (1972).
In 1980, Horn attended a musicians' convention at D.C.'s Shoreham Hotel. Past midnight one night, she sat down at the piano to play for some friends. The performance dazzled many in the crowd, including some recording executives and concert promoters. One invited her to the North Sea Jazz Festival in the Netherlands. Her concert there led to a career resurgence. Now in her 50s, she got a contract with the prestigious Verve Records and became widely known outside of D.C. In the 1980s and 1990s, she worked with a regular trio of bass and drums, recorded 11 more albums, received nine Grammy nominations, and won a Grammy in 1999 for Best Jazz Vocal Performance. Miles Davis played as a "side man" on her album You Won't Forget Me (1991). Her album Here's to Life (1992) spent 16 weeks at number one on the Billboard Jazz Chart; two other albums also reached number one in 1992 and 1993. PBS nationally broadcasted her performances at the White House in 1994 and New York's Lincoln Center in 1998.
In 2001, Horn's right foot was amputated due to her long struggle with diabetes. She continued performing, but it was difficult for her to use the piano pedals in the way that was necessary for her trademark style. For a few years, another pianist played while she performed facing the audience. She then switched to using a prosthetic device that allowed her to work the pedals. Despite her declining health, she not only struggled with diabetes but breast cancer, Horn continued to dazzle audiences. In 2004, she was honored by the Kennedy Center and named a National Endowment for the Arts Jazz Master.
On October 20, 2005, Shirley Horn died at age 71 at a nursing home in Cheverly, Maryland.
Adam Bernstein, "Shirley Horn: Mesmerizing Jazz Singer and Pianist," The Washington Post, October 22, 2005, https://www.washingtonpost.com/wp-dyn/content/article/2005/10/21/AR2005102101624.html
Ben Ratliff, "Shirley Horn, Jazz Singer and Pianist, Is Dead at 71," The New York Times, October 22, 2005, https://www.nytimes.com/2005/10/22/arts/music/shirley-horn-jazz-singer-and-pianist-is-dead-at-71.html
John Fordham, "Shirley Horn: Jazz singer-pianist whose distinctive slow tempos captivated her audiences," The Guardian, October 24, 2005, https://www.theguardian.com/news/2005/oct/25/guardianobituaries.arts
"Shirley Horn," National Endowment for the Arts, https://www.arts.gov/honors/jazz/shirley-horn
MLA –Rothberg, Emma. "Shirley Horn" National Women's History Museum, 2022. Date accessed.
Chicago –Rothberg, Emma. "Shirley Horn." National Women's History Museum. 2022. www.womenshistory.org/education-resources/biographies/shirley-horn.
Photo Credit: By Bruno of Hollywood - Original publication: publicity photo. Immediate source: This image is available from the United States Library of Congress Prints and Photographs Division under the digital ID ppmsca. 08325.