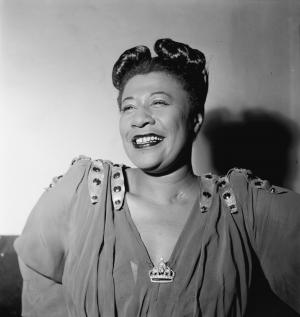 Ella Fitzgerald, known as "The First Lady of Song," was a revolutionary American jazz singer who performed all over the world. Her signature style included her iconic vocal range, clear tone and ability to improvise with her hallmark scat singing. Her many awards and accolades are a reflection of the colossal inspiration she was to many.  
Ella Fitzgerald was born on April 25, 1917, in Newport News, Virginia to mother, Temperance (Tempie) Henry and father, William Fitzgerald. A few years after her birth, Fitzgerald's parents separated and her mother met her new partner, Joseph da Silva. Fitzgerald and her mother moved to Yonkers, New York to move in with da Silva. Frances, Fitzgerald's half-sister, was born in 1923. The two women remained close for the rest of Fitzgerald's life.
Fitzgerald was a great student. She lived in a diverse neighborhood and made friends easily by playing games and sports in the street. Fitzgerald also loved dancing and singing, often catching shows at the Apollo Theater in Harlem. Her primary exposure to music was through attending services with her family at the Bethany African Methodist Episcopal Church and by listening to the jazz records her mother brought home for her. When Fitzgerald's mother died from serious injuries due to a car accident in 1932, Fitzgerald's life changed dramatically.
Fitzgerald went to go live with her aunt in Harlem. When da Silva died of a heart attack a short time later, Frances moved in too. Fitzgerald's grades declined and she got into trouble with the law when she became affiliated with mafia related activities. Once in custody, the authorities sent fifteen-year-old Fitzgerald to reform school in Hudson, New York. There, she was beaten by her caretakers and faced terrible treatment. She escaped the reform school and found herself alone during the Great Depression.
Fitzgerald began singing and performing on the streets of Harlem in order to make ends meet. In November 1934, seventeen-year-old Fitzgerald debuted in her first Amateur Night at the Apollo Theater. Although her intention was to dance, she decided to sing instead after seeing the dance competitors. She drew inspiration from Connee Boswell of The Boswell Sisters, one of her mother's favorite groups, and sang the song "Judy" by Hoagy Carmichael.  Fitzgerald felt at home on the stage and less self-conscious. She won first place in the competition, but the theater did not award her the full prize. The winner was supposed to have the chance to perform at the Apollo Theater for a week, but because they judged her appearance as untidy, she was not given this opportunity. This did not stop Fitzgerald from continuing to enter singing competitions across the city. One in particular opened doors for her.
In January 1935, Fitzgerald won the chance to perform with the Tiny Bradshaw Band at the Harlem Opera House where she met Chick Webb, the drummer and band leader. Webb had hired a lead male singer for the band but he was still searching for a female singer. He offered Fitzgerald the chance to test with the band during their performance at Yale University. The show was so successful that Webb offered to pay Fitzgerald to sing with the band at Harlem's Savoy Ballroom. At 21 years old, she recorded hits that made her famous such as "Love and Kisses", and "A-Tisket, A-Tasket" (1938), which remained on the pop charts for seventeen weeks. After Webb died in 1939, the band was renamed Ella and Her Famous Orchestra. Fitzgerald took on the role of bandleader and recorded over 150 songs between 1935 and 1942.
After financial struggles for Fitzgerald and her band, she began working as lead singer for The Three Keys at Decca Records. During this time, she married Benny Kornegay, a local dockworker, but annulled the marriage two years later. She performed with influential singers like Bill Kenny & the Ink Spots and Louis Jordan. The 1940's ushered in the bebop style of jazz; Fitzgerald adopted it and excelled. Drawing influence from touring with Dizzy Gillespie, Fitzgerald gained major acclaim in the world of jazz with her scat singing and unique style that inspired singers like Louis Armstrong. While on tour, Fitzgerald fell in love with bassist, Ray Brown; the two eventually married, adopted a son, and named him Ray Jr. In the mid-1940's, she began singing for Jazz at the Philharmonic, a concert series started by her manager, Norman Granz.
Her 1945 recording of "Flying Home" was described as one of the most influential jazz recordings of the decade. After gaining much fame from singing her own renditions of famous jazz songs, Fitzgerald began appearing on television shows like "The Bing Crosby Show," "The Frank Sinatra Show," and "The Ed Sullivan Show." Fitzgerald and Brown's busy schedules took a toll on their relationship with their son and their marriage. They divorced in 1952. However, they stayed friends for the rest of their lives.
Fitzgerald also faced racial discrimination while on tour. Her manager, Norman Granz, was adamant about protecting his colleagues from discrimination, but it did not stop it from happening. When the band was touring in Dallas, Texas, the police barged into Fitzgerald's dressing room and arrested her, Dizzy Gillespie, and Illinois Jacquet because of Granz's civil rights advocacy. Fitzgerald also had celebrity supporters, such a Marilyn Monroe, who personally called venues to make sure they booked her for performances. In 1955, Granz created Verve Records for Fitzgerald to expand her repertoire from bebop to other genres of music. Fitzgerald then published her first of eight song books, Ella Fitzgerald Sings the Cole Porter Song Book (1956). She credited the book for helping her to break through with non-jazz audiences.
Fitzgerald became an international star. Despite her declining health, she continued performing, sometimes two shows a day in different cities. Fitzgerald spent two weeks performing in New York with Frank Sinatra and Count Basie in 1974 and was inducted into the Downbeat Magazine Hall of Fame in 1979. Aside from music, Fitzgerald was a child welfare advocate and regularly made donations to help disadvantaged youth. She was awarded the National Medal of Arts by Ronald Reagan in 1987. She received many other awards, including honorary doctorates from Yale, Dartmouth, and several other universities.
After her heart surgery and a diabetes diagnosis in 1986, Fitzgerald exceeded expectations by continuing to perform. Her last performance was at Carnegie Hall in New York in 1991. When her diabetes forced her to have both of her legs amputated, she traded the stage for sitting in her backyard with her son and granddaughter, Alice. By the end of her career, she had recorded 2,000 songs, earned fourteen Grammy awards and the Presidential Medal of Freedom (1992). On June 15, 1996, Fitzgerald passed away at her home. The world responded with memorials and gratitude for the revolutionary gifts she gave to the world.
MLA- Angelucci, Ashley. "Ella Fitzgerald." National Women's History Museum. 2022. Date Accessed.
Chicago- Angelucci, Ashley. 2022. "Ella Fitzgerald." National Women's History Museum.
Photo Credit: Ella Fitzgerald, November 1946. Photography by William P. Gottlieb.
Biography.com Editors. "Ella Fitzgerald Biography." Biography.com Website. https://www.biography.com/musician/ella-fitzgerald
Mark, Geoffrey. ELLA: A Biography of the Legendary Ella Fitzgerald. Ultimate Symbol Incorporated. 2017.
Nicholson, Stuart. Ella Fitzgerald: A Biography of the First Lady of Jazz, Updated Edition. United Kingdom. Taylor & Francis. 2014.