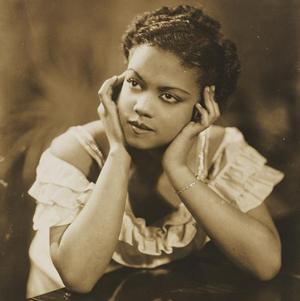 Jazz pianist and singer Hazel Scott was not only the first African-American woman to host her own television show, but she also bravely stood up to the House Un-American Activities Committee and the Hollywood studio machine. The gifted and popular performer dazzled audiences in the U.S. and abroad with her jazzy renditions of classical works.
Hazel Dorothy Scott was born in Port of Spain, Trinidad on June 11, 1920. She was the only child of R. Thomas Scott, a West African scholar from England, and Alma Long Scott, a classically trained pianist and saxophonist. Scott displayed her talents for music at an early age and, by the age of three, Scott could play the piano by ear. When her mother's music students would hit a wrong note, Scott would yelp with displeasure.
Scott's parents separated and she moved with her mother and grandmother to New York City in 1924. Scott's mother played in several all-women bands to earn a living. Scott and her mother were extremely close, and Scott called her mother "the single biggest influence in my life." Alma became friends with prominent African-American musicians, which gave Scott the opportunity to learn from a variety of musical greats, such as Art Tatum, Lester Young, and Fats Waller.
Her mother's musical connections made it possible for Scott to audition for the prestigious Juilliard School of Music at the unheard-of age of eight (students were supposed to be 16). Scott's rendition of Rachmaninoff's "Prelude in C-Sharp Minor" convinced professor Oscar Wagner of Scott's "genius" and he arranged a scholarship so that he could instruct her privately.
By the time she was a teenager, Scott was performing professionally throughout the city. At the age of 13, she joined her mother's jazz band, Alma Long Scott's American Creolians. At 15, Scott made her individual stage debut opposite Count Basie's big band at the Roseland Ballroom in New York City. She won a local competition to host her own radio show and, in 1938, made her Broadway debut in the musical revue Sing Out the News. Despite her demanding musical career, Scott graduated high school with honors.
It was her 1939 performances at Café Society in Greenwich Village that pushed Scott's career to the next level. Café Society was New York's first fully integrated nightclub and the city's hot spot for jazz. When singer Billie Holiday ended her standing engagement there three weeks early, she insisted on Scott as her replacement. When the run was up, Scott was the "Darling of Café Society" and the club's new headliner.
Audiences found Scott's penchant for "jazzing the classics" irresistible. She would begin by playing familiar classical piece, then would improvise, adding jazzy runs and flourishes to their melodies. She was not the first put a jazz spin on the classics, but the combination of her classical training, her early exposure to top jazz musicians, and her natural talent enabled Scott to astonish listeners with her stylings. She was a talented singer as well, possessing a vibrant and full-bodied voice. Her "Bach to Boogie" recordings on the Signature and Decca labels broke sales records.
After appearing in several Broadway productions, Scott moved to Los Angeles and signed with RKO, a major movie studio. However, she immediately came up against the racist strictures of Hollywood. She turned down the first four roles offered to her, all for singing maids. She instead appeared as herself in five films, a sophisticated woman with immense musical talents, and insisted on the appropriate credit: "Hazel Scott as Herself." She also called for pay equal to that of her white counterparts. But standing up to the studio's demands brought her film career to an end by 1945.
It was not just in Hollywood that Scott took a stand against racial prejudice. She was one of the first performers to refuse to play before segregated audiences, including the stipulation in all her contracts. Scott credited her courage to the example her mother set for her as a proud and independent woman. Scott's fame and talent helped too: by 1945 she was attracting large audiences and earning today's equivalent of over one million dollars per year.
Scott returned to New York City from Hollywood, where she began an affair with Harlem preacher and politician Adam Clayton Powell, Jr. In 1944, Powell became the first African American elected to Congress from New York. Scott and Powell married the following summer, amid great scandal (he divorced his previous wife just days earlier) and great fanfare (the glamorous couple was the subject of intense media interest). Scott gave birth to their son, Adam Clayton Powell III, in 1946.
In the summer of 1950, Scott made history as the first African-American woman to host her own television show. The Hazel Scott Show aired for 15 minutes, three times a week, first in New York City and then nationally. Scott played the mix of classics, jazz, and boogie-woogie blues for which she was known and the show earned good ratings. However, it came to an abrupt end after just a few months. Scott was named in Red Channels, the pamphlet that listed the supposed Communist sympathizers in entertainment. Scott chose to testify before the House Un-American Activities Committee. They accused her of performing for organizations with Communist ties; she had never heard of all but one of them and said she was unaware of its political affiliation. She attested that she had supported a Communist candidate for New York City Council years earlier, but claimed she was never a party member. Despite these avowals, The Hazel Scott Show was canceled a week later.
In the mid-1950s, Scott and Powell separated, formally divorcing in 1960. Scott moved to Paris in 1957 and joined the Black expatriate community there. Her home became a gathering place for African-American musicians and artists. During this time, Scott was briefly married to Swiss-Italian comedian Ezio Bedin.           
Scott returned to the U.S. in 1967, but the peak of her fame was behind her. The music scene had moved on from jazz and blues to Motown and British pop. Still, Scott performed in small clubs for her fan base, made a few recordings, and even took small roles in soap operas. Scott passed away from pancreatic cancer on October 2, 1981, just two months after her final performance.
Chilton, Karen. "Hazel Scott's Lifetime of High Notes." Smithsonian Magazine. Oct. 15, 2009. Accessed Jan. 29, 2021. https://www.smithsonianmag.com/arts-culture/hazel-scotts-lifetime-of-high-notes-145939027/
 
Handy, Antoinette. "Scott, Hazel Dorothy (1920-1981), jazz pianist and singer." American National Biography. Feb. 1, 2000; Accessed Jan. 13, 2021. https://www.anb.org/view/10.1093/anb/9780198606697.001.0001/anb-9780198606697-e-1802441.
 
Johnson, David. "To Be Somebody: Hazel Scott." Indiana Public Media. Oct. 21, 2020. Accessed Jan. 29, 2021. https://indianapublicmedia.org/nightlights/to-be-somebody-hazel-scott.php

Rinehart, Lorissa. "This Black Woman Was Once the Biggest Star in Jazz. Here's Why You've Never Heard of Her." Narratively. Aug. 1, 2018. Accessed Jan. 29, 2021. https://narratively.com/this-black-woman-was-once-the-biggest-star-in-jazz-heres-why-youve-never-heard-of-her/

Scutts, Joanna. "This Piano Prodigy Was the First African-American Woman to Host Her Own TV Show." Time. Sept. 27, 2016. Accessed Jan. 29, 2021. https://time.com/4507850/hazel-scott/