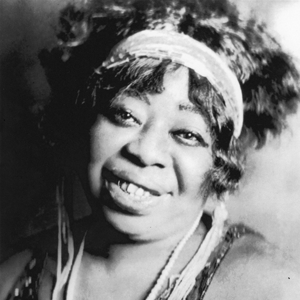 Often called the "Mother of the Blues," Ma Rainey was known for her deep-throated voice and mesmerizing stage presence that drew packed audiences and sold hit records in the early twentieth century. Also a songwriter, her lyrics and melodies reflected her experiences as an independent, openly bisexual African-American woman. 
Ma Rainey was born Gertrude Malissa Nix Pridgett in Columbus, Georgia on April 26, 1886. Her parents, Thomas and Ella (Allen) Pridgett, were minstrel performers. Rainey displayed a talent for singing at a young age and began performing as a teenager. She made her debut with the Bunch of Blackberries revue at the Springer Opera House in Columbus. She then began singing with traveling vaudeville acts in tent shows, honky-tonks, and carnivals. 
It was on the performance circuit that she met comedian, singer, and dancer Will "Pa" Rainey, and the two married in 1904. They formed a double act ("Ma and Pa Rainey") and toured with various African-American minstrel troupes and vaudeville groups, most notably the Rabbit Foot Minstrels. After about a dozen years of marriage, Rainey and her husband separated. Rainey then created her own show: "Madame Gertrude Ma Rainey and Her Georgia Smart Set." 
Rainey, the "Mother of the Blues," was influential for bridging the traditions of vaudeville and authentic Southern blues. The blues descended from the call-and-response storytelling songs of West Africa. Captive Africans passed them down through the generations while enslaved in the Western Hemisphere. Rainey's strong voice and characteristic "moaning" style of singing also fueled her success. A vibrant stage presence, she was known for her gold teeth, flashy clothing and jewelry, and establishing a personal connection with her audiences. 
Life as a traveling entertainer was not easy for African Americans in the early decades of the twentieth century. The Theater Owners Booking Association (TOBA) arranged many of their performances. TOBA was well known for its exploitative working conditions and the low wages it paid African-American performers. Many eventually claimed that TOBA stood for "Tough on Black Artists."
Still, Rainey was a star on the TOBA circuit. She attracted large audiences of adoring fans across the South and Midwest. Her performances drew racially mixed (though still segregated) audiences, demonstrating her wide appeal. Her two-hour show usually began with jazz numbers by the band and a performance by a line of chorus girls. After comedy routines and other acts, Rainey would make her grand entrance and dazzle the audience with songs like "I Ain't Got Nobody," "A Good Man is Hard to Find," and her encore, "See See Rider Blues." 
Rainey signed a recording contract with Paramount Records in 1923, making her one of the earliest recorded blues musicians. Between 1923 and 1928, she recorded almost 100 records, many of them national hits that are now part of the American musical canon. Her 1924 recording of "See See Rider Blues" (for which she was accompanied by a young Louis Armstrong) was added to the Library of Congress's National Recording Registry in 2004. 
Rainey's songwriting was notable for its raw depiction of life from the perspective of a woman struggling with heartbreak, depression, and other maladies. But amidst these difficulties, Rainey's protagonists did not rely on male partners or submit to the rules society tried to inflict on them. In the song "Oh Papa Blues," Rainey tells of the wrongs a former lover committed against her, but her lamentation soon turns to scheming for revenge. In "Prove It on Me Blues," Rainey boasts about her attraction to women and wearing men's clothing. As scholar and activist Angela Davis wrote, the women in Rainey's songs "explicitly celebrate their right to conduct themselves as expansively and even as undesirably as men." 
Rainey's cultural legacy is profound. She was a mentor to the legendary blues singer Bessie Smith, and the two were rumored to have had a romantic relationship. Rainey is credited with inspiring later singers such as Dinah Washington, Big Mama Thornton, and Janis Joplin. Her story inspired famed playwright August Wilson's 1982 play Ma Rainey's Black Bottom, which takes its title from Rainey's 1927 song of the same name (which in turn refers to the black bottom dance trend of the 1920s). It was a Broadway success and was recently adapted as a film. 
Rainey made her home in Chicago for much of the 1920s and early 1930s. When she lost her recording contract with Paramount (the company claimed her style of blues had fallen out of fashion) she resumed touring and performed at private parties. Following the deaths of her sister and mother, Rainey returned to Columbus, Georgia to live with her brother. She owned and managed two theaters and was active in the Friendship Baptist Church, where her brother was a deacon. Rainey passed away from heart disease on December 22, 1939 at the age of 53.
"Ma Rainey, 1886-1939." Smithsonian National Museum of African American History and Culture. Accessed Jan. 30, 2021. https://nmaahc.si.edu/LGBTQ/ma-rainey
 
Obrecht, Jas. "'See See Rider Blues' -- Gertrude 'Ma' Rainey (1924)." Library of Congress. 2004. Accessed Jan. 30, 2021. https://www.loc.gov/static/programs/national-recording-preservation-board/documents/Ma%20Rainey.pdf
 
Paranick, Amber. "Gertrude 'Ma' Rainey in Newspapers." Library of Congress. July 2, 2020. Accessed Jan. 30, 2021. https://blogs.loc.gov/headlinesandheroes/2020/07/ma-rainey/
 
Russonello, Giovanni. "Overlooked No More: Ma Rainey, the 'Mother of the Blues'." The New York Times. June 12, 2019. Accessed Jan. 30, 2021. https://www.nytimes.com/2019/06/12/obituaries/ma-rainey-overlooked.html
 
Smith, David. "'All they want is my voice': the real story of 'Mother of the Blues' Ma Rainey." The Guardian. Dec. 15, 2020. Accessed Jan. 30, 2021. https://www.theguardian.com/music/2020/dec/15/ma-rainey-black-bottom-netflix-mother-of-the-blues
 
Tischler, Barbara L. "Rainey, Ma (26 April 1886–22 December 1939), vaudeville, blues, and jazz singer and self-proclaimed "Mother of the Blues"." American National Biography. Feb. 1, 2000; Accessed Jan. 13, 2021. https://www.anb.org/view/10.1093/anb/9780198606697.001.0001/anb-9780198606697-e-1802493.
Lieb, Sandra R. Mother of the Blues: A Study of Ma Rainey. Amherst: University of Massachusetts Press, 1981.