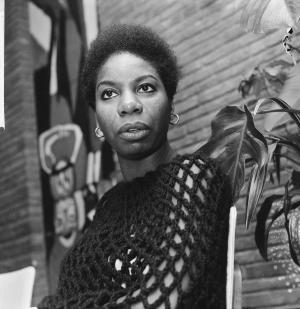 "The High Priestess of Soul," Nina Simone was a singer, pianist, songwriter, and civil rights activist. Mostly known as a jazz singer, her music blended gospel, blues, folk, pop, and classical styles. No popular singer was more closely associated with the Civil Rights Movement than Simone.
Nina Simone was born Eunice Kathleen Waymon on February 21, 1933, in Tryon, North Carolina. Her mother, Mary Kate Irvin, was a Methodist preacher and housekeeper, and her father, John Divine Waymon, worked as an entertainer, barber, and dry-cleaner. The family's home was filled with music and Simone's mother encouraged her musical pursuits but did not approve of nonreligious music like blues and jazz. Simone took up the piano before her feet could reach the pedals, and by the age of six, she was playing during church services.
Simone soon began formal training, her lessons paid for by benefactors who saw her promise as a pianist. She learned classical repertory and specialized in playing the works of Johann Sebastian Bach. Funds donated by a pair of white patrons in Tryon allowed Simone to attend the Allen High School for Girls, a private, integrated high school in Asheville, North Carolina. In 1950, Simone graduated from Allen as the valedictorian.
She earned a scholarship for a one-year program at the Juilliard School in New York City and used the time there to prepare for the entrance exam to the prestigious (and tuition-free) Curtis Institute of Music in Philadelphia. She worked as an accompanist and piano teacher to support herself but left Juilliard after she ran out of money. Simone applied to Curtis but was denied entry. She always felt that her rejection was based solely on her race and the injustice had a profound impact on her. Simone continued to work as an accompanist and music teacher as she took private lessons and pursued her dream of becoming a concert pianist.
In 1954, Simone began playing piano and singing at the Midtown Bar and Grill in Atlantic City, New Jersey. She feared that her mother would disapprove of her work in a bar, so she adopted a stage name, Nina (a nickname from a former boyfriend) and Simone (after the French actress Simone Signoret).
While performing in the Atlantic City and Philadelphia areas, Simone signed with Bethlehem Records and released her debut album, Little Girl Blue, in 1958. Simone still sought to become a concert pianist and used her proceeds from her album to fund her classical training. Simone's version of "I Loves You, Porgy" from the musical Porgy and Bess became a Top 20 hit in 1959. She decided to move to New York to capitalize on her success.
Simone had married Don Ross, a salesman, in 1958, but they separated the following year. Simone then married Andrew Stroud, a New York City detective, in 1961, and gave birth to a daughter, Lisa Celeste, in 1962. Stroud left the police force to manage Simone's career. She had become popular on the cabaret and festival circuits around New York City and continued to release albums throughout the decade.
Simone was billed as a jazz vocalist, but she often rejected the label, viewing it as a reflection of her race more than her musical style and training. She self-identified as a folk singer, with a style that also incorporated blues, gospel, and pop, among others. She was able to cross genres as both a singer and pianist, and her classical background remained an important part of her musical identity.
In the early 1960s, Simone often performed in New York City's Greenwich Village, where she mixed with artists and intellectuals like James Baldwin and Langston Hughes. Along with other African Americans looking to connect with their African heritage, Simone took part in a 1961 American Society of African Culture conference in Lagos, Nigeria. These experiences prompted Simone to get involved with the Civil Rights Movement. Simone performed benefit concerts for groups like the Congress of Racial Equality and the Student Nonviolent Coordinating Committee.
She released the iconic protest song "Mississippi Goddam" in 1964, in reaction to the bombing of the Sixteenth Street Baptist Church in Birmingham, Alabama and the assassination of civil rights leader Medgar Evers, both in 1963. The song expressed her frustration with the slow pace of change in response to the efforts of the Civil Rights Movement. She famously performed "Mississippi Goddam" at a concert on April 7, 1968, three days after the assassination of Martin Luther King, Jr.
Simone continued to speak out forcefully about the African American freedom struggle and became associated with the Black Nationalism and Black Power movements. Her albums covered a wide range of styles and included both politically motivated songs and reimaginations of popular songs. "To Be Young, Gifted, and Black" (1969) aimed to make African American children feel good about themselves and "Four Women" (1966) expressed the suffering and resilience of African American women. At the same time, her covers of songs by Leonard Cohen, George Harrison, and the Bee Gees earned acclaim.
In the 1970s, as public attention toward the Civil Rights Movement declined, Simone's music faded in popularity. She and Stroud divorced and Simone left the United States, eventually settling in France. Simone attributed her move abroad to what she saw as the worsening racial situation in the U.S. She continued to release new albums and draw fans to her concert tours, but she performed less as the years went on.
In 1991, Simone published her autobiography, I Put a Spell on You (taking the title from her famous 1965 song). The Curtis Institute of Music, which had rejected Simone back in 1950, named her an honorary doctor in music and humanities in 2003. Two days later, she died from cancer at her home in Carry-le-Rouet, France.
Scholars have often overlooked Simone's legacy because her music crossed genres and could not easily be categorized, but she left a profound mark on American music. Singers such as Aretha Franklin, Rufus Wainright, and Roberta Flack cite her as an important influence. In 2008, Rolling Stone named Simone to its list of the 100 Greatest Singers of All Time, and, in 2018, Simone was inducted into the Rock & Roll Hall of Fame.
Anderson, Heather Buffington. "Simone, Nina (1933-2003), African American jazz singer, pianist, songwriter, and civil rights activist." American National Biography. Oct. 1, 2014; Accessed Mar. 8 2022. https://doi.org/10.1093/anb/9780198606697.article.1803891
"Inductee Insights: Nina Simone." Rock & Roll Hall of Fame. July 18, 2020. Accessed Mar. 28, 2022. https://www.rockhall.com/nina-simone
Johnson, David Brent. "The High Priestess Of Soul: Nina Simone In 5 Songs." NPR. June 24, 2015. Accessed Mar. 28, 2022. https://www.npr.org/sections/ablogsupreme/2015/06/24/416824244/the-high-priestess-of-soul-nina-simone-in-five-songs
Keepnews, Peter. "Nina Simone, 70, Soulful Diva and Voice of Civil Rights, Dies." The New York Times. April 22, 2003. Accessed Mar. 28, 2022. https://www.nytimes.com/2003/04/22/arts/nina-simone-70-soulful-diva-and-voice-of-civil-rights-dies.html
Pierpont, Claudia Roth. "A Raised Voice: How Nina Simone turned the movement into music." The New Yorker. August 3, 2014. Accessed Mar. 28, 2022. https://www.newyorker.com/magazine/2014/08/11/raised-voice
MLA – Brandman, Mariana. "Nina Simone." National Women's History Museum, 2022. Date accessed.
Chicago – Brandman, Mariana. "Nina Simone." National Women's History Museum. 2022. www.womenshistory.org/education-resources/biographies/nina-simone
Photo Credit: Photographer: Kroon, Ron / Anefo. National Archives of the Netherlands. Public Domain.