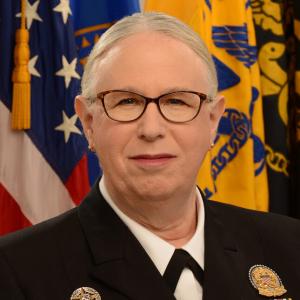 Rachel Levine became the highest-ranking openly transgender government official in U.S. history when she was confirmed by the Senate as the 17th Assistant Secretary for Health in March 2021. Her clinical and public health work has helped people dealing with a range of medical issues, including eating disorders, the opioid crisis, and COVID-19.
Rachel Levine was born on October 28, 1957 to parents Melvin and Lillian Levine. She was assigned male at birth. Levine and her older sister, Bonnie, grew up in Wakefield, Massachusetts (in the greater Boston area). Her parents were both attorneys; her mother was the only woman to graduate from Boston University Law School in 1946. Raised in a Jewish household, she celebrated her bar mitzvah and attended synagogue with her family. Levine went to the all-boys prep school Belmont Hill, where she played football and hockey and participated in glee club and drama.
Levine graduated from Harvard College in 1979 and enrolled at Tulane University School of Medicine. There she discovered a passion for pediatrics, specifically adolescent medicine, as she found teenagers both challenging and stimulating. While at Tulane, she married fellow medical student Martha Peaslee-Levine, with whom she later had a son and daughter. (The couple divorced in 2013.) Levine graduated in 1983 and began her residency in pediatrics at Mount Sinai Hospital in New York City, where she was named chief resident in her final year. She also completed her fellowship in adolescent medicine at Mount Sinai in 1988. Levine then held staff positions at Mount Sinai and Lenox Hill and worked in private practice in New York City until 1993. She specialized in the treatment of adolescents suffering from eating disorders.
In 1993, Levine accepted a job on the faculty at the Penn State College of Medicine and moved to Central Pennsylvania with her family. She was the Director of Pediatrics and Adolescent Medicine at the Poly-Clinic Medical Center. In 1996, she moved to the main Penn State campus in Hershey, where she served as the Director of Pediatric Ambulatory Services and the Director of Adolescent Medicine. Levine remained at the Penn State Hershey Medical Center until 2015, working in several different capacities and overseeing new initiatives like the adolescent and young adult eating disorder program.
In her 40s, Levine found it more and more difficult to compartmentalize the thoughts about her gender identity, the way she had done since childhood. She explored her feelings in therapy and began experimenting with her gender expression, such as growing out her hair. By 2011, she had fully transitioned. At the time, Penn State Hershey Medical Center had a non-discrimination policy that included sexual orientation, but not gender identity and expression. Levine worked with the administration to craft the "Levine Policy" that included gender identity and expression as protected categories. Levine, previously the faculty advisor for the LGBTQ student group, became the diversity office's liaison for LGBTQ affairs and helped the medical center establish itself as a more welcoming environment for members of the LGBTQ community.
During this time, Levine also became involved with political advocacy. She joined the board of Equality Pennsylvania, a state-wide LGBTQ rights group, as well as her regional Stonewall Democrats group (an LGBT caucus). When Democratic candidate Tom Wolf won the election for governor of Pennsylvania in 2014, Levine was asked to serve as co-chair for his Transition Committee for Health. Just before his inauguration in January 2015, Governor-elect Wolf appointed Levine Physician General of Pennsylvania and she was unanimously confirmed by the Pennsylvania state senate. She was able to keep her faculty appointment at Penn State but gave up her clinical duties to work with the Pennsylvania Department of Health.
As Physician General and then Pennsylvania Secretary of Health, which she was named in March 2018, Levine worked to provide greater access to healthcare for the LGBTQ community. She also sought to improve maternal health and childhood immunization rates. Her main focus, though, was addressing the opioid crisis in Pennsylvania. Levine issued an order that let Pennsylvanians buy the anti-overdose drug, Naloxone, without a prescription and allowed law enforcement to carry it. These measures prevented a great number of overdose deaths.
President Joseph R. Biden nominated Levine to serve as the 17th Assistant Secretary for Health for the U.S. Department of Health and Human Services. She was confirmed by the Senate in March 2021 by a vote of 58-42, making her the first openly transgender official to be confirmed by the Senate as well as the highest-ranking openly transgender official in U.S. history. As Assistant Secretary for Health, Levine helps coordinate the government's response to the COVID-19 pandemic along with many other public health efforts. She also oversees the U.S. Surgeon General. In October 2021, Levine was sworn in as a four-star admiral in the U.S. Public Health Service Commissioned Corps. She is its highest-ranking member and its first-ever female four-star admiral.
Levine is a Fellow of the American Academy of Pediatrics, the Society for Adolescent Health and Medicine, and the Academy for Eating Disorders. She has authored many publications and speaks publicly on issues including the opioid crisis, adolescent medicine, eating disorders, and LGBTQ medicine.
"Admiral Rachel L. Levine, MD." U.S. Department of Health and Human Services. March 8, 2022. Accessed May 17, 2022. https://www.hhs.gov/about/leadership/rachel-levine.html
Casey, John. "Dr. Rachel Levine Is Now First Trans 4-Star Admiral in U.S. History." The Advocate. Oct. 19, 2021. Accessed May 17, 2022. https://www.advocate.com/news/2021/10/19/dr-rachel-levine-now-first-trans-4-star-admiral-us-history
Diamond, Dan and Samantha Schmidt. "Rachel Levine, historic transgender nominee, confirmed as assistant health secretary." The Washington Post. March 24, 2021. Accessed May 17, 2022.
https://www.washingtonpost.com/health/2021/03/24/rachel-levine-confirmed/
"LGBT Oral History 064: Rachel Levine." Dickinson College Archives and Special Collections. Feb. 6, 2017. Accessed May 17, 2022. https://archives.dickinson.edu/lgbt-history-project/lgbt-oral-history-064-rachel-levine
Zezima, Katie. "Meet Rachel Levine, one of the very few transgender public officials in America." The Washington Post. June 1, 2016. Accessed May 17, 2022. https://www.washingtonpost.com/politics/meet-rachel-levine-one-of-the-very-few-transgender-public-officials-in-america/2016/06/01/cf6e2332-2415-11e6-8690-f14ca9de2972_story.html