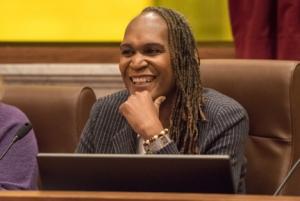 Andrea Jenkins made history in 2017 when she became the first African American, openly transgender woman elected to public office in the United States. As a politician, poet, activist, and community historian, Jenkins strives to bring "the notion of love into the public discourse."
Andrea Jenkins was born on May 10, 1961. Assigned male at birth, she grew up with her mother, Shirley Green, one sibling, and two of her cousins in the North Lawndale neighborhood on Chicago's West Side. Jenkins's father battled heroin addiction and spent much of her childhood in prison. Shirley worked as an office administrator. Jenkins described being raised by her mother in a "pretty authoritarian" but "very loving" manner with an emphasis on education. She spent every weekend at her grandparents' house in the Chatham neighborhood on Chicago's South Side. Chatham, a middle-class African American neighborhood, was in stark contrast to Jenkins's "hard-working and low-income" neighborhood, and she thus says she "experienced all of Chicago from the deep poverty to the striving middle-class Black Chicago." She was also aware of her family, who had from to Chicago from Alabama as part of the Great migration, history. Those experiences and history "deeply informed [her] life."
Jenkins spent her childhood participating in Cub Scouts and playing football at Robert Lindblom Math & Science Academy on the South Side. She also loved literature and poetry. She remembered learning "everyone can be a poet" when Gwendolyn Brooks, the Pulitzer Prize-winning poet laureate of Illinois, visited her First Grade class. Her early high school mentors included poet Haki Madhubuti, one of the founders of the Black Arts Movement and Third World Press (now the largest independent African American-owned publisher in the U.S.). Jenkins recalled her experience with Madhubuti at 14 really got her involved with "Black history, Black culture, the 1960s Black arts movement" since "Haki was really a believer that you must use poetry for social justice."
It was a lesson she kept close to her heart as she continued to write poetry that often focuses on the intersection of race, social justice, gender, and sexuality. She has published several acclaimed volumes of poetry, including The T is Not Silent (2015). At the beginning, her own gender identity was "never a subject" of her poetry. "I was thinking about it," Jenkins said in an interview, "but I would never, at that point in life, express my inner gender identity thoughts in a poem."
In 1979, Jenkins started at the University of Minnesota, an overwhelmingly white school at the time. She was shocked at the differences in resources and access between white and non-white students. She also experienced racial stereotyping on campus. She lived in male dorms and eventually joined a fraternity. When speaking of these college years, Jenkins said "In many ways a lot of my life was really trying to hide from what I knew to be true inside myself…I knew I was a girl, but I didn't want people to reject me." One of her fraternity brothers, her roommate, "outed her;" the fraternity expelled Jenkins from the house and she was forced to return to Chicago since she had no where else to live. When Jenkins told her mom why she was back home, she came out as bisexual (Jenkins still identifies as bisexual). Her mom took her back in, assuming her sexuality was just "a phase." Jenkins recalled, "I knew at this time I was trans, but again I could just not accept it for myself, and so consequently could not tell my parents or anybody about it." While in Chicago, she made her first foray into politics by working on Harold Washington's successful mayoral campaign in 1983, making him the first African American mayor of Chicago.
While in her mid-20s, Jenkins married a woman and had a daughter who remains "the absolute love of [her] life." She also began work as a vocational counselor for Hennepin County, a role she would have for over a decade. At 30, she divorced her wife and came out as a trans woman. "I just really realized that I [couldn't] go on any more, hiding the truth from myself. Hiding the truth from those who I love. If I am going to thrive in life, I have to come to grips with who I am, and I have to accept it," Jenkins said in an interview. While Jenkins began her transition, she also returned to college and finished her B.A. in Human Services from Metropolitan State University at age 38. She went on to complete two more degrees: an M.A. in Community Development from Southern New Hampshire University and an MFA in Creative Writing from Hamline University.
Jenkins's political career began in 2001 when she served on the successful campaign of Minneapolis City Council Candidate Robert Liligren. She then became one of his staffers. In 2005, City Council member Elizabeth Gidden hired Jenkins as her aide. While working for Gidden, Jenkins won the 2011 Bush Fellowship "dedicated to transgender issues," helped establish the Transgender Issues Work Group, and organized a City Council summit on transgender equality and the problems facing the transgender community in Minnesota, both in 2014. After 12 years as a Council aide, Jenkins began curating the Transgender Oral History Project at the University of Minnesota's Jean-Nickolaus Tretter Collection in Gay, Lesbian, Bisexual and Transgender Studies. A primary focus of her curation is to grow the collection of trans narratives by recording oral histories. In 2015, Jenkins served as the grand marshal of the Twin Cities Pride Parade.
When Giddens decided not to seek reelection in 2016, Jenkins ran for the open seat. She was also motivated to run because of the 2016 presidential election and wanted to make changes around issues of equity in Minneapolis. Jenkins took her mom to the polls, and later said "I do want to just acknowledge the tremendous feeling of voting for oneself, it's unlike anything you can imagine." Jenkins won her 2017 election to represent Ward 8 with 73% of the vote. She was one of a few transgender candidates who won their elections during that cycle. Her colleagues in the City Council then elected her Vice President of the Council.
In the Summer of 2020, Jenkins was again thrust into the national spotlight after the murder of George Floyd by police in Minneapolis. Floyd was a resident of Jenkins's districts. In the wake of Floyd's murder, Jenkins insisted racism was a public health crisis and played a central role in re-examining the funding and structure of Minneapolis's police department.
In 2022, Jenkins won reelection to the Minneapolis City Council with 86% of the vote. Her colleagues then unanimously made her President of the Council, another historic first for an openly transgender person. With her new mandate, Jenkins wants to bridge gaps in her community, fight for accountability within the city's police department, and expand access to affordable housing, health care, and living wages. She hopes her public service "serves as an inspiration for other trans and gender-nonconforming people."
While her jurisdiction may be limited, Jenkins continuously hears from transgender people from all over the country seeking guidance and help. In an interview with The Washington Post, Jenkins said "Transgender people have been here forever…I look forward to more trans people joining me in elected office and all other kinds of leadership roles in our society."
"About Andrea Jenkins," City of Minneapolis, https://www.minneapolismn.gov/government/city-council/ward-8/about-andrea-jenkins/
"Andrea Jenkins," National Black Justice Coalition, https://beenhere.org/2017/05/10/andrea-jenkins/
Brooke Sopelsa, "Andrea Jenkins is First Openly Transgender Black Woman Elected in U.S." NBC News, November 8, 2017, https://www.nbcnews.com/feature/nbc-out/andrea-jenkins-makes-history-first-openly-black-trans-person-elected-n818966
Madeleine Carlisle, "America's First Openly Trans City Council President Wants to Heal Minneapolis," TIME, January 25, 2022, https://time.com/6141967/andrea-jenkins-minneapolis-trans-issues-policing/
"Minneapolis City Council President Andrea Jenkins," The Takeaway, WYNC Studios, February 4, 2022, https://www.wnycstudios.org/podcasts/takeaway/segments/blackqueerrising-minneapolis-city-council-president-andrea-jenkins
Oliver Laughland, "Andrea Jenkins: the first Black openly transgender woman to hold US public office," The Guardian, March 11, 2021, https://www.theguardian.com/society/2021/mar/11/andrea-jenkins-first-black-transgender-woman-us-public-office-minneapolis-george-floyd
Tat Bellamy-Walker, "Andrea Jenkins makes history as 1st openly transgender city council president," NBC News, Jan 11, 2022, https://www.nbcnews.com/nbc-out/out-politics-and-policy/andrea-jenkins-makes-history-1st-openly-transgender-city-council-presi-rcna11829