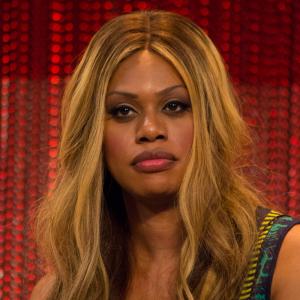 Laverne Cox has emerged as a tireless advocate for the LGBTQ+ community. A prominent actress and the first openly transgender person nominated for an Emmy, Laverne Cox has promoted visibility and awareness on behalf of the transgender community.
Laverne Cox was born on May 29, 1972. Assigned male at birth, she grew up in Mobile, Alabama with her mother and twin brother. Cox never knew her father. Her mother was a teacher, and as a single parent focused her energies on raising her two children. As a child, Cox described herself as "very creative," and credited her creativity with sustaining her. She dreamed of being on the stage. She loved to dance and began taking classes and performing in recitals and talent shows in the third grade. Cox's mother allowed her to take tap and jazz classes, but not ballet, fearing it was too feminine for a young boy. Cox began to feel ashamed and fearful of her inclination towards femininity, due to harsh comments from adults, bullying and harassment from peers, and messages she was hearing at her church. Cox feared she was disappointing her grandmother, who had passed away. Finding that idea horrifying, Cox attempted suicide at the age of 11.
Cox received a scholarship to study at the Alabama School of Fine Arts in Birmingham for high school. While there as a boarder, Cox began to embrace androgyny. She then earned a dance scholarship to attend Indiana University, where she arrived as a "gender-nonconforming" freshman. After two years at Indiana, Cox transferred to Marymount Manhattan College and graduated with a B.A. in Fine Arts in Dance. These early years in New York were formative for Cox. While at Marymount, she caught the acting bug. Cox participated in plays in Marymount's Theater Department as well as a student-directed film. She also transitioned from being gender-nonconforming to "being more and more femme." Cox recalled in an interview that while in NYC, she saw other transgender women who changed her outlook and challenged her misconceptions, including her belief that transgender people could not be successful. While at Marymount, Cox began her medical transition and began living and identifying as female.
After graduation, Cox knew she wanted to continue performing. She tried for years to be an actress. By 2007, Cox had done several student and independent films, off-off Broadway shows, and had begun auditioning for professional acting gigs. She mostly auditioned for and got roles for transgender characters. After seeing the 2007 premiere of the soap opera "Dirty Sexy Money," in which Candis Cayne became the first openly transgender actor to have a recurring role on a prime-time TV show, Cox realized she could be openly trans and have a successful career. She made postcards with her photo and the statement "Laverne Cox is the answer to all your acting needs." She sent the postcard to about 500 agents and casting directors, and it led to four meetings. Cox appeared on two episodes of "Law & Order," a pilot for HBO, a reality show, and produced and starred in her first show on VH1 called "TRANSform Me." In 2012, she booked her breakout role on the show "Orange is the New Black."
Cox's role as Sophia Burset on "Orange is the New Black" catapulted her to fame. TIME Magazine named her "the most dynamic transgender character in history." In 2014, Cox became both the first openly transgender person to be nominated for an Emmy Award for her role in "Orange in the New Black" and the first openly transgender person to appear on the cover of TIME in June. When asked what these two milestones meant, Cox said "I was told many times that I wouldn't be able to have a mainstream career as an actor because I'm trans, because I'm black, and here I am…And it feels really good." Of the Emmy nomination, Cox said it was just as important to her as an actress as it was to her as an activist, arguing the transgender community deserved the opportunity to turn on the TV and "see [themselves.]" Since her role on "Orange is the New Black," Cox has appeared on many magazine covers and received numerous acting awards and nominations. Her other recent acting credits include "Promising Young Woman" (2020) and "Inventing Anna" (2021).
In 2015, Cox returned to Indiana University to speak about her experiences as a member of the transgender community with a speech titled "Ain't I a Woman," echoing the speech of the same title given by activist Sojourner Truth in 1851. In the speech, Cox told her audience to have "difficult conversations" to educate others and combat misconceptions about the transgender community. She hopes that through these conversations, people can understand "not everybody who is born feels that their gender identity is in alignment with what they're assigned at birth…if someone needs to express their gender in a way that is different, that is okay…That's what people need to understand, that it's okay and that if you are uncomfortable with it, then you need to look at yourself."
Aleksandra Gjorgievska and Lily Rothman, "Laverne Cox is the First Transgender Person Nominated for an Emmy—She Explains Why That Matters," Time, July 10, 2014, https://time.com/2973497/laverne-cox-emmy/
Chris Gardner, "Laverne Cox Explains Why She Wants to 'Share' Her Historic Third Emmy Nomination," The Hollywood Reporter, August 23, 2019, https://www.hollywoodreporter.com/tv/tv-news/laverne-cox-explains-why-shes-sharing-historic-third-emmy-nomination-1233682/
Katy Steinmetz, "Laverne Cox Talks to TIME About the Transgender Movement," Time.com, May 29, 2014, https://time.com/132769/transgender-orange-is-the-new-black-laverne-cox-interview/
"Laverne's Story," Lavernecox.com, https://lavernecox.com/about/
Marc Malkin, "Webby Awards: Laverne Cox to Be Honored for LGBTQ Advocacy Work," Variety.com, May 10, 2022, https://variety.com/2022/scene/news/webby-awards-laverne-cox-1235262280/
Sarah Zinn, "Laverne Cox Details Her Transgender Journey at IU," Indianapolis Monthly, January 15, 2015, https://www.indianapolismonthly.com/arts-and-culture/circle-city/laverne-cox-details-transgender-journey-iu
Katy Steinmetz, "The Transgender Tipping Point," TIME Magazine, May 29, 2014, https://time.com/magazine/us/135460/june-9th-2014-vol-183-no-22-u-s/
Jacob Bernstein, "In Their Own Terms," The New York Times, March 12, 2014, https://www.nytimes.com/2014/03/13/fashion/the-growing-transgender-presence-in-pop-culture.html
Erik Piepenburg, "Helping Gay Actors Find Themselves Onstage," The New York Times, December 12, 2010, https://www.nytimes.com/2010/12/13/theater/13actout.html