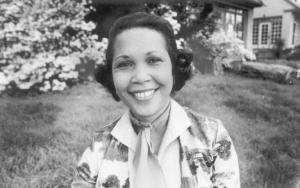 As a teenager, Barbara Johns helped organize a strike that eventually led to the desegregation of schools in the United States. 
Barbara Rose Johns was born on March 6, 1935 in New York City.  Like many African Americans, her parents had migrated up north to find work during the Great Depression and as part of the Great Migration. When the family's finances did not improve, the Johns moved back to Prince Edward County, Virginia, where the family had roots. Despite their roots in the community, Johns and her family were faced daily with racism. 
Barbara was surrounded by strong leaders in her family, such as her aunts and her uncle, the iconic Reverend Vernon Johns. Johns attended segregated schools within Prince Edward County. Johns saw how White students attended schools built with firm foundations, bricks, dedicated communal spaces, and an atrium. Yet on the other side of town, Johns and her Black classmates attended schools that were so cold that oftentimes, teachers would opt to move class to school buses. The buildings were constructed with tar paper, had no heat or restroom facilities. School facilities were dilapidated, the labs were inadequate, the books were handed down after being used for years at white schools. These failing facilities were especially true at Johns's school, Robert Russa Moton High School. When Black families and students expressed their frustrations with the school, the Prince Edward School Board ignored them. 
16-year-old Johns, was frustrated and determined to make a change. On April 23, 1951, Johns organized youth in her school who felt the same way, and they developed a plan for a strike. Johns and other organizers first got teachers to bring their students to the auditorium where she encouraged both students and teachers to leave the school and not return until local officials agreed to build a new school building. Most students joined Johns and the other strike organizers. After a less-than-encouraging meeting with Superintendent Thomas J. McIlwaine, the students remained on strike. 
When Superintendent McIlwaine insisted the students go back to school, Johns and Carrie Stokes, another strike organizer, wrote a letter to the Richmond-based law firm of Hill, Martin & Robinson. The NAACP-affiliated lawyers Oliver Hill and Spottswood Robinson, met with Johns and other organizers. Impressed with their organizing and enthusiasm, Hill and Robinson agreed to take up the case only if parents committed to challenging school segregation. The involvement of the NAACP shifted the demand of the strike from equality of segregated schools to one that demanded desegregation of Prince Edward County, a strategic choice for the NAACP. On May 23, 1951, Robinson filed Davis v. County School Board of Prince Edward County. It set in motion the legal challenge that would become part of Brown v. Board of Education (1954), which ruled school segregation unconstitutional. 
After the strike and court filing, many of the students and their families experienced retaliation and threats of or actual violence. Fearing for her safety, Johns's parents sent her to live with her uncle, Reverend Vernon Johns, in Montgomery, Alabama while she completed her Senior Year. Reverend Johns was an influential figure in his community and during the Civil Rights Movement.  
Accepted to Spelman College, an elite college for African American women, in Atlanta, Johns met William Holland Rowland Powell. Despite their 13-year age different and her parents' concerns, Johns married William and followed him to Philadelphia when he joined the ministry. As the couple raised their five children, Johns worked as a school librarian in the Philadelphia school system for 20 years. In 1979, she earned her Bachelor's Degree from Drexel University. 
Johns passed away on September 25, 1991 from bone cancer. She rarely spoke about her historic strike and the impact it had on generations of students in the United States. Since her death, she has been honored through monuments, building dedications, and the annual Barbara Johns Day in Virginia. In 2020, Virginia chose to replace a statue of Confederate General Robert E Lee with one of Barbara Johns in the United States Capitol's National Statuary Hall Collection.