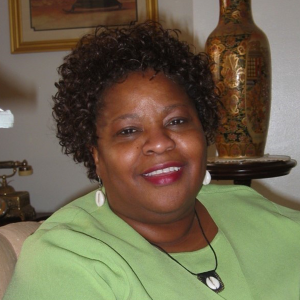 On May 2, 1963, nine-year-old Audrey Faye Hendricks became the youngest known person arrested during the Civil Rights Movement. She was one of hundreds of children who took part in marches against segregation in the city of Birmingham, Alabama. 
Audrey Faye Hendricks was born in Birmingham in 1953, the eldest daughter of Lola and Joe. Her mother, Lola, had graduated from business school and did clerical work for a black-owned insurance company. Her father, Joe, only had an elementary school education having worked as a sharecropper since he was five in his hometown of Boligee, AL. In Birmingham, Joe worked as a laborer and a security guard at a dog food company and a slaughterhouse. She had a younger sister, Jan. Both Joe and Lola were involved in the local Civil Rights Movement. Joe had been arrested with fifteen other African American men when they refused to give up their seats on a bus and spent six nights in jail. Her mother worked with the Southern Christian Leadership Conference (SCLS) and helped organize mass meetings, nonviolent protests, and economic boycotts in Birmingham. Most of her uncles were also involved in the struggle.  
Birmingham was one of the most segregated cities in the United States during the Jim Crow Era and Civil Rights Movement. City ordinances continued to enforce segregation even after the Supreme Court ruled it unconstitutional. Hendricks's parents took part in attempting to force Birmingham to integrate, suing the city in 1959. Birmingham was also one of the cities with the worst records of racial violence. African Americans were attacked on the streets and their churches bombed. Theophilus Eugene "Bull" Connor, the Police Commissioner for Birmingham, had a national reputation as a staunch segregationist who was willing to use force and violence to enforce segregation.  
Every Monday, Hendricks and her family would attend mass meetings organized by the Alabama Christian Movement for Human Rights (ACMHR) held at a local church. Their family friend and local pastor, Reverend Fred Shuttlesworth, had started the ACMHR. Sometimes, there would be specific ACMHR meetings for children, which Hendricks also attended. Hendricks recalled in an interview, "it was no way for me not to really be involved...My parents were involved from the point that I could remember...My church was involved...You were there and just a part of it." In 1963, Shuttlesworth called on Martin Luther King Jr. and the SCLC for help with local efforts. While in Birmingham, MLK and other Civil Rights leaders sometimes ended up in Hendricks's kitchen. Hendricks recalled, "Mike (that's what we called Martin), Andy, Fred—they'd stand in the kitchen while my mother made dinner...Mike would lift the top off a pot and say, 'What's cookin', Lola?'" 
Demonstrating against segregation was illegal, and marchers would be thrown in jail. Many adults were scared of getting arrested and feared for their jobs and safety. MLK spoke in Hendricks's church, encouraging both adults and children to join in the efforts. Hendricks was inspired by MLK's words. That night, she went home and declared to her parents, "I want to get arrested." Her parents supported her decision.  
On May 2, Hendricks and thousands of other children stepped off from the steps of the Sixteenth Street Baptist Church and began singing "Ain't Gonna Let Nobody Turn Me Round." She was the only student from her school. Her parents watched her proudly as she was arrested for parading without a permit and taken to the Juvenile Hall at City Jail. Hendricks recalled that while in jail she had to share a bathroom with 15 to 20 other girls. "I didn't have any fresh underwear or a change of clothes or a toothbrush," said Hendricks. She and 500 other children were released from jail on Wednesday, May 8th. She went to school the next day and no one asked her about her time in jail. "I was just one of the kids, as everybody else was," she said. "It didn't dawn on me that it was a big deal." 
Hendricks was one of thousands of children who took part in the Children's Crusade, a series of marches in Birmingham to end segregation. The children were attacked by the police, led by "Bull" Connor, who used dogs and firehoses to physically knock down them down. When the jails got full, the children were kept in the fairgrounds. The images of children being attacked by dogs and firehoses were so powerful that it inspired many people to get involved and forced the federal government to take action. 
After her role in the Children's Crusade, Hendricks continued her work around civil rights. She volunteered to be part of the first class to integrate the local high school, a full fifteen years after Brown v. Board of Education. Hendricks went to college and worked in Dallas, Texas for eight years before returning to Birmingham. She worked with young children and low-income families in the city for 25 years. In 2007, she earned a Master's Degree, writing a thesis on women—like herself and her mother—who participated in the Civil Rights Movement.  
Known as "The Civil Rights Queen," Audrey Faye Hendricks died in Birmingham in 2009. 
Photo Credit: Courtesy of Cynthia Levinson
"Audrey Hendricks." PBS LearningMedia. October 31, 2020. https://unctv.pbslearningmedia.org/resource/iml04.soc.ush.civil.ahendric/audrey-hendricks/. 
Levinson, Cynthia. "Major Players: Audrey Faye Hendricks." We've Got a Job: The 1963 Birmingham Children's March. http://www.wevegotajob.com/major-players-audrey.html. 
Levinson, Cynthia. We've Got a Job: the 1963 Birmingham Children's March. Atlanta: Peachtree Publishers, 2011. 
MLA – Rothberg, Emma. "Audrey Faye Hendricks." National Women's History Museum, 2020. Date accessed. 
Chicago – Rothberg, Emma. "Audrey Faye Hendricks." National Women's History Museum. 2020. www.womenshistory.org/education-resources/biographies/audrey-faye-hendricks. 
"Birmingham and the Children's March." Religion & Ethics Newsweekly. NPR. April 4, 2013. https://www.pbs.org/video/religion-and-ethics-newsweekly-childrens-march-50th-anniversary/ 
Hendricks, Lola Haynes. "Lola Haynes Hendricks interview." Interview by Tywanna Whorley. Behind the Veil Oral History Project, Duke University Center for Documentary Studies, June 22, 1994. Audio, 49:48. https://idn.duke.edu/ark:/87924/r4bv7g984. 
Levinson, Cynthia, and Vanessa Brantley-Newton. The Youngest Marcher: The Story of Audrey Faye Hendricks, a Young Civil Rights Activist. New York: Atheneum Books for Young Readers, an imprint of Simon & Schuster Children's Publishing Division, 2017. 
"Shuttlesworth, Fred Lee." The Martin Luther King, Jr., Research and Education Institute. June 05, 2018. https://kinginstitute.stanford.edu/encyclopedia/shuttlesworth-fred-lee. 
"The Youngest Marcher: Resources for Teachers." Cynthia Levinson. June 05, 2020.  https://cynthialevinson.com/books/the-youngest-marcher/the-youngest-marcher-resources-for-teachers/.