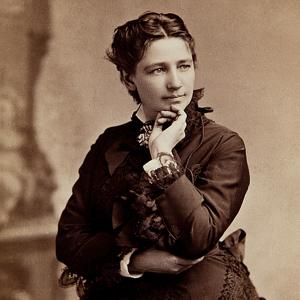 The first woman to run for president and the first female stock broker on Wall Street, Victoria Woodhull achieved remarkable success in finance, journalism, and politics. A spiritualist, suffragist, and free love advocate, Woodhull was an iconoclast who fought for her beliefs no matter how controversial they were at the time.
Victoria Woodhull was born in Homer, Ohio on September 23, 1838 to parents Reuben Buckman Claflin and Roxanna Hummel. Woodhull's childhood was a turbulent one: she received only three years of inconsistent schooling at Homer's Methodist Church school before her family was forced to leave town under the suspicion that her father had purposefully burned down the mill he owned for the insurance payout. She then spent her early years taking part in her family's traveling medicine show, telling fortunes and selling homemade medicines.
In 1853, 15-year-old Woodhull married a 28-year-old doctor, Canning Woodhull, and the couple had two children. Her husband was an alcoholic who neglected the family, so Woodhull worked as a seamstress, store clerk, and stage actress to support them. Woodhull's younger sister, Tennessee Claflin, had set out on her own as a traveling fortune teller and healer. Woodhull eventually joined her sister, promoting herself as a "medical clairvoyant" who could cure the sick.
Tired of his drinking and adultery, Woodhull divorced her husband in 1865. She became an advocate of the free love movement, which argued that individuals should be able to remain with romantic partners as long as they chose and then move on, rather than marry for life. The free love movement also sought to destigmatize divorce and make it easier for wives to leave abusive husbands. In 1866, Woodhull married Union army veteran Colonel James Harvey Blood, after he sought out her services as a healer.
Woodhull and Claflin found success as mediums and their work introduced them to railroad magnate Cornelius Vanderbilt, who hired clairvoyants to help him contact his recently deceased wife. Acting off financial advice from Vanderbilt, they grew their savings significantly and quickly amassed a fund of almost $700,000 (over $15 million in 2022). In 1870, they used that fund to start a brokerage, Woodhull, Claflin, and Company, making them the first women to operate a financial firm on Wall Street. Struck by the novelty of female stockbrokers, the press referred to them as "the Bewitching Brokers" and the "Queens of Finance." But Woodhull sought to leverage her financial success to further her political agenda: improving rights for women, workers, and the poor.
She and her sister soon started publishing Woodhull and Claflin's Weekly, a newspaper that supported free love, women's suffrage, and other progressive political reforms. The newspaper was notable for publishing the first English-language copy of Karl Marx's The Communist Manifesto and for publishing an account of an affair between prominent minister Henry Ward Beecher and one of his congregants. The allegations raised controversy and led the newspaper to face criminal charges for obscenity.
Woodhull became involved in the women's suffrage movement in 1869 and her success as a public speaker on behalf of the cause led her to take on prominent roles at suffrage conventions in the next few years. She made history in 1871 when she became the first woman to testify before a committee of the U.S. House of Representatives. Joined by fellow suffragists Susan B. Anthony and Isabella Beecher Hooker, Woodhull argued in front of the House Judiciary Committee that American women already possessed the right to vote under the 14th and 15th Amendments and called on them to draft legislation that clarified women's right to vote. However, her argument failed to persuade the committee to take action.
Woodhull again made history in 1872, when she became the first woman to run for president of the United States. The new Equal Rights Party, which Woodhull was instrumental in establishing, nominated her for president and abolitionist leader Frederick Douglass for vice-president, though he never acknowledged the nomination. In a letter to the New York Herald announcing her campaign (a full two years earlier), Woodhull wrote, "While others argued the equality of woman with man, I proved it by successfully engaging in business; while others sought to show that there was no valid reason why woman should be treated socially and politically as a being inferior to man, I boldly entered the arena of politics and business and exercised the rights I already possessed."
Her presidential campaign was not taken seriously by much of the public. Aside from her sex, Woodhull was not yet 35, the minimum age to assume the presidency. Further, Woodhull's political reputation was declining: her radical views supporting free love, communism, and spiritualism alienated many and suffrage leaders distanced themselves from her. Further, her newspaper's publication of the Beecher affair, and the resulting obscenity charges, meant that Woodhull faced legal trouble and scandal at this time, even spending Election Day in jail. The legal issues lasted for several years, forcing Woodhull and Claflin's Weekly to shut down publication.
Nearing bankruptcy and divorced from her second husband, Woodhull moved with Claflin to England in 1877. She married aristocratic banker John Biddulph Martin in 1883 to and tried to distance herself from her past controversies. She took part in the British women's suffrage movement and together with her daughter published a journal, Humanitarian, from 1892 to 1901. The journal was known for promoting eugenics, the selective breeding and sterilization of a population intended to lead to desirable genetic characteristics. It was a popular school of thought in the late-nineteenth century, but one that discriminated against those thought to be inferior, whether because of race, ability, or another quality. Woodhull lived in the English countryside until her death in 1927 at the age of 88.
Feeney, Kathleen. "Woodhull, Victoria Claflin (1838-1927), reformer and first female presidential candidate." American National Biography. Feb. 1, 2000; Accessed Feb. 22, 2022. https://doi.org/10.1093/anb/9780198606697.article.1500771
"The First Woman To Run For President: Victoria Woodhull." National Park Service. Jan. 25, 2021. Accessed Feb. 25, 2022. https://www.nps.gov/articles/the-first-woman-to-run-for-president-victoria-woodhull.htm
Horne, Eileen. "Notorious Victoria: the first woman to run for president." The Guardian. July 20, 2016. Accessed Feb. 25, 2022. https://www.theguardian.com/us-news/2016/jul/20/notorious-victoria-first-woman-run-for-us-president
Independent Staff. "Who was Victoria Woodhull? Meet the first woman to run for president of the United States." Independent. Oct. 2, 2020. Accessed Feb. 25, 2022. https://www.independent.co.uk/news/world/americas/us-politics/woman-president-hillary-clinton-victoria-woodhull-voting-b744479.html
"Victoria Woodhull." National Women's Hall of Fame. Accessed Feb. 25, 2022. https://www.womenofthehall.org/inductee/victoria-woodhull/
Woodhull, Victoria C. "The Coming Woman." New York Herald. April 2, 1870. https://www.newspapers.com/clip/6836678/victoria-woodhull-announces-her/
MLA – Brandman, Mariana. "Victoria Woodhull." National Women's History Museum, 2022. Date accessed.
Chicago – Brandman, Mariana. "Victoria Woodhull." National Women's History Museum. 2022. www.womenshistory.org/education-resources/biographies/victoria-woodhull
Image Credit: Harvard Art Museum/Fogg Museum, Historical Photographs and Special Visual Collections Department, Fine Arts Library. Public Domain.