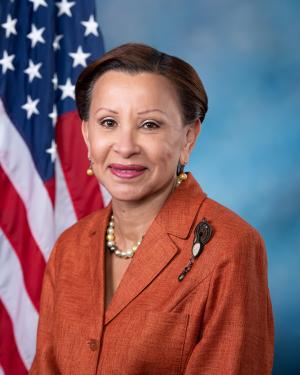 Nydia M. Velázquez, the first Puerto Rican woman to serve in Congress, is the Representative for New York's 7th Congressional District. This is just one of many accomplishments, as she is also Chairwoman of the House Small Business Committee. Deeply motivated by the experiences of her childhood, Congresswoman Velázquez continues to advocate for New York's working class. 
Born on March 28th, 1953, in Yabucoa, Puerto Rico, Velázquez is one of nine children. Raised by hard working parents Don Benito and Doña Serrano Velázquez, it was early on that Velázquez observed her parents working hard to support her family. Her parents had many different jobs, from selling Puerto Rican pasteles to workers Yabucoa's  cane fields to operating a business that created cinder blocks. Witnessing her parents juggling many duties to keep their family afloat was a driving force in Velázquez's work in championing for equity. Along with these experiences, her ultimate interest in fighting for working class people through politics was initially brought to life by her father's love of politics. This was most notably displayed through speeches he delivered advocating for better conditions for workers. Velázquez has asserted that she always wanted to follow in the footsteps of her father. 
Aside from growing up in a working class household, Velázquez has also had a successful academic career. She and her twin sister began schooling at five rather than at the standard age of seven. From there, Velázquez skipped various grades and officially became the first person in her family to earn a high school diploma. In 1972, at 16, she enrolled at the University of Puerto Rico's Rio Piedras campus. She was very active in many student groups on campus, most notably advocating for the independence of Puerto Rico from the United States.  
Graduating with a B.A. in Political Science, Velázquez then earned a master's degree from New York University. She began her professional life as an educator with a focus on Puerto Rican Studies courses, teaching at University of Puerto Rico's Humacao campus from 1976 to 1981. and Hunter College in New York City in 1981. Though these roles gave her joy, it soon became clear to the young Velázquez that her passions truly lay in politics and addressing the needs of working class communities. 
Starting her political career in 1983, Velázquez was selected to serve as Representative Edolphus Towns' Special Assistant. Towns is a Democrat who served in the House of Representatives for 1983 to 2013. In 1984, Velazquez ran for and won a seat on the New York City Council, where she was the first Latina appointed for this role. Her term then came to an end when she lost her re-election bid in 1986. This did not put a stop to her love of politics - that same year, she became the director of what is now called the Department of Puerto Rican Community Affairs in the United States. This agency provides social services such as quality education and access to housing. One of the most prominent programs she shepherded is called "Atrevete", which translates to "Dare to Go for It!". This program placed particular focus on Latine identity and empowerment. Following six years of running the Department, Velazquez decided to run for the House of Representatives. She developed her own grassroots campaign. 
She ran to represent the New York 7th District, a multi-ethnic, working-class area which includes parts of northern Brooklyn, Queens and the Lower East Side of Manhattan. Given Velázquez's childhood and experiences working with diverse Latine populations in New York City, she felt she was uniquely equipped to address the needs of those within New York's 7th district. She argued that, as many of the district's residents were Puerto Rican, it would be beneficial to have a Puerto Rican woman representing them. Though she faced with backlash from opponents suggesting she only cared about Latine issues, Velázquez emphasized that her success was fueled by other groups support such as women and the African American community. Her campaign resonated with many, as she ultimately won over previous representative and fellow Democrat Stephen Solarz, becoming the first Puerto Rican woman elected to the US Congress in 1992. 
Since this groundbreaking moment for both Velázquez and the community she serves, she has been re-elected to serve nine times by her community with great enthusiasm. She has overwhelmingly won her re-election bids for the past 9 cycles. She champions quality healthcare, environmental and economic community concerns, equity and education and, of course, workers' rights. 
Presently, Congresswoman Velázquez remains staunchly devoted to the needs of the working class and the poor. Other roles have been chairing the House Small Business Committee and serving on the Financial Services Committee and the House Committee on Natural Resources. Throughout her time in Congress, Velázquez has remained a staunch advocate for the working-class and has remained dedicated to serving her community.