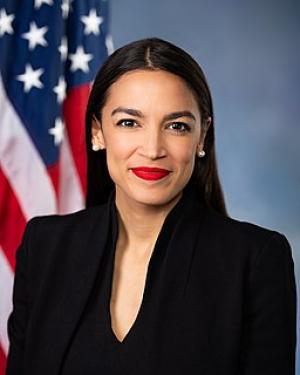 Alexandria Ocasio-Cortez (commonly referred to by her initials, AOC) is the youngest woman and youngest Latina to ever serve in the United States Congress. She is most well known for her progressive politics, community activism, and her wide-reaching social media presence. 
Alexandria Ocasio-Cortez was born on October 13, 1989, in the Parkchester neighborhood of The Bronx. Her father, Sergio Ocasio-Roman, was a second generation Bronxite of Puerto Rican-descent who worked as a small business owner and architect throughout his life. Her mother, Blanca Ocasio-Cortez (née Cortez), was born in Puerto Rico and worked as a domestic worker. At an early age, Ocasio-Cortez's parents moved her and her brother, Gabriel, out of their Bronx apartment to a small house about 30 minutes away in suburban Yorktown Heights to have access to better educational opportunities. Ocasio-Cortez attended Yorktown High School and while there she participated in the National Hispanic Institute's Lorenzo de Zavala (LDZ) Youth Legislative Session. She also won second place in the microbiology category of the 2007 Intel Science and Engineering Fair in appreciation of her research project, the MIT Lincoln Laboratory named a small asteroid after her: 23238 Ocasio-Cortez. 
After graduating high school in 2007, Ocasio-Cortez attended Boston University and graduated cum laude with Bachelor of Arts degrees in Economics and International Relations. She attended on the John F. Lopez Fellowship, which was an experience-based learning opportunity sponsored by the National Hispanic Institute. Her father passed unexpectantly during her sophomore year, and his medical bills left her family vulnerable to a potential foreclosure on their home.  Her mother took on additional work as a school bus driver to save the house/cover the bills. Around this time, Ocasio-Cortez sought out an internship concentrating on foreign affairs and immigration issues in the late Massachusetts Senator Ted Kennedy's office, As the only Spanish speaker in the office, she often worked with constituents calling to locate family members recently detained and potentially deported by U.S. Immigration and Customs Enforcement (I.C.E.). After graduating college, OCASIO-CORTEZ returned to the Bronx and worked in various jobs, including: Educational Director for the National Hispanic Institute; founder of Brook Avenue Press, a now defunct publishing press created to share positive stories about the Bronx; a community organizer for Bernie Sander's 2016 campaign for U.S. President; and a waitress and bartender. 
Ocasio-Cortez has learned many life lessons that have influenced her political commitments, like the value of investing in healthcare, housing, education, immigration pathways, and ending police violence. Some of those lessons included learning at an early age that where you live can impact your educational opportunities, how medical bills and student loans can change the trajectory of one's life, and how devastating lack of access to immigration opportunities are to families across the country. After traveling to the Standing Rock Indian Reservation protests in North and South Dakota in 2016, she was inspired by those who were "putting their whole lives and everything that they had on the line for the protection of their community" and recommitted to working in her own community. All these lessons inspired Ocasio-Cortez's dedication to a life of service and her 2018 run for Congress. 
Ocasio-Cortez drew national attention in the 2018 midterm primaries, where she defeated the 10-year incumbent in New York's 14th district, Democratic Caucus Chair Joe Crowley. Joe Crowley was known to be a creative fundraiser and outspent Ocasio-Cortez 10-to-1 on his campaign. While her Queens-based, mostly volunteer-run campaign, Ocasio-Cortez has said her campaign was considered a "long shot from the start." However, she ran a leaderless, grassroots effort inspired by activists at Standing Rock. Her competition was stiff: Crowley's campaign benefitted from major endorsements of other elected officials and large organizations. Ocasio-Cortez's endorsements, like her campaign, were from civil rights and progressive organizations such as MoveOn and Democracy for America. On June 26, 2018, she won the Democratic primary with 57.13 percent of the vote. Ocasio-Cortez went on to become the first woman of color to represent NY-14, as well as the youngest woman and Latina in history elected to serve in Congress. 
Ocasio-Cortez is a member of the Democratic Socialists of America, which believes "in a moral, wealthy America, no person should be too poor to live." Her first piece of legislation was co-sponsoring the Green New Deal resolution, based on Franklin D. Roosevelt's New Deal. The legislation outlines a 10-year national economic plan that fights climate change, creates jobs to repair U.S. infrastructure, and fights social justice issues negatively impacting the country, such as economic inequality. As of 2022, Ocasio-Cortez has sponsored or co-sponsored over 100 pieces of legislation through the House of Representatives, 15 of which are now law. She is also a member of "the Squad," which has grown from its original four members, Rashida Tlaib (MI-13), Ilhan Omar (MN-5), and Ayanna Pressley (MA-7), to also include Jamaal Bowman (NY-16) and Cori Bush (MO-1). Together, they represent a new generation of progressive politicians working collaboratively to back national legislative efforts like the Green New Deal resolution and the Build Back Better Act. 
In 2022, U.S. Soccer Olympian athlete Megan Rapinoe described Ocasio-Cortez on her show, Seeing America as someone who has "singlehandedly transformed our idea of what a politician can be, where they can come from, and how they can fight for what they believe in."