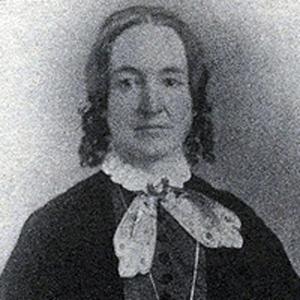 After defending her sanity at trial in 1864, Packard campaigned to ensure the rights of the mentally ill as well as those of married women. She publicized the story of her hospitalization at the hands of her husband in order to prevent the abuse and neglect of others vulnerable before the law.
Elizabeth Parsons Ware Packard was born in Ware, Massachusetts on December 28, 1816. Her father, Samuel Ware, was a Calvinist minister. Packard attended the Amherst Female Seminary, where she studied classics, literature, and mathematics. Her family took in boarders from Amherst College, including Henry Ward Beecher. Beecher would soon become one of the most popular preachers in the country. Beecher's inquisitive nature and his unorthodox religious teachings greatly influenced Packard.
When Packard was 19, she suffered what was then termed "brain fever": a condition characterized by a high fever, headaches, and delirium, among other symptoms. The recommended treatment included bleeding and purging. When her condition failed to improve right away, Packard's father committed her to an asylum in Worcester, Massachusetts. After six weeks, the asylum's superintendent declared Packard's health restored and released her. This experience contributed to Packard's mistrust of the medical system. She felt that her most troubling symptoms resulted from the treatments she received, rather than the original fever. To Packard, it was the passage of time, not the interventions of any physicians, that led to her recovery.
In 1839, Packard married Theophilus Packard Jr., a Calvinist minister. He was 14 years her senior and a longtime associate of her father's. They lived in Shelbourne, Massachusetts where Theophilus led a congregation and the couple had six children. In 1854, they left New England and moved several times in the Midwest before settling in Manteno, Illinois in 1857. Packard found the Midwest to her liking, as she had begun to question Calvinist teachings and appreciated the greater independence she enjoyed outside of her native New England. As the decade went on, Packard stepped further outside the traditional roles of wife and mother: she conducted missionary work, traveled on her own, and expressed religious views that differed from her husband's. Theophilus responded by growing more authoritarian and controlling, claiming that Packard was neglecting her family. Aware that she had spent time in an asylum in her youth, he also began implying that her sanity was questionable.
Packard's religious beliefs were her greatest offense, in Theophilus's view. Packard's religious exploration led her to adopt ideas from Universalism, Swedenborgianism, and Spiritualism, as well as to challenge Calvinist doctrines. Both Packard and her husband opposed divorce: Theophilus found it immoral and Packard, rightfully, feared losing custody of her younger children.
In 1860, Theophilus committed Packard to the Illinois Hospital for the Insane. At the time, it was legal for a husband to have his wife committed. The law in Illinois stated that a man was entitled to due process (a hearing or trial) to assess his sanity before being committed, but married women could be institutionalized at the request of their husbands, without any evidence of mental health issues. Similar laws existed in many states across the country.
Packard remained at the Illinois Hospital for the Insane for three years. She vigorously protested her confinement throughout her time there. In the spring of 1863, hospital officials declared her incurably insane and released her from the institution. Ostensibly they were making room for "curable" patients. In actuality, they had grown tired of her resistance and acceded to her adult children's calls for her release. But when Packard returned to her husband, he imprisoned her in their home. Packard was able to get a letter to a friend who made an appeal to Judge Charles Starr. Judge Starr issued a writ of habeus corpus demanding that Theophilus bring Packard before him. Theophilus claimed he allowed Packard "all the liberty compatible with her welfare and safety" due to her alleged insanity. While it had been legal for Theophilus to have Packard committed, it was illegal for him to confine her to their home. Judge Starr ordered a jury trial to determine Packard's mental state.
During the five-day trial in January 1864, witnesses testified both for and against Packard. Physicians who had met with Packard before her hospitalization claimed that her religious views and her refusal to submit to her husband demonstrated her insanity. Neighbors and friends testified on her behalf and one doctor and theologian explained that many intellectuals in Europe shared Packard's religious beliefs. The jury found Packard to be sane, reportedly turning in their verdict after only seven minutes of deliberation.
Following the verdict, Theophilus left Illinois and returned to Massachusetts. Packard was now free, but found herself homeless, penniless, and without her children. Aware of her limited rights as a married woman, and having witnessed firsthand the vulnerability of those in asylums, Packard made it her mission to help both groups.
Packard campaigned for legislation in Illinois and numerous other states that would ensure the rights of those in mental health hospitals and bolster the rights of married women. In Iowa, Maine, and Massachusetts, she helped win the fight for regular visiting teams that monitored conditions in asylums. In Iowa, "Packard's Law" made it illegal for asylum officials to intercept patients' mail. Packard won reforms to commitment laws in four states, as well as the passage of a law protecting married women's property in Illinois. Packard published books detailing her ordeal and gave speeches in order to garner publicity for her campaigns. In 1869, she convinced the courts to award her custody of her three younger children. She supported her children, as well as her reform efforts, with the proceeds from her writings. Packard's nationwide lobbying efforts continued through the 1880s. Throughout her many campaigns, she faced opposition from the increasingly organized and powerful psychiatric profession, but she continued, undaunted.
In her later years, Packard lived in California with one of her sons and his wife. She and Theophilus never divorced, but lived separately for the rest of their lives. Packard passed away in 1897.
Carlisle, Linda V. Elizabeth Packard: A Noble Fight. Urbana, IL: University of Illinois Press, 2010.
"Elizabeth Packard – Legal and Mental Health Reformer." Illinois History & Lincoln Collections, Special Collections, University of Illinois Library. March 28, 2019. Accessed Nov. 27, 2021. https://publish.illinois.edu/ihlc-blog/2019/03/28/elizabeth-packard-legal-and-mental-health-reformer/.
McGovern, Constance M. "Packard, Elizabeth Parsons Ware (1816-1897), mental health reformer." American National Biography. Feb. 1, 2000; Accessed Nov. 27, 2021. https://doi.org/10.1093/anb/9780198606697.article.1500843.
Allgor, Catherine. "Coverture: The Word You Probably Don't Know But Should." National Women's History Museum. September 4, 2012. https://www.womenshistory.org/articles/coverture-word-you-probably-dont-know-should
Carlisle, Linda V. Elizabeth Packard: A Noble Fight. Urbana, IL: University of Illinois Press, 2010.
Moore, Kate. The Woman They Could Not Silence: One Woman, Her Incredible Fight for Freedom, and the Men Who Tried to Make Her Disappear. United States: Sourcebooks, 2021.