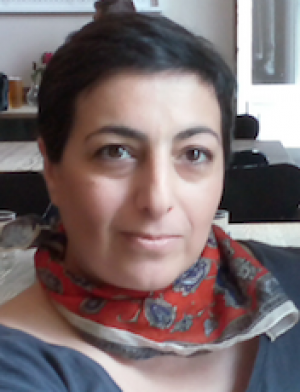 Journalist and poet Asieh Amini is a leading voice in the campaign to end stoning and juvenile executions in Iran. Targeted by the state for her reporting and activism, she fled Iran in 2009, but continues to fight against censorship and other human rights abuses in the country.  
Asieh Amini was born in 1973 in the Mazandaran province of northern Iran, the third of four sisters.   Amini and her sisters spent their childhoods painting, reading, and playing outdoors. Amini dreamed of becoming a painter and writer.  
Amini studied journalism at Allameh Tabataba'i University in Tehran. After taking a job at the newspaper Iran, Amini soon became the cultural editor of its youth supplement. It was a challenging job on its own, but the resentment she faced as a young, single woman from her male colleagues made the work even more difficult.   
Amidst the relaxation of press censorship following President Mohammad Khatami's 1997 election, Amini began working at a paper called Zan, which covered women's affairs. There, she met photojournalist Javad Montazeri and the two soon married. But in 1999, hardline clerics opposed the open press and swiftly shut down many news outlets, including Zan. 
After giving birth to her daughter, Ava, in 2000, Amini became an editor with a daily newspaper, Etemaad, as well as the manager of the website, "Women in Iran." In 2004, Amini discovered a story from a small town in her native province that shocked her. A 16-year-old girl named Atefeh Sahaaleh had been hanged for committing "acts incompatible with chastity." Amini investigated and found out that the girl had been neglected by her family and was repeatedly raped by a neighbor and other men beginning at age nine. The neighbor paid her to keep quiet and she used that money to survive. When she was 13, Iran's morality police arrested her and a judge sentenced her to one hundred lashes, the legal punishment for sex outside of marriage. The law decreed that women could be sentenced to lashings three times – the fourth time, they would be executed. Amini was unaware of these laws, having grown up in circles where they were never enforced.  
Deeply disturbed by these events, Amini gathered evidence and wrote about Sahaaleh's execution. International law prohibited the execution of anyone under the age of 18, but Iran's legal code held girls criminally responsible at the age of nine, and boys at the age of 15. However, Amini's newspaper wouldn't publish her piece – the editor wasn't willing to go up against Sharia law and the judiciary. Another newspaper also declined the piece before a women's publication finally agreed to publish an edited version.   
Amini soon heard of another girl who was set to be hanged for alleged crimes against chastity: Leyla, a 19-year-old with diminished mental capacity, also a victim of child rape. The judge in that case told Amini that his job was simply to apply the law, which held that Leyla was a threat to family life because of her sexual availability. Amini enlisted her friend, human rights lawyer Shadi Sadr, to help Leyla's case. In the meantime, Amini published her story in the women's magazine Zanan and the case garnered international attention. Amini and Sadr eventually got Leyla out of prison and into the care of a young women's organization in Tehran.  
Amini felt compelled to bring attention to the stories of girls facing execution for these supposed crimes and to do what she could to end the practice. Amini joined with women's rights activists and together they sought to improve conditions for women by addressing the discriminatory nature of Iranian law.  
But the problem went beyond the letter of the law. In 2006, Amini learned that though the government had placed a moratorium on stoning in 2002, a man and woman had been stoned to death in the city of Mashhad as a punishment for adultery. Stoning was not strictly a women's issue, as the sentence was levied as often on men, but adultery was defined differently for men and women. Men could legally have up to four wives, while women could not initiate divorce and would lose custody of children over the age of seven after divorce. Amini questioned the legality of the judge's sentence in the Mashhad case, but he claimed he was answerable only to Sharia law.  
That October, Amini and Sadr founded the Stop Stoning Forever (SSF) campaign. Amini amassed evidence that stonings were indeed taking place in Iran, while colleagues abroad shared their reports without fear of censorship. When Amini's piece on the stoning in Mashhad drew attention, the Minister of Justice denied the stoning and the state media spread rumors attacking the legitimacy of the SSF campaign.  
 In March 2007, Amini and 32 other women were arrested during a silent sit-in at the courthouse where women's rights activists were on trial for a previous protest. During her interrogation, Amini realized the police had been investigating her. Amini was released five days later, sure that her phones were tapped and her movements tracked, but the efforts of SSF continued.  
Amini was flooded with reports of unjust executions across Iran. Eventually, the stress of her work caused her to suffer a kind of nervous shock that included headaches, vision problems, and muscle paralysis. While Amini recovered, her partners, who had been targeted even more severely by the police, reorganized SSF into an umbrella organization based outside Iran.  
In 2009, Amini was one of many demonstrators beaten in the protests following the reelection of Mahmoud Ahmadinejad. In the chaos that ensued, Amini reported on the protests under pseudonyms. She was soon warned that the police were questioning prisoners about her and that she should leave the country. Amini and her daughter were able to flee to Sweden under the auspices of a poetry festival to which she had been invited.  
Amini eventually settled in Norway, aided by the International Cities of Refuge Network for writers facing persecution. While abroad, she has continued to advocate for the end to stoning and underage executions in Iran. She has published two books of Norwegian-language poems, Do not enter my dreams with a gun (2011) and I am missing you (2013). Amini has received accolades for her advocacy work including the Human Rights Watch's Hellmann/Hammett award (2009); the Oxfam Novib/PEN award (2012); and the Ord i Grenseland prize (2014). 
"Asieh Amini." Norsk PEN. Accessed Feb. 16, 2021. https://norskpen.no/nb_NO/2016/10/13/october-2016-asieh-amini-2/ 
"Asieh Amini: Poet, journalist, and women's rights activist." ICORN. Accessed Feb. 16, 2021. https://icorn.org/writer/asieh-amini  
"Iranian poet and journalist Asieh Amini is awarded Freedom prize." ICORN. Sept. 3, 2014. Accessed Feb. 16, 2021. https://www.icorn.org/article/iranian-poet-and-journalist-asieh-amini-awarded-freedom-prize 
Secor, Laura. "War of Words: A woman's battle to end stoning and juvenile execution in Iran." The New Yorker. December 28, 2015. https://www.newyorker.com/magazine/2016/01/04/war-of-words-annals-of-activism-laura-secor  
Yousefi, Yasaman. "Constitutional Gender Violence: Stoning in Iran." SDWatch. July 15, 2020. Accessed Feb. 16, 2021. https://sdwatch.eu/2020/07/constitutional-gender-violence-stoning-in-iran/