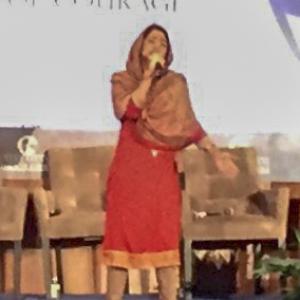 At the age of 16, Sonita Alizadeh found out she was to be sold into marriage. Propelled to do something by this experience and the experiences of other women around her, the young Afghani woman turned to rap music. Alizadeh now uses her music and her convictions to end child marriage and to fight for the rights of women and girls all over the world. She is both an artist and a human rights activist. 
Sonita Alizadeh was born in 1996 in Afghanistan, one of eight siblings. When she was young, her parents and siblings fled to Iran to escape the Taliban. The family walked hundreds of miles in the rain and snow and ended up in a refugee camp in Tehran. In the refugee camp, Alizadeh helped support her family by cleaning offices and bathrooms and selling handicrafts. She was undocumented and, without papers, she was barred from attending school. Undeterred, Alizadeh began searching for a way to make sure she received an education. Eventually, she found a local NGO that provided education to young Afghans in the region. She learned to read and write and took a special interest in poetry and music. 
Alizadeh was drawn to the same music that most teenagers are—pop music. Alizadeh began experimenting with writing her own music. She wrote songs about being a refugee, the war in Afghanistan, and about being a young woman, all in defiance of an Iranian law that barred women from singing. Yet she found pop music too slow and confining for what she truly wanted to say. It was when she heard her first Eminem song while cleaning a karate studio that the music clicked. The Detroit-based rapper's raw sound, earnestness, and fast-paced music appealed to Alizadeh, even though she could not understand the English words. Alizadeh grew up speaking Dari before her family fled from the Taliban. Despite the language barrier, Alizadeh was drawn to the urgency in Eminem's voice. Even though it was dangerous for a woman to speak out, Alizadeh wrote her first rap about child labor. Alizadeh said in an interview, "honestly, back then I knew the law, but I felt like my dreams were bigger than the fears that I had from police." 
When she was around 16 years old, Alizadeh was living in Iran by herself. Her family had gone back to Afghanistan in order to prepare for her older brother's wedding. Part of the preparations included raising money, and Alizadeh's mother said the family was considering selling her into marriage in order to raise the necessary funds. This was not the first time Alizadeh faced being sold into marriage. The first time was when she was 10, but the marriage fell through. Child brides were an all-too-common story in Afghanistan, and Alizadeh rebelled against the idea. She had other dreams for her life and in response to the impending marriage, the feelings of many of her friends, and her own fears, Alizadeh wrote the rap "Daughters for Sale." The song is sometimes called "Brides for Sale." 
Rapping in Arabic, Alizadeh spoke urgently and openly about the pain and violence young women experienced as child brides, growing up in a society where women's value was sometimes expressed in monetary terms. She begins the song in a whisper, saying she must speak softly because "My voice shouldn't be heard as it is against Sharia./Women must remain silent./This is this city's tradition." With the help of Iranian filmmaker Rokhsareh Ghaem Maghami, who she met while living by herself in Tehran, she filmed a provocative music video and uploaded it to YouTube. The song went viral. She said in an interview with Rolling Stone, "I received a great response from the world [to the music video]. I was able to connect with other girls experiencing the same issues."  
One of the millions of people and organizations who saw the song was the nonprofit Strongheart Group who reached out to Alizadeh. With the organization's help, Alizadeh moved to the United States and began attending high school in Utah. Alizadeh did not tell her parents she was coming to the United States, saying "they wouldn't have let me come here, so I basically ran away." After graduating high school, Alizadeh went to American University to take English classes. She then matriculated to Bard College in New York. She is still a student at the college, taking classes in human rights and international studies. She says that she frequently does her homework on a train or in a hotel room between speaking engagements and performances. 
Since her song went viral, Alizadeh has become one of the most visible advocates fighting against child marriage and for the rights of women. She is aware of the statistics, frequently citing that child brides are sold into marriage "everywhere – every two seconds, one girl is married [off] under the age of 18." Since her music video skyrocketed her to international acclaim, she has spoken in front of the United Nations and shared stages with heads of state, Nobel Laureates, and other activists. She has helped develop a curriculum on child marriage for over one million students. She was also the subject of an award-winning documentary, Sonita, by the same director who did her music video. The 2016 documentary by Maghami, which documented Alizadeh's struggle to escape child marriage, won the World Documentary Audience Award, a Grand Jury Prize at the Sundance Film Festival, and the Audience Award for Best Documentary at the IDGA Amsterdam Film Festival. In 2020, she was nominated for the Women Building Peace Award. 
As she advocates on the global scale, Alizadeh never forgets the direct impact she made on her own family. She recalled that while her parents were initially furious with her for refusing to get married, her success in school and music has changed their feelings. Alizadeh says her parents are now her "biggest fans" and understand "that girls are strong, they can make their own decisions, they can support themselves, they can also support others." The change in her mother's perspective has been the biggest shock for Alizadeh. She says, "I felt like if I can change my mom, if I can change my family, I can change other families, too, to think about their girls, to see that there are other possibilities for their girls other than just being mothers while they are children." She has already changed the life of at least one woman in her immediate family. When her younger sister refused an offer of marriage, her parents did not force her to accept. 
"Bard College Student Sonita Alizada Addresses the UN on Child Marriage and Education for Girls," Bard News, Bard College, February 19, 2020, https://www.bard.edu/news/bard-college-student-sonita-alizada-addresses-the-un-on-child-marriage-and-education-for-girls-2020-02-14. 
"Sonita Alizadeh: For Using Rap Music to Empower the Girls of Afghanistan," Asia Game Changer Awards, Asia Society, 2017, https://asiasociety.org/asia-game-changers/sonita-alizadeh. 
"Sonita Alizadeh," Robert F. Kennedy Human Rights, https://rfkhumanrights.org/work/teaching-human-rights/lessons/sonita-alizadeh. 
Stuart, Tessa, "How Afghan Rapper Sonita Alizadeh's Song 'Brides for Sale' Changed Her Fate," Rolling Stone, July 19, 2017, https://www.rollingstone.com/culture/culture-features/how-afghan-rapper-sonita-alizadehs-song-brides-for-sale-changed-her-fate-198272/. 
MLA – Rothberg, Emma. "Sonita Alizadeh." National Women's History Museum, 2021. Date accessed.
Chicago – Rothberg, Emma. "Sonita Alizadeh." National Women's History Museum. 2021. http://www.womenshistory.org/education-resources/biographies/sonita-alizadeh
Image Credit: By IIP Photo Archive - https://www.flickr.com/photos/iip-photo-archive/25529755213/, Public Domain, https://commons.wikimedia.org/w/index.php?curid=53680079
Sonita Alizadeh, Bag Girls, Sonita Alizadeh, 2020. 
"Biography: Sonita Alizadeh," Skoll Foundation, https://skoll.org/contributor/sonita-alizadeh/ 
Sonita, directed by Rokhsareh Ghaem Maghami, TAG/TRAUM Filmproduktion and Intermezzo Films S.A., 2015.