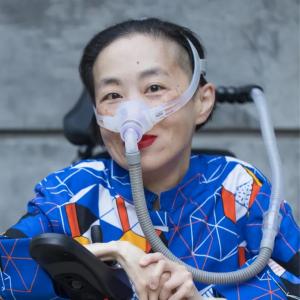 Alice Wong is the founder and director of the Disability Visibility Project, an online community that fosters and amplifies disability media and culture. A Chinese-American activist and writer, Wong fights for access and representation for people with disabilities from all backgrounds.
Alice Wong was born in 1974 and grew up in Indianapolis with her parents and two younger sisters. Her parents had immigrated to the U.S. from Hong Kong. Wong was born with spinal muscular atrophy, a condition where certain nerve cells in the brain and spinal cord break down, causing progressive weakness and atrophy in the muscles in the trunk of the body. She stopped walking around the age of seven or eight. Today, she uses a motorized wheelchair and a BPAP machine (an assistive ventilator device). Growing up, she was usually the only physically disabled student in her class, as well as one of just a few Asian-American students. Feeling that she stuck out in undesirable ways, Wong struggled with internalized racism and the urge to blend in with the crowd during her childhood.
It was in her twenties that Wong shifted from wanting to blend in to fighting for access and visibility on her own terms and to enact systemic change. Wong attended Indiana University at Indianapolis, where she studied English and sociology, graduating with a B.A. in 1997. There, she explored disability scholarship and history, learning about topics like the independent living movement in Berkeley, California, as well as the work of disabled historian and activist Paul K. Longmore. Longmore, at the time a professor at San Francisco State University, urged Wong to move to the West Coast and enroll in graduate school. Wong took that advice and earned a master's degree in medical sociology from the University of California, San Francisco (UCSF). While a graduate student, Wong chaired the Disability Interest Group, an organization that sought to realize greater participation for individuals with disabilities in all aspects of university life.
After graduating, Wong worked at UCSF as a Staff Research Associate for more than ten years and her career in disability advocacy flourished. She undertook qualitative research projects and co-authored digital curricula for UCSF's Community Living Policy Center. She also conducted research and trainings about personal care services that help those with disabilities live in the community rather than institutional settings. From 2006 to 2009, Wong served as the vice chair of the UCSF Chancellor's Advisory Committee on Disability Issues. In that capacity, she lobbied for UCSF's professional schools to include disability-related curriculum as part of their cultural competency courses. Wong spearheaded UCSF Access, a website that describes the accessible features of the major buildings on UCSF campuses, and fought for other accommodations on campus, such as text telephones for the hearing-impaired and wheelchair-accessible buttons in elevators. Wong also served on the boards of the San Francisco In-Home Supportive Services Public Authority and Asians and Pacific Islanders with Disabilities of California.
In 2013, President Obama appointed Wong to the National Council on Disability, an independent federal agency that advises the U.S. government on policies, programs, and practices that affect people with disabilities. She served on the council until 2015.
Wong launched the Disability Visibility Project in 2014. It began as a partnership with StoryCorps to offer opportunities for people with disabilities to record their own oral histories. It grew into an online community that documents and amplifies disability media and culture. Wong, who never felt represented in popular culture while growing up as an Asian-American girl with a disability, wanted to help people tell their stories without the filter of the media, an act she hoped they would find empowering.   
Wong has been a partner in four other disability access projects: DisabledWriters.com, a website that connects editors with disabled writers and journalists; the (no longer active) #CripLit, a series of Twitter discussions with novelist Nicola Griffith; #CriptheVote, a nonpartisan hashtag that promotes political participation among people with disabilities; and Access is Love, a campaign that frames accessibility as an act of love rather than a burden. Wong is also a board member of 18 Million Rising, an advocacy group that promotes civic engagement for Asian Americans and Pacific Islanders.
Wong's writing on disability issues has been published in numerous media outlets across the country. She has edited two anthologies that feature essays written by people with disabilities, and expects to publish her memoir, Year of the Tiger, in 2022.
In 2020, Time recognized Wong as one of 16 notable people fighting for equality in America. British Vogue featured her on its September cover under the theme "The Faces of Hope." The Ford Foundation and the Andrew W. Mellon Foundation named Wong a Disability Futures Fellow. Wong has received several awards for her advocacy work: the Martin Luther King, Jr. Award (2007) and the first-ever Chancellor's Disability Service Award (2011) from UCSF; the Beacon Award from the San Francisco Mayor's Disability Council (2010); the Paul G. Hearne Leadership Award (2016) from the American Association of People with Disabilities for her work with the Disability Visibility Project; and the Indiana University Bicentennial Medal (2020).
Wong continues her intersectional advocacy for the disability community and the Asian American community through her efforts as an activist and writer. In her own words, "I want to create a world that is reflective of all of us. This is my life's work."
Baker, Mitzi. "Alice Wong Wins National Disabilities Organization Award." University of California San Francisco. March 22, 2016. Accessed Nov. 18, 2021. https://www.ucsf.edu/news/2016/03/402181/alice-wong-wins-national-disabilities-organization-award
Cisneros, Lisa. "President Obama Appoints Alice Wong to National Council on Disability." University of California San Francisco. Jan. 30, 2013. Accessed Nov. 18, 2021. https://www.ucsf.edu/news/2013/01/104504/president-obama-appoints-alice-wong-national-council-disability
Lu, Wendy. "Alice Wong Wants To Make Space For More Disabled Asian Americans Like Her." HuffPost. Accessed Nov. 18, 2021. https://www.huffpost.com/entry/alice-wong-make-space-disabled-asian-americans_n_607dd152e4b0df3610bee777
"Media Kit: Full Bio." Disability Visibility Project. Accessed Nov. 18, 2021. https://disabilityvisibilityproject.com/about/alice-wong-media-kit/
Wong, Alice. "A Mutant from Planet Cripton, An Origin." The Nerds of Color. April 3, 2014. Accessed Nov. 18, 2021. https://thenerdsofcolor.org/2014/04/03/a-mutant-from-planet-cripton-an-origin/
Disability Visibility: First-Person Stories from the Twenty-First Century. United States: Knopf Doubleday Publishing Group, 2020.
Disability Visibility (Adapted for Young Adults): 17 First-Person Stories for Today. United States: Random House Children's Books, 2021.
Wong, Alice. Resistance and Hope: Essays by Disabled People. United States: Smashwords Edition, 2018.