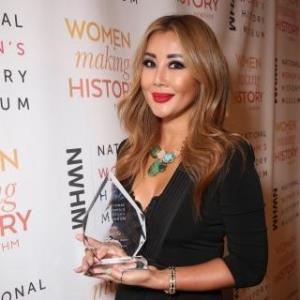 Toni Ko, a first-generation South Korean immigrant, made a name for herself in the business world as the founder of NYX Cosmetics and now helps fund and develop other women-run brands. Thanks to her work ethic and business savvy, Ko has been named one of Forbes magazine's Richest Self-Made Women. 
Born in 1973, Ko moved to California from Dageu, South Korea with her family in 1986 when she was 13 years old. She did not speak English and described it as a very difficult situation, but credits the challenge with building her character and fostering her resilient nature. As a teenager, she learned the ins and outs of business working for her family's perfume and cosmetics retail store after school and on weekends. Ko describes her mother, Elaine, as a "fantastic businesswoman." The store did well and expanded to multiple locations. When she was 20, the family business turned to wholesale distribution. Ko gained experience managing accounts and selling to retailers, rather than directly to consumers. At the same time, Ko took note of the stark difference in quality between the inexpensive cosmetics brands she could afford and the high-end makeup brands to which she aspired. In 1999, at the age of 25, Ko leveraged her passion for makeup and her firsthand knowledge of the beauty supply industry to create her own line of department-store-quality cosmetics for drugstore prices, NYX Cosmetics. 
Ko started NYX with $250,000 in seed money from her parents. It began as a one-woman operation but Ko quickly grew the company through her savvy use of social media, recruiting influencers to tout her products and spur word-of-mouth promotion. NYX started with small product line of makeup pencils, but garnered $2 million in revenue during its first year. Ko named the company after the Greek goddess Nyx, a female personification of the night, powerful enough that even Zeus feared her. 
As NYX became a global brand under her leadership, Ko garnered recognition for her achievements in the industry. Ko earned the Lifetime Achievement Award from the Beauty Bus Foundation in 2013; the Entrepreneur of the Year award from the Asian Business Association in 2014; and the Leadership Award from the National Association of Women Business Owners, Los Angeles chapter, that same year. NYX was named the WWD Beauty Inc. Brand of the Year in 2013, an achievement Ko cites as one of her proudest moments in the beauty industry. NYX soon gained the attention of L'Oreal, which purchased the company in 2014 for a reported $500 million. At the time, NYX boasted worldwide distribution and a yearly revenue well over $100 million.  
In 2014, Ko started the Toni Ko Foundation. It supports organizations that care for children in need as well as those that focus on women's empowerment. She sees financial independence as the key to liberation for women around the world and is dedicated to increasing the number of female business executives and entrepreneurs. Toward that end, Ko invests in women-owned businesses through her venture capital firm, Butter Ventures. Butter Ventures has invested in women-run companies such as digital signage software company Enplug, CBD brand Sagely, and feminine care wellness startup Rael.  
After a brief retirement, Ko decided to get back into the entrepreneurial game herself. Subject to a five-year non-compete agreement with L'Oreal that prevented her from launching any cosmetics lines, Ko looked to other industries. She recognized a gap in sunglasses offerings between high-end designer products and inexpensive store brands, one similar to the gap that she capitalized on in the cosmetics industry. Ko launched her sunglasses line, Thomas James LA (previously known as Perverse), in 2016. Priced between $30-$60 per pair, Thomas James LA frames are intended to be more stylish than store brands, but more affordable than designer sunglasses. Ko initially tried to establish a strong brick-and-mortar retail presence for the company, but the stores were not successful and Ko pivoted the line to focus on e-commerce. Despite this setback, Ko has described the effort as a valuable learning experience. 
In July 2019, once she was free to reenter the cosmetics industry, Ko founded Bespoke Beauty Brands, LLC. Bespoke is an incubator company that helps develop and launch beauty and wellness brands in partnership with influencers and entrepreneurs. Each product line is carefully curated to tailor to the individual's specific brand. Bespoke's first brand was a collaboration with Kim Chi, a finalist on season eight of RuPaul's Drag Race, called Kim Chi Chic Beauty.  
Ko continues to be an inspiration to female entrepreneurs. Her advice to women is: "Stand your ground! Don't let people, your surroundings, or events intimidate you. Speak up, speak loudly, and be demanding of what you want." 
Baxter, Hannah. "Beauty Industry Veteran Toni Ko on What's Next in Beauty—and the Products She Can't Live Without." Coveteur. January 16, 2020. Accessed April 12, 2021. https://coveteur.com/2020/01/16/nyx-founder-toni-ko/ 
"How Entrepreneur Toni Ko Became One of America's Richest Self-Made Women." The Every Girl. April 23, 2016. Accessed April 5, 2021. https://theeverygirl.com/how-entrepreneur-toni-ko-became-one-of-americas-richest-selfmade-women/  
O'Connor, Clare. "Banking On Beauty: How Toni Ko Built NYX Cosmetics Into A $500 Million Brand." Forbes. June 1, 2016. Accessed April 5, 2021. https://www.forbes.com/sites/clareoconnor/2016/06/01/toni-ko-nyx-cosmetics-loreal-sale-richest-women/?sh=511439da7d71  
Robinson, Cheryl. "From Cosmetics To Beauty Incubators: Toni Ko's 3 Pillars To Launching A Successful Company." Forbes. May 1, 2020. Accessed April 8, 2021. https://www.forbes.com/sit es/cherylrobinson/2020/05/01/from-cosmetics-to-beauty-incubators-toni-kos-3-pillars-to-launching-a-successful-company/?sh=13ee36242f39  
Taylor, Stephanie. "The Boss of the Beauty Business: Toni Ko." Darling. March 5, 2020. Accessed April 12, 2021. https://darlingmagazine.org/the-boss-of-the-beauty-business-toni-ko/  
"Toni Ko." Asian Business Association. https://abala.org/connect/ko-toni/  
White, Ronald D. "Fashion entrepreneur Toni Ko keeps it stylish but affordable." Seattle Times. May 15, 2016. Accessed April 12, 2021. https://www.seattletimes.com/business/fashion-entrepreneur-toni-ko-keeps-it-stylish-but-affordable/  
White, Ronald D. "How I Made It: Toni Ko's next fortune could be made in shades." Los Angeles Times. April 17, 2016. Accessed April 12, 2021. https://www.latimes.com/business/la-fi-himi-ko-20160417-story.html 
Yong-bae, Shin. "NYX Cosmetics' Toni Ko, one of Forbes' richest self-made women." The Korea Herald. July 15, 2016. Accessed April 5, 2021. http://www.koreaherald.com/view.php?ud=20160715000262  
MLA – Brandman, Mariana. "Toni Ko." National Women's History Museum, 2021. Date accessed. 
Chicago – Brandman, Mariana. "Toni Ko." National Women's History Museum. 2021. www.womenshistory.org/education-resources/biographies/toni-ko  
Photo Credit: The National Women's History Museum by Getty Images | Todd Williamson