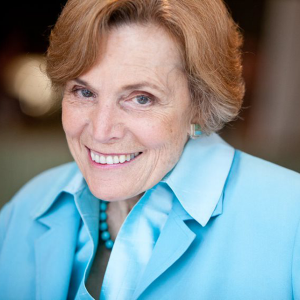 Referred to as "Her Deepness," National Geographic Society Explorer-in-Residence Dr. Sylvia Earle holds the record for deepest walk on the sea floor and is a world-renowned expert on marine biology. The first woman to lead the National Oceanographic and Atmospheric Administration, Earle advocates for ocean conservation and education.  
Sylvia Earle was born on August 30, 1935 in Gibbstown, New Jersey and lived on a small farm near Camden with her parents and two brothers. Neither of Earle's parents attended college, but they instilled a love of nature in their daughter at an early age. She recalled spending hours by the pond in her backyard, filling jars with fish and tadpoles, recording her observations in notebooks. Her family moved to Dunedin, Florida (located near Clearwater on the Gulf of Mexico) when Earle was 13 and her interest turned to Gulf Coast wildlife. An excellent student, Earle graduated high school at 16. She earned a scholarship to Florida State University, where she studied botany and graduated at 19. She also became certified as a SCUBA diver at this time, in order to study ocean plant life firsthand. By 20, Earle earned a master's degree in botany from Duke University.  
Earle then began her doctoral work at Duke, focusing on algae, which produce most of the oxygen in Earth's atmosphere through photosynthesis. There, Earle met John Taylor, a graduate student in zoology. Earle suspended her studies when the two married. She gave birth to a daughter and son and soon resumed her doctoral studies.  
In 1964, Earle was invited on a six-week voyage to the Indian Ocean on a National Science Foundation research vessel. It was a demanding job that was not often offered to women at the time, but Earle was used to being the only woman in a scientific setting and made the most of the opportunity. From 1964 to 1966, Earle joined voyages to the Galápagos Islands, the Chilean cost, and the Panama Canal Zone. In 1965, she was named resident director of the Cape Haze Marine Laboratory in Sarasota, Florida. This was all on top of completing her coursework and writing her dissertation.  
Earle received her Ph.D. in botany in 1966. For her dissertation, Earle collected more than 20,000 samples of algae to catalog aquatic plants in the Gulf of Mexico. Her project was a marvel in the discipline, as she was one of the first scientists to use SCUBA to document marine life firsthand, and it remained a landmark study for decades.  
Earle continued to go on expeditions around the world. Earle and Taylor divorced and soon Earle met Dr. Giles W. Mead, the curator of fishes at the Harvard Museum of Comparative Zoology. Earle and Mead married in 1966 and Earle was appointed as a research scholar at Harvard. In February 1968, Earle joined a group of scientists in the Bahamas as part of the Smithsonian Institution's Man-in-Sea project, an experimental underwater habitat. Earle descended 100 feet below the surface in a submersible vehicle and entered the habitat, the first woman scientist to do so in that manner. She was four months pregnant at the time – her third child, a daughter, was born that July.  
In 1969, Earle applied to the Tektite II Project, an initiative sponsored by the U.S. Navy, the Department of the Interior, and NASA near the U.S. Virgin Islands. Like the Man-in-Sea project, it enabled scientists to live and work in a habitat 50 feet underwater. Earle and several other female scientists were eminently qualified (no one had as much diving experience as Earle), but government officials did not want men and women living together in the habitat. So, in 1970, Earle led an all-female team to the habitat where, for two weeks, they observed and photographed the marine life in the surrounding waters. When she and her team returned to the surface, they were celebrities. They were honored at the White House and received a parade in Chicago. Now in the spotlight, Earle became determined to share her passion for marine life with broad audiences and help the public understand the beauty and value of the oceans. 
Earle, Mead, and their combined six children moved to Los Angeles in 1970 and Earle began teaching at UCLA. She gave talks around the country describing her underwater explorations and wrote for publications like National Geographic. She also continued to go on marine expeditions around the world, often serving as their chief scientist.  
Earle began collaborating with undersea photographer Al Giddings. They explored a battleship graveyard in the South Pacific and followed great sperm whales in a series of expeditions featured in the documentary film Gentle Giants of the Pacific (1980). She worked with Giddings on her 1980 book, Exploring the Deep Frontier, which told of her experience walking untethered on the sea floor at a lower depth than any person before or since. She wore a pressurized suit and was carried to a depth of 1,250 feet, where she detached from the submersible and explored the sea floor for two and a half hours. 
In the 1980s, Earle teamed up with engineer Graham Hawkes (her third husband, after her divorce from Mead) and started two companies to design and build underwater vehicles that helped scientists work at unprecedented depths.  
In 1990, Earle was appointed the Chief Scientist of the National Oceanographic and Atmospheric Administration (NOAA), the first woman to hold the position. As head NOAA scientist, Earle was responsible for safeguarding the health of the nation's waters. In 1992, she returned to her work in deep ocean engineering, exploration, and education. In 1995, she published Sea Change: A Message of the Oceans, a call to action to preserve the Earth's oceans.  
Throughout her career, Earle has authored more than 200 publications, lectured in more than 80 countries, and led more than 100 marine expeditions (totaling over 7,000 hours under water). She has received 27 honorary degrees and more than 100 honors from around the world. Some of the most notable awards include Time magazine's first Hero for the Planet (1998), the United Nations Champion of the Earth (2014), and the 2009 TED Prize.  
Earle is the president and Chairman of the Mission Blue/Sylvia Earle Alliance, an ocean advocacy group. Their most recent effort is to develop a global network of "Hope Spots," dedicated to protecting the biodiversity on which Earth's interconnected ecosystems depend, particularly in light of the accelerating threat of climate change.  
Photo Credit: "Sylvia Earle - TEDxOilSpill - Washington, DC by Kris Krug-1" by TEDxMidAtlantic is licensed under CC BY-NC-ND 2.0 
"About Us." Sylvia Earle Alliance/Mission Blue. Accessed March 29, 2021. https://mission-blue.org/about/ 
Academy of Achievement. "Sylvia Earle Biography — Academy of Achievement." February 11, 2021. Accessed March 27, 2021. https://achievement.org/achiever/sylvia-earle/ 
"Dr. Sylvia A. Earle." Ocean Elders. Accessed March 29, 2021. http://www.oceanelders.org/dr-sylvia-a-earle/ 
"Sylvia A. Earle." National Women's Hall of Fame. 2000. Accessed March 29, 2021. https://www.womenofthehall.org/inductee/sylvia-a-earle/  
"TNC and Dr. Sylvia Earle: Like-Minded Ocean Advocates." The Nature Conservancy. Accessed March 29, 2021. https://www.nature.org/en-us/about-us/where-we-work/united-states/florida/stories-in-florida/florida-dr-sylvia-earle-ocean-advocate/  
White, Wallace. "Her Deepness: Sylvia Earle's Underwater Explorations." The New Yorker. June 26, 1989. Accessed March 29, 2021. https://www.newyorker.com/magazine/1989/07/03/her-deepness-wallace-white  
Earle, Sylvia and Al Giddings. Exploring the Deep Frontier: The Adventure of Man in the Sea. National Geographic Society, 1980.  
Earle, Sylvia and Bill McKibben. The World Is Blue: How Our Fate and the Ocean's Are One. National Geographic Society, 2009. 
Earle, Sylvia. "My Wish: Protect Our Oceans." TED Talk. February 2009. https://www.ted.com/talks/sylvia_earle_my_wish_protect_our_oceans?language=en  
Mission Blue (2014, film). Directed by Fisher Stevens and Robert Nixon.