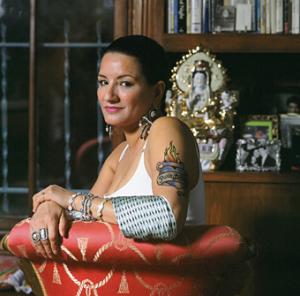 Sandra Cisneros has won multiple awards, fellowships, and honors as an internationally recognized writer. On September 22, 2016, President Barack Obama presented Cisneros with the National Medal of Arts for her work. Her book called The House on Mango Street, has sold over six million copies and has been translated into over twenty languages.  
Sandra Cisneros was born on December 20, 1954 in Chicago, Illinois. Although her parents met in Chicago, they were both from Mexico. They had seven children, but Cisneros was the only girl. A year after she was born, her parents had another daughter, but she died as a baby. When Cisneros was ten years old, she wrote her first poem. However, she did not write any more poetry until she was in high school. While in school, she was an active writer and was known as "the poet." After high school, Cisneros attended Loyola University of Chicago. In her third year of school she took a creative writing class and decided to continue studying writing. She graduated in 1976 with a Bachelor of Arts degree in English. Cisneros continued on to the University of Iowa where she graduated in 1978 with a Master of Fine Arts degree in Creative Writing. After Cisneros graduated with her second degree, she returned to Chicago. She became a teacher and counselor at the Latino Youth Alternative High School, where she taught students that dropped out of school. A few years later, Cisneros returned to Loyola University of Chicago as an administrative assistant. Later on, she worked at many universities including; California State University at Chico, the University of California Berkeley, the University of Michigan Ann Arbor, and the University of New Mexico.
The first book Cisneros published was a short book of poetry called Bad Boys in 1980. Four years later, she published a fiction novel called The House on Mango Street in 1984. This book would go on to become one of her most famous writings. Just a year after it was published, The House on Mango Street won the American Book Award from the Before Columbus Foundation. Cisneros kept writing poems, short stories, and novels in both Spanish and English. She published her first full-length poetry book called My Wicked Wicked Ways in 1987. In 1991, Cisneros published a collection of short stories called Woman Hollering Creek and Other Stories. This book won the PEN Center West Award for Best Fiction of l99l, the Quality Paperback Book Club New Voices Award, the Anisfield-Wolf Book Award, and the Lannan Foundation Literary Award. It was also nominated as the Best Book of Fiction of 1991 by The Los Angeles Times, and it was selected as an important book of the year by The New York Times and The American Library Journal.
In 1994 Cisneros wrote her first children's book called Hairs/Pelitos which was written in both Spanish and English. That same year, she wrote another book of poetry called Loose Woman that won the Mountains & Plains Booksellers' Award. She wrote her second novel in 2002 that was called Caramelo. This book won the Premio Napoli award, and was selected as an important book of the year by The New York Times, The Los Angeles Times, the San Francisco Chronicle, the Chicago Tribune, and the Seattle Times. She wrote a picture book for "grown-ups" in 2012 called Have You Seen Marie? Her latest book called A House of My Own: Stories from My Life, is a collection of her personal essays. This book won the 2016 PEN Center USA Literary Award for creative nonfiction.
Along with her book awards, Cisneros earned many scholarships and fellowships for writing. She received two fellowships from the National Endowment for the Arts in 1981 and 1988. After earning the MacArthur Foundation Fellowship in 1995, she helped to organize a group called the Latino MacArthur Fellows, Los MacArturos. The members of this group all won MacArthur fellowships and work together to serve their communities. Cisneros also earned many other honors including: the Texas Institute of Letters Dobie-Paisano Fellowship (1984); the Illinois Artists Fellowship (1984); the Roberta Holloway Lectureship at the University of California, Berkeley (1988); the Texas Medal of the Arts (2003); the Fifth Star Award presented by the Chicago Department of Cultural Affairs (2015); the Tia Chucha's Lifetime Achievement Award (2016); the Fairfax Prize (2016); and the Ford Foundation's Art of Change Fellowship (2018). Cisneros has continued to make a positive impact on her community by starting the Macondo Foundation and the Alfredo Cisneros Del Moral Foundation for writers. She has been recognized for her work by earning honorary degrees from many universities including: The State University of New York at Purchase; Loyola University, Chicago; DePaul University; and University of North Carolina at Chapel Hill. Cisneros currently lives in San Miguel de Allende, Mexico with her four dogs.
Cisneros, Sandra. "Biography." Accessed November 20, 2018. https://www.sandracisneros.com/.
Ganz, Robin. "Sandra Cisneros: Border Crossings and Beyond." MELUS 19, no. 1 (1994): 19-29. https://doi:10.2307/467785. JSTOR.
Library of Congress Biographies. "Sandra Cisneros (1954-)." Accessed November 20, 2018. https://www.loc.gov/item/n84021632/sandra-cisneros/.
Mathias, Kelly, and Lauren Curtright. "Sandra Cisneros." Voices from the Gaps (1996): 1-7. http://hdl.handle.net/11299/166122. University of Minnesota Digital Conservancy.
Texas Medal of Arts. "Honorees." Accessed November 22, 2018. https://texasmedalofarts.org/.

Photograph: Public Domain.
MLA - Alexander, Kerri Lee.  "Sandra Cisneros." National Women's History Museum.  National Women's History Museum, 2019.  Date accessed.
Chicago - Alexander, Kerri Lee.  "Sandra Cisneros."  National Women's History Museum.  2019.  www.womenshistory.org/education-resources/biographies/sandra-cisneros.
Library of Congress. "An Evening of Chicano Poetry." Recorded April 8, 1986, in the Coolidge Auditorium at the Library of Congress, Washington, D.C. Sound Recording, 1:07:27. http://hdl.loc.gov/loc.mbrsrs/poetryarch.89741345.