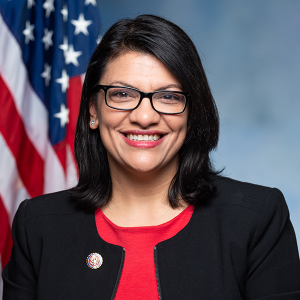 Rashida Tlaib, currently serving as the Democratic Representative for Michigan's 13th District, is a fighter. As a life-long Detroiter, and one of the first Muslim-Americans, as well as the first Palestinian-American woman, ever elected to the United States Congress, Tlaib advocates for issues that affect the working-class. Feeling that interactions with voters are her "comfort zone," Tlaib says she is always thinking of her constituents and where she came from. 
Rashida Harbi Elabed was born on July 24, 1976 as the oldest of 14 children to Harbi Elabed and Fatima in southwest Detroit. Both her parents immigrated to the United States. Her father, born in East Jerusalem, moved to Nicaragua before emigrating to the United States; her mother came from a small town in Palestine. Tlaib grew up speaking Arabic at home and learned English as a second language. She sometimes acted as a third parent, helping her parents change the diapers and take care of her younger siblings while also juggling homework and school activities. Both of her parents worked extremely hard—they each spent time working on the assembly line at the Ford Motor Company's Flat Rock Assembly Plant—to provide for the family, but it was not always easy and Tlaib and her family experienced poverty growing up. 
Tlaib became the first person in her family to graduate high school. She received her B.A. from Wayne State University in 1998 and her J.D. from Western Michigan University in 2004. She married Fayez Tlaib in 1998, and the couple had two sons. When they divorced in 2015, Tlaib kept her married name. 
After law school, Tlaib went to Dearborn, Michigan to work for the Arab Community Center for Economic and Social Services (ACCESS). Working for Arab causes was important to her, not only because of her family, but because of her religion. As an observant Muslim, Tlaib understood the discrimination and hardships faced by other members of her community first-hand. As a child, she experienced bullying, and she had also witnessed her mother being harassed over wearing a hijab—a traditional headscarf—in the grocery store.  
In 2008, Tlaib was encouraged to run for a seat in the Michigan State Legislature by Steve Tobocman. Tobocman had met Tlaib while she worked at ACCESS and then hired her to work for him when he became Democratic floor leader. He wanted her to run for his seat, but she first needed some convincing. She won her primary with 44% of the vote and went on to win the general election, becoming the first Muslim woman to serve in the state's legislature. As a state representative, Tlaib fought tirelessly for her district. She organized the We Have a Right to Breathe campaign, which focused on getting polluting semi-trucks off neighborhood streets. When constituents began complaining about a black dust that coated the Detroit riverbank and blew into their homes and local parks, she called for inspections. When the Michigan Department of Environmental Quality told residents that everything was fine and there would be no inspections, Tlaib collected samples herself and had them tested; they proved to be cancerous and she got the state to clean up the riverbank. 
After serving three terms in the Michigan State legislature, Tlaib went to work as an attorney for the Sugar Law Center for Economic and Social Justice, a liberal nonprofit that "seeks to empower low-income individuals, families, and communities." While there, Tlaib worked on a number of issues, including trying to combat emissions at Marathon Oil Refinery. 
In 2018, there was an open seat to represent Michigan's 13th District in the United States Congress. The district encompasses the city of Detroit and some of the surrounding areas, and Tlaib decided to throw her hat in the ring. She was not the front runner in the Democratic primary for the seat and not expected to win, but she did by less than 1,000 votes. She then went on to win the seat. As a proud Palestinian-American, Tlaib used a 1734 English translation of the Quaran (supposedly purchased by Thomas Jefferson) and wore a thobe (a traditional, embroidered dress) at her swearing in ceremony on January 13, 2019.  Her swearing-in outfit choice inspired several Palestinian and Palestinian-American women to tweet pictures of their thobes using the hashtag #TweetYourThobe. Tlaib was re-elected to her Congressional seat in the 2020 Election. 
As a proud member of "The Squad"—the name for the growing group of self-identified female, progressive Democrats currently serving in the House of Representatives—Tlaib continues to fight for the issues that affect her district, in which roughly 30% of residents live below the poverty line. As a self-proclaimed '"girl with a bullhorn,'" she is an advocate for raising the minimum wage, Medicare for All, immigration reform, civil rights, and environmental rights.  
Photo Credit:
United States Congress - Official Congressional Facebook page, Public Domain, https://commons.wikimedia.org/w/index.php?curid=76701626 
"About." Representative Rashida Tlaib. September 03, 2019. Accessed December 07, 2020. https://tlaib.house.gov/about. 
Dias, Elizabeth. "For Rashida Tlaib, Palestinian Heritage Infuses a Detroit Sense of Community." The New York Times. August 14, 2018. Accessed December 07, 2020. https://www.nytimes.com/2018/08/14/us/politics/rashida-tlaib-muslim-congress.html. 
Robertson, Derek. "Rashida Tlaib Is the Left's Way Forward." POLITICO Magazine. August 10, 2018. Accessed December 07, 2020. https://www.politico.com/magazine/story/2018/08/10/rashida-tlaib-michigan-progressive-democrats-219346. 
Spangler, Todd. "How Detroit's Rashida Tlaib Will Make History in Washington." Detroit Free Press. September 09, 2018. Accessed December 07, 2020. https://www.freep.com/story/news/local/michigan/2018/09/07/rashida-tlaib-detroit-congresswoman/1196889002/.