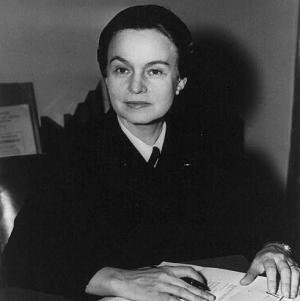 Journalist, politician, and civil servant, Oveta Culp Hobby worked to better her community and her country throughout her lifetime. She is best known for serving as the director of the Women's Army Corps and as the first secretary of the Department of Health, Education and Welfare.
Oveta Culp Hobby was born on January 19, 1905 in Killeen, Texas to Isaac William Culp and Emma Elizabeth Hoover. Hobby's father was a lawyer and state legislator, who instilled in her an interest in law and politics from a young age.
She graduated from Temple High School and went on to attend classes at what is now known as the University of Mary-Hardin Baylor for two years, but she did not complete her studies. In 1925, Hobby was asked to work as a legislative parliamentarian in the Texas House of Representatives, which she carried out until 1931. At the same time, she attended classes in law at the University of Texas, but never completed her degree.
Hobby also became involved in a number of political activities in the 1920s. She helped organize the National Democratic Convention in Houston in 1928, and worked on Thomas T. Connally's US Senate campaign. She also ran for the Texas state legislature, but did not win.
In the 1930s and onwards, Hobby started working in the publishing world on her husband, former Governor of Texas William P. Hobby's newspaper The Post in Houston. She held a number of positions within the paper including book editor and executive vice president. In 1937, she wrote and published a book, Mr. Chairman, about her activities at the Texas state legislature.
World War II brought changes to Hobby's life. From 1941 to 1942, she served as the head of the Women's Interest Section in the War Department Bureau of Public Relations. In this role, she investigated ways in which women could serve their country and laid the groundwork for them to do so by the time that the US entered the war.
After war was declared in December 1941, the country mobilized its troops. Discussions also began in the government about the possibility of women serving in the military. Congress passed a bill which created the Women's Auxiliary Army Corps (WAAC) in May 1942. Hobby became the first director of the WAAC. In 1943, she obtained the rank of colonel, when the WAAC became integrated into the army, changing its name to the Women's Army Corps (WAC). She remained the director of the WAC throughout the war. For her dedication and effective supervision of the WAC, Hobby was awarded the Distinguished Service Medal for outstanding service by the army in January 1945. She was the first woman in the Army to receive this award, which was the highest non-combat award given by the military at that time.
Hobby resigned from the WAC in July 1945, but continued to lead an active work life. She returned to The Post as its executive vice president. She also sat on a number of charity boards including: the American Red Cross, and the American Cancer Society.
Hobby maintained her interest in politics and political causes. During Republican candidate Dwight D. Eisenhower's presidential campaign, Hobby actively supported his bid for office. After Eisenhower became president in 1953, he appointed Hobby chairman of the Federal Security Agency (FSA), which oversaw public health, education, and social security funding. In April 1953, Eisenhower created the Department of Health, Education and Welfare, and abolished the FSA. In the process, he named Hobby as the first secretary of the new department. In this role, she worked on matters related to health, education, and educational funding. During her time as secretary at the department, she helped plan for the first distribution of the newly created polio vaccination in the United States in 1955. She stepped down from the job in 1955.
Throughout the rest of her life, Hobby continued to hold a number of positions in publishing and public service. Her other activities included sitting on the board of Rice University and serving on the National Advisory Commission on Selective Service at the request of President Lyndon B. Johnson.
Hobby died on August 16, 1995. During and after her lifetime she received numerable awards. Although she never completed a university degree, she was recognized by a number of higher education institutions for her great contributions to the nation. Hobby was given honorary degrees by universities including Columbia University, Smith College, and the University of Pennsylvania. In 1967, Central Texas College dedicated the Oveta Culp Hobby Memorial Library. Hobby was inducted into the Texas Women's Hall of Fame in 1984. The US Post Office honored Hobby's achievements in 2011 with a commemorative stamp.
Books:
Yellin, Emily. Our Mother's War: American Women at Home and at the Front During World War II. New York: Simon & Schuster, Inc., 2004.
McEuen, Melissa A. "Women, Gender, and World War II." Oxford Research Encyclopedia of American History, June 2016. Accessed July 14, 2017. http://americanhistory.oxfordre.com/view/10.1093/acrefore/9780199329175.001.0001/acrefore-9780199329175-e-55
Websites:
Central Texas College. "Mission and History." Accessed July 25, 2017. http://www.ctcd.edu/academics/library/mission-and-history/
Hobby, Jr., William P. "Hobby, Oveta Culp." Texas State Historical Association. Accessed July 25, 2017. https://tshaonline.org/handbook/online/articles/fho86
Texas Women's University. "Oveta Culp Hobby." Accessed July 25, 2017. https://www.twu.edu/twhf/honorees/oveta-culp-hobby/
U.S. Post Office. "Stamp Announcement 11-21: Oveta Culp Hobby." Posted March 24, 2011. Accessed July 25, 2017. http://about.usps.com/postal-bulletin/2011/pb22307/html/info_006.htm
Wagner, Donald. "Women's History Month: Celebrating Accomplished Army Women." Department of Defense. Accessed July 25, 2017.  https://www.defense.gov/News/Article/Article/1120586/womens-history-month-celebrating-accomplished-army-women/
MLA - Spring, Kelly. "Oveta Hobby." National Women's History Museum. National Women's History Museum, 2017. Date accessed.
Chicago - Spring, Kelly. "Oveta Hobby." National Women's History Museum. 2017. www.womenshistory.org/education-resources/biographies/oveta-hobby.
Image Credit: Library of Congress 
Audio Recording:
OTR Network Library. "World News Today". Recorded January 16, 1944. Accessed July 25, 2017. http://www.otr.net/?p=news 
Film:
"We're In the Army Now."  The War Department, Signal Corps. Date Unknown. Accessed July 25, 2017. https://www.youtube.com/watch?v=NMeV8l7et2I
Magazines:
Author unknown. "Army & Navy - Hobby's Army." Time Magazine, January 19, 1944. Accessed July 25, 2017. http://content.time.com/time/magazine/article/0,9171,796352,00.html
Author unknown. "THE CABINET: Lady in Command." Time Magazine, May 4, 1953. Accessed July 25, 2017. http://content.time.com/time/magazine/article/0,9171,818360,00.html
Website:
National Portrait Gallery. "Oveta Culp Hobby." Accessed July 25, 2017. http://npg.si.edu/object/npg_NPG.86.TC74