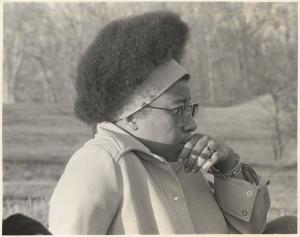 Nkenge Touré is an activist whose expansive collection of speeches and written works confront issues around reproductive justice, Black feminism, and women's rights. She has been a vocal proponent of the anti-rape movement and has continuously advocated for gender equality within the Black Nationalist Movement and the Black Panther Party. Later in life, Touré took on roles to improve quality of life for those struggling with both substance abuse and HIV/AIDS. 
Nkenge Touré was born Anita Stroud on March 15th, 1951 in Baltimore, Maryland. Her parents, Juanita King and John Stroud, had two more children after Touré was born; her younger brothers, David and Steven. The family lived in South Baltimore, though John did not live with them. Touré and her siblings were primarily raised by their mother. When discussing her father's choice to no longer engage with her family in the Voices of Feminism Oral History Project, Touré remarked that he "decided that family life and fatherhood was not for him, so he ultimately went back down [to the Southern United States]" (Touré 2004, p. 2).  
Her mother, Juanita, made the choice to stay home with her children when they were young. During this time, the family received government assistance to stay afloat. Once Touré and her brothers could be left alone, their mother began working a variety of jobs, such as at a tomato factory and as a shop steward at London Town Manufacturing.  
 
All three of the Stroud children attended an elementary school that was directly across from the high-rise, government-subsidized building they lived in. Like the Strouds, many who lived in these buildings were low-income and/or received public assistance. Touré asserted that these neighborhoods were full of crime. The schools in the neighborhood schools even lacked official titles, as her elementary school was called 116A (Touré 2004). The other school in her neighborhood was simply called 139 (Touré 2004). Despite poorly developed academic programs and high crime rates, there was one silver lining: community members made sure to look after one another. Camaraderie amongst residents greatly improved the experience. At the age of 16, Touré and her family moved out of government-subsidized housing to a nicer home. 
Though leaving her community was difficult, moving to a new home meant attending a new school. In 1966, Touré attended an all-girls high school called Eastern High School. The school had only recently integrated at the time of her attendance. Entering the school as one of the first Black students exposed her to racism from classmates. These attitudes from white students shifted her worldview greatly. In fact, when she reflected upon her career as a feminist, Touré stated that she was heavily shaped by the racist experiences she was subjected to in high school. 
Touré also reflected that growing up without her father made her more familiar with feminism. Though it presented difficulties, Touré has noted that any frustration about her father's absence was offset because she was surrounded by many strong and influential women (Touré 2004). She was close with her mother, whose life she aimed to make easier by cooking and taking care of her siblings so that she could rest after long days of work. Touré was also close with her maternal aunt, Beatrice Silva, who was a nurse (Touré 2004). She would often spend time with her aunt and uncle and was routinely treated to many gifts. Touré thought of her mother and aunt as two strong and kind forces that greatly influenced her.  
Touré's mother and aunt were also very politically and socially aware. They followed Martin Luther King Jr.'s work and went to see Elijah Muhammad speak (Touré 2004). Their influence resulted in Touré following several Black Power activists, including Stokely Carmichael and Huey P. Newton. Touré remarked that the first Black Panther newspaper she say had Huey P. Newton on the cover and depicted him "sitting up there in [a] chair," which left her awe inspired (Touré 2004, p. 6).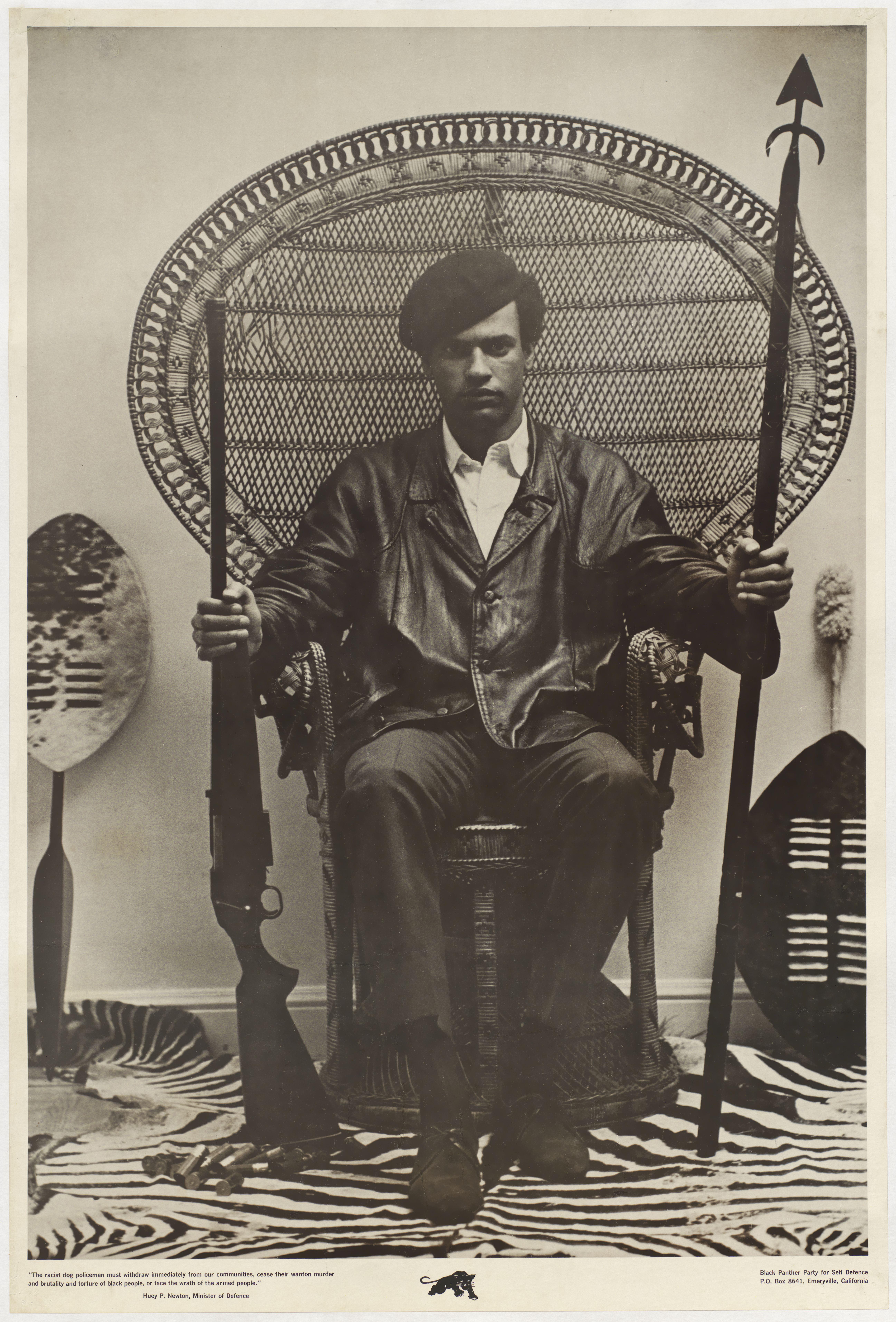 While Touré attended Eastern High School, civil rights activism unfolded across the country. Sit-ins, teach-ins, and marches (amongst many other demonstrations) occurred to challenge racism and segregation. The Black Power Movement, which "emphasized black self-reliance and self-determination more than integration," was also in its early stages at this time (National Museum of African American History and Culture n.d.). These events encouraged Touré and her peers to create an underground club, called the "Black Voice," at their high school during their junior year.  A lack of Black books, teachers, and studies as well as racist treatment from white students and staff spurred the club's creation. Activities included "reading Black Panther newspapers...going to a few meetings at this place called the Soul School, which was like the cultural nationalist organization in Baltimore…learning about Africa and Patrice Lumumba [and about colonization and liberation struggles], and then [going] a couple of times to the offices of the Black Panther Party," (Touré 2004, p. 10).  
 The Black Voice also confronted racism within their high school and community. Touré's mother was often called by school administrators to report her outspokenness. Her mother often supported Touré, encouraging school administrators to think critically about why her daughter was so resistant to school policy and practices (Black Power Chronicles 2017). When a white teacher referred to a Black student in a derogatory manner, the Black Voice began operating out in the open. Their protest resulted in the administration calling the police on them.  
Within "Black Panther Women: Armed with Politics and Guns in the Winston-Salem, Philadelphia, and Baltimore Branches," writer Leah Worthington details the sequence of events that followed police interference. She wrote the "police maced Touré in the face, and arrested her along with seven other students. Baltimore law enforcement loaded the eight girls into the police van and headed to the station but not before they were temporarily stopped by supporting high school students who formed a human chain encircling the police van" (Worthington 2016, p. 2). Touré was then expelled from her high school and not receive a high school diploma. The school proposed an alternative academic plan that was contingent upon attending summer school and an apology from Touré, which she refused. Touré obtained her GED years later, in 1972. 
Touré' continued her activism and commitment to social change. Due to her involvement with the Black Panther Party (BPP) in high school, she already had strong ties to the group. In 1971, she was recruited to work at the DC chapter of the Party. Her duties included "[selling] the Panther newspaper, [helping] run the breakfast program and the prison program, [serving] as officer-of-the-day and [coordinating] the People's Free Health Clinic" (Valk 2010, p. 125). Though the work was fulfilling, it quickly became apparent to Touré that gendered expectations heavily impacted women within the BPP. Women were tasked with making meals and childcare. They were also not allowed to pursue romantic connections outside of the party, while men were welcome to seek romance elsewhere (Valk 2010). Touré noted that recognizing these inequities for women in the party was disparaging (Touré 2004).  
In the midst of working with the Black Panther Party, Touré met her future husband - John Wesley Stevens. Just returned from Vietnam, Stevens began working with the Black Panther Party as a volunteer . Like Touré, Stevens was tasked with selling Black Panther newspapers. Through this role, he became acquainted with Touré and, in 1972, the two became romantically involved. Following a couple years together, they had two daughters: Trina Frelimo Njeri Stevens (who Touré had at age 21) and Kianga Uruzi Stroud (born when Touré was 25). 
Still known by her birth name (Anita Stroud) at the time Touré and her husband took on African names sometime in the mid to late 70s. After giving their children uniquely African names, it became apparent to Touré and Stevens that they desired a name change. As such, she took on Nkenge Touré (with Nkenge meaning "superior mind"). Despite the powerful meaning, she asserted that she did not choose the name aware of its definition, but simply due to liking the way it sounded (Touré 2004). John Wesley Stevens then named himself Patrice, after former Congolese Prime Minister Patrice Lumumba. Lumumba led the Congolese National Movement, which sought to be independent from Belgian colonial rule, from 1958 to 1961,  (Wallerstein 2023). Patrice also took the last name Touré, ultimately solidifying Touré as the couple's shared name.  
Touré eventually left the Black Panther Party in 1972. Despite her exit, her husband remained a member. Eager to continue coalition building and serving those within her community, the Tourés formed the organization Save The People (STP). Following a mass move of Black Panther Party members to California, she felt that continuing to run the BPP's programs locally was extremely important. Save The People "[kept up] the survival programs, particularly the health program, the people's free health service, and the breakfast program" (Touré 2004, p. 38). Shortly after founding STP, the Tourés created the Education for Liberation Bookstore.   In 1979, the Tourés split after 7 years together in part due to Patrice's struggles with alcohol.  
 In the early years of the Education for Liberation Bookstore , Touré created space for women at the Bookstore to discuss their experiences with sexual assault. Having engaged with her community on the issue of sexual assault, Touré went on a local radio station to discuss rape and sexual assault. On the day she spoke, women at the DC Rape Crisis Center (DCRCC) were listening to the station. Eager to connect with her, members of the DCRCC contacted Touré. She collaborated informally with the organization before officially being hired to work for the DCRCC in October1974. 
Touré's was the second Black woman to work for the DCRCC. i Formed in 1972 by a group of white women active in the women's rights movement, the DCRCC was the first organization of its kind in the U.S. At its founding, the DCRCC was meant to tend to the short term needs of survivors of sexual assault (Valk 2010). Other initiatives included crafting educational content and hosting programs meant to prevent sexual violence (Valk 2010). Over time, Black women held the majority of staff positions at the center. Founders of the center thought having primarily Black staff felt fitting, as many of the women who required DCRCC's services were Black. The organization's founders gracefully bowed out, encouraging Black women to continue their exceptional work with the community (Nelson 2010). The center still exists today with the following mission: 
 "The DC Rape Crisis Center (DCRCC) is dedicated to creating a world free of sexual violence through conscience and action. Our call to action obliges us to facilitate systemic change by equipping diverse stakeholders to respond to survivors of sexual assault with compassion, dignity and respect, regardless of race, class, gender identity or expression, sexual orientation, immigration status, ability, age or religious affiliation." (DCRCC n.d.) 
Touré set out with a clear vision when joining the DCRCC. She spoke to this in the Voices of Feminism Oral History Project, proclaiming, "I was very passionate about the issue of rape and sexual assault and women being helped. I was very disturbed by what seemed to me to be the lack of a presence of black women and women of color in the movement. But certainly many of our clients were black women. So what was going on in my mind was one, how to serve women and two, how to get more women of color involved in the Rape Crisis Center and get the Rape Crisis Center more connected with the community, beyond what it was" (Touré 2004, p. 41). She began her work as an administrator, eventually taking on the role of Director of Community Education. In her latter role, she developed many innovative approaches to community engagement, such as Anti-Rape Week. The week consisted of various events including seminars,  workshops, and film screenings. Each  was meant to encourage attendees to join the fight to combat sexual assault and rape as well as to increase prevention awareness (Touré 2004).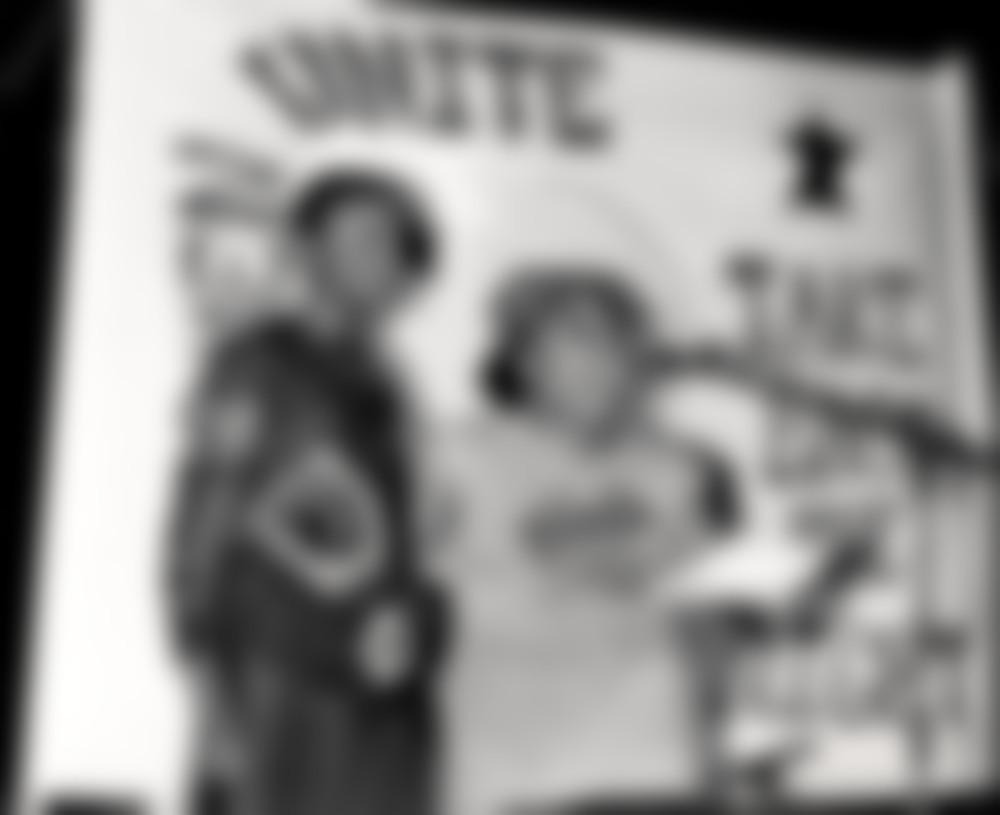 Dessie Woods (left) in her first public appearance after being freed alongside Nkenge Touré (right) of the Rape Crisis Center, one of the sponsors of the Take Back the Night, Washington, DC, 1981.  © JEB (Joan E. Biren)
Alongside her work at the DCRCC, Touré also led other women-centered initiatives. Generally concerned with treatment of Black women within Black nationalist spaces,  she created organizations and undertook various projects to highlight the narratives of Black nationalist women. Touré defined Black nationalism as "...people who felt that there needed to be a more independent agenda of Black people in this country… These people felt that in many ways, people needed to be more independent in terms of businesses, in terms of schools, education, and for some even in terms of where they lived and how they lived. People who embraced the idea of reparations, who embraced culture, your culture, your heritage, your language as it manifested in your clothing, your jewelry, and other kinds of identification as ways that helped to keep you grounded and give you pride" (Touré 2004, p. 56).  
Though the foundation of the Black Nationalist movement provided a real opportunity for those who partook in it to feel liberated, women still combated sexism within these spaces. To address this, Touré developed a women's section within the National Black United Front (NBUF) in 1981. In this section, women could discuss what challenges they were facing both within and outside of the NBUF. Men within the organization did not appreciate Touré's efforts, but  she continued hosting women-centered conferences and meetings. 
In the midst of her many projects, Touré nurtured a close friendship with fellow reproductive justice activist Loretta Ross. The pair met at a City-Wide Housing Coalition, and formed a close working relationship after Ross became Executive Director of the DCRCC in 1979 (DCRCC n.d.). In 1982, Touré and Ross developed the International Council of African Women (ICAW). In 1985, Ross and Touré planned to attend the United Nations Women's Conference in Nairobi and encouraged ICAW members and other Black women to attend as well. Though the ICAW's mission was to educate community members on Black women's issues in the DC area, Touré asserted that they were glad to organize and educate wherever possible.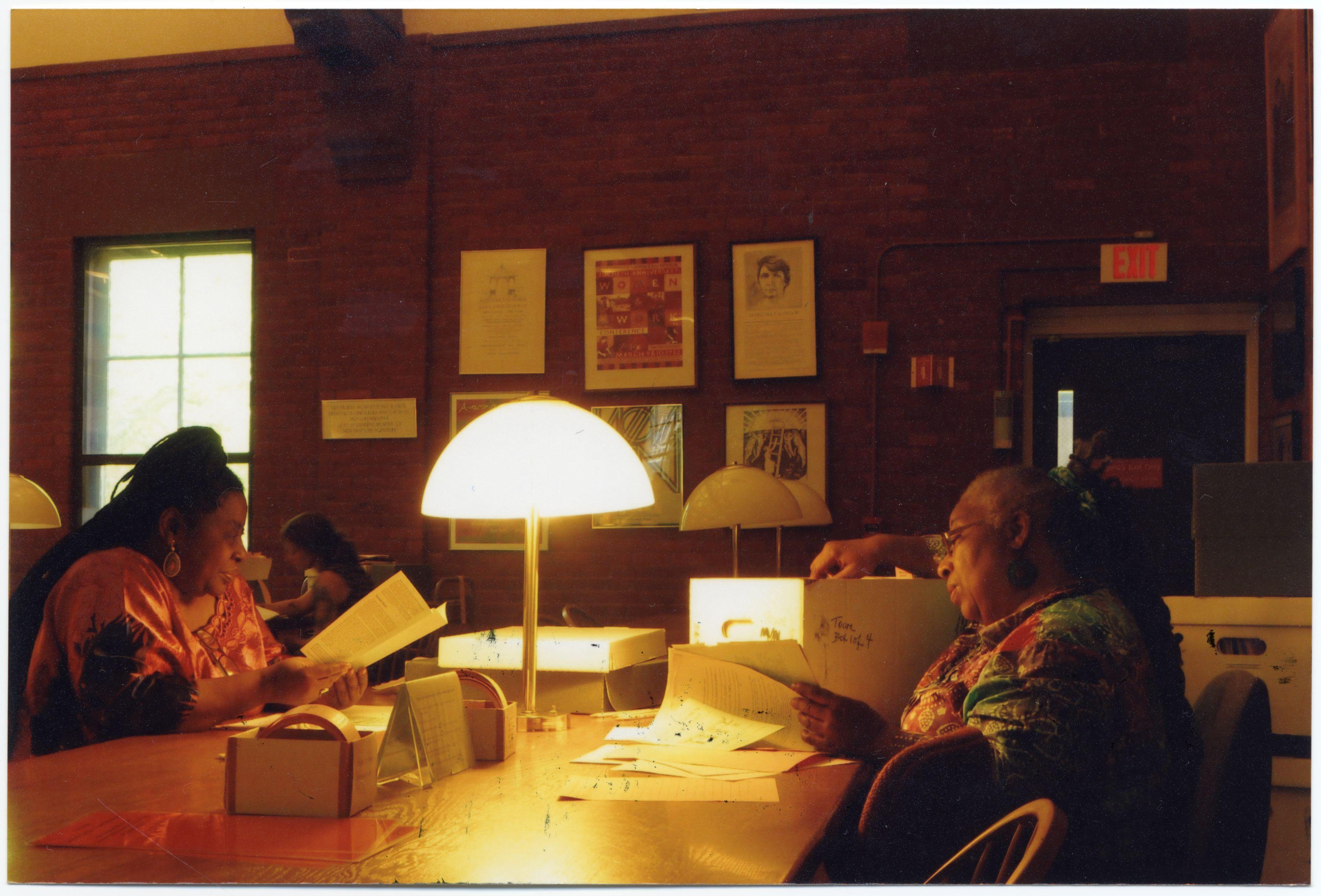 Touré worked for the DCRCC for 13 years until her resignation as Director of Community Engagement in 1988. Later that year, she developed a radio show entitled In Our Voices. Touré hosted her hour-long show weekly on local DC station WPFW 89.3 FM (a member of the Pacifica Radio network) on a weekly basis.  Originally collaborating with five other radio show hosts, each eventually dropped out due to unrelated circumstances. Alone in leading In Our Voices, Touré believed in the power of the project emphasizing that "I have used it as a platform for the voices for women. That's the idea for In Our Voices. Any issue is a woman's issue, it's simply a matter of when and where you enter the dialogue and how, that they're all women's issues and that we have to find our voices" (Touré 2004, p. 71 and 72). The radio show remained on air until 2018. 
When In Our Voices was still on air, Touré also worked with those who struggled with drug use or had been diagnosed with HIV and AIDS. Around 1989, Touré served as director of the Tando Village women's program, which was a part of a larger organization called Regional Addiction Prevention, Inc. This program placed focus on providing aid to women who were both recovering from substance abuse and were HIV-positive. She also took on various roles at other organizations that had a particular focus on women and children who struggled with substance abuse and/or HIV/AIDS. Addressing these issues also meant confronting issues of housing, which encouraged her to get involved in women's shelters and transitional housing centers on a volunteer basis. 
Touré was also involved with the SisterSong Women of Color Reproductive Health Collective. SisterSong was created by Loretta Ross in 1997. Sixteen organizations came together to create the collective, and each group belonged to different racial communities (SisterSong n.d.). The organization's mission states:   
"SisterSong is a Southern based, national membership organization; our purpose is to build an effective network of individuals and organizations to improve institutional policies and systems that impact the reproductive lives of marginalized communities," (SisterSong n.d.). 
SisterSong's diverse makeup allows for a sense of camaraderie amongst women of various backgrounds, while also encouraging accountability and mindfulness (Ross 2008). Ross attributes much of the collective's growth to the "radical, progressive analysis" of women's experiences, with this analysis being alternatively known as Reproductive Justice (Ross 2008).  Though she did not expressly state her role within the organization in her oral history, Touré did discuss her excitement at being a part of an organization that continuously makes an impact on women of color in the reproductive justice space. 
Set on a path of enacting change early in her childhood, Touré's legacy is one of dedication to a clear cause. Though faced with challenges related to both race and gender, even within the revolutionary framework of the Black Panther Party, she has remained a staunch advocate for Black women's rights. In discussing her radio show, Touré once asserted: "Raise your voice for yourself and raise your voice on behalf of someone who has not yet found their voice," (Touré 2004, p. 72). This philosophy has guided her in all avenues she has pursued. Her story reminds us to make a difference wherever you can - even in the face of adversity. 
Image Descriptions and Questions 
Photo 1 description: This photo depicts Huey Newton as Touré saw him within the Panther Paper. Inspired by him, she marks viewing this image as one of her most influential childhood experiences. 
What words come to mind when you look at this photo? How does it make you feel? 
Photo 2 description: Loretta Ross & Nkenge Touré are shown working together in the Smith College Archives reading room. This photo was taken in 2013, highlighting the long-standing collaborative relationship between the two women. 
Why is making connections with those doing similar work within our communities important? 
From your perspective, what does it mean to be "in community" with others?  
Video 3 description: In this Black Power Chronicles oral history, Touré details her journey (career, personal life, etc) thus far. 
What section of this oral history stood out to you the most and why? 
"Black Power Chronicles - Nkenge Toure." YouTube. Black Power Chronicles, 2017. https://www.youtube.com/watch?v=WJbNJy4bzgo.  
"The Foundations of Black Power." National Museum of African American History and Culture, n.d.. https://nmaahc.si.edu/explore/stories/foundations-black-power.  
Nelson, Jennifer. ""All this that has happened to me shouldn't happen to nobody else": Loretta Ross and the Women of Color Reproductive Freedom Movement of the 1980s." Journal of Women's History 22, no. 3 (2010): 136-160. doi:10.1353/jowh.2010.0579.  
Nkenge Touré. Interview by Loretta Ross, Transcript of video recording, December 4-5, 2004 and March 23, 2005. Voices of Feminism Oral History Project, Sophia Smith Collection. https://www.smith.edu/libraries/libs/ssc/vof/transcripts/Toure.pdf. 
Ross, Loretta. "Loretta Ross of SisterSong on 'Reproductive Justice 101' Part 1." YouTube, June 2008. https://www.youtube.com/watch?v=JRcT_NMa6aI.    
Valk, Anne M. Radical Sisters: Second-Wave Feminism and Black Liberation in Washington, D.C. Urbana: University of Illinois Press, 2010.  
"Vision." DCRCC. n.d. https://dcrcc.org/about-us/vision/.   
Wallerstein, I. and Cordell, . Dennis D.. "Patrice Lumumba." Encyclopedia Britannica, January 13, 2023. https://www.britannica.com/biography/Patrice-Lumumba. 
Worthington, Leah. 2016. "Black Panther Women: Armed with Politics and Guns in the Winston-Salem, Philadelphia, and Baltimore Branches." Order No. 10103243, College of Charleston. https://www.proquest.com/dissertations-theses/black-panther-women-armed-with-politics-guns/docview/1787816583/se-2. 
MLA – Dawson, Shay. "Nkenge Touré." National Women's History Museum. National Women's History Museum, 2023. Date accessed. 
Chicago - Dawson, Shay. "Nkenge Touré." National Women's History Museum. 2023. https://www.womenshistory.org/education-resources/biographies/nkenge-toure.
Image: Nkenge Touré at a Save the People class. Nkenge Touré papers, Sophia Smith Collection, Smith College, Northampton, Mass. smith_ssc_563_b003_f002_001.
"Black Nationalism." The Martin Luther King, Jr., Research and Education Institute, May 21, 2018. https://kinginstitute.stanford.edu/encyclopedia/black-nationalism. 
"Black Power." The Martin Luther King, Jr., Research and Education Institute, May 21, 2018. https://kinginstitute.stanford.edu/encyclopedia/black-power. 
"History Brief: The Black Panther Party." YouTube. Reading Through History, May 14, 2018. https://www.youtube.com/watch?v=rNBPewOfL7o.