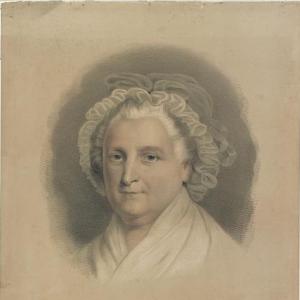 Martha Dandridge Custis Washington was the first First Lady of the United States. Washington is not only remembered as the nation's first lady who set an example for her future first ladies, but also as a wife, mother, and property owner. She is an example of strength during the Revolutionary War, and as the first lady of a new nation.
Martha Dandridge was born at Virginia's Chestnut Grove Plantation located in New Kent County, Virginia on June 2, 1731. She was the eldest of eight children born to John and Frances Dandridge and enjoyed a life of wealth as a child. Martha learned how to read and write, which was uncommon for women in Virginia during the time period. She read the Bible as well as novels and magazines, and she wrote letters, several of which survive today.
On May 15, 1750, Martha Dandridge married 38-year-old Daniel Parke Custis. Together they had four children. However, only two, John (called Jack) and Martha (called Patsy), survived past childhood. When her husband died in 1757, he left a large inheritance to Martha, making her wealthy—something that was less likely to be true a century later. This inheritance included 17,500 acres of land and 300 enslaved people.
Martha met George Washington in 1758. Washington owned Mount Vernon plantation and was the commander of the Virginia forces during the French and Indian War. Ten months after meeting, they married and she and her two surviving children moved into Mount Vernon. Her new husband took an active role in the children's lives, but tragedy struck again when Patsy died from a seizure at age 17.
Because her husband was often travelling on military and business matters, Martha Washington was the effective manager of the household. She spent every winter in military encampments with General Washington during the Revolutionary War, making socks for the soldiers and raising money for other supplies.
Martha Washington lost her last living child during the Revolution. Jack died of "camp fever" at age 26. Two of his children, Nellie Parke Custis and George Washington Parke Custis, moved into Mount Vernon and were raised by their grandparents.
The Revolutionary War ended in 1783 and General Washington returned to Mount Vernon. Both George and Martha were looking forward to a quiet retirement at their beloved home. The country, however, had other plans and George Washington became the new nation's first president in 1789. "Lady Washington" moved with her husband to New York City, the nation's first capital city. In an attempt to be accessible to the public, she held Friday evening receptions called "levees." These levees were open to both men and women and followed European traditions of holding court while also serving as an example of social etiquette for every first lady to follow. The following year, the Washington's moved to the new capital city: Philadelphia, Pennsylvania.
While in New York and Philadelphia, Martha brought an enslaved girl named Ona (Oney) Judge to act as an attendant. Shortly before returning to Mount Vernon, Judge escaped from enslavement with the help of the Philadelphia free African American community. Although the Washington's urged Judge to return, she refused. Judge gained a life of freedom in New Hampshire, where she became literate, converted to Christianity, married and had her own family.
The Washington's finally returned to Mount Vernon in 1797, after the inauguration of John Adams as president. George Washington died just two years later in 1799. After her husband's death, Washington moved out of their shared bedroom and into a room on the mansion's third floor. She chose to burn the letters between her and her husband, so there is very little record of their correspondences. In the President's will, he stated that his 160 enslaved people be freed upon Martha's death. However, Martha became fearful for her safety, so she freed her late husband's enslaved people about a year after his death.
Martha Dandridge Custis Washington died May 22, 1802. In her will, she gave away her land, cash, and treasured items including silver and portraits—but never mentioned slaves. As was typical of the times, Martha also provided money for the education of  her nephews, but not nieces. The enslaved people that remained under the Washington's control were called "dower slaves," and after Martha's passing, they remained enslaved, and were split up among the Custis grandchildren and relatives. 
For more than two decades, Martha Washington shared her husband with America, while she took on hosting duties, as well as the couple's private property and business management. She set the example for future first ladies, and is recognized for the bravery with which she met the deaths of all of her children. Martha Dandridge Custis Washington served as an example of personal courage in the harsh days of revolution and in a fragile new nation.
Brady, Patricia. Martha Washington: An American Life. Penguin, 2006.
"Levees (Receptions)." George Washington's Mount Vernon. Accessed July 12, 2018. https://www.mountvernon.org/library/digitalhistory/digital-encyclopedia/article/levees-receptions/.
"Martha Dandridge Custis Washington." The White House. Accessed July 5, 2018. https://www.whitehouse.gov/about-the-white-house/first-ladies/martha-dandridge-custis-washington/.
"Martha Washington Biography :: National First Ladies' Library." Accessed July 5, 2018. http://www.firstladies.org/biographies/firstladies.aspx?biography=1.
"Ona Judge." George Washington's Mount Vernon. Accessed July 5, 2018. https://www.mountvernon.org/library/digitalhistory/digital-encyclopedia/article/ona-judge.
"Ten Facts About Martha Washington." George Washington's Mount Vernon. Accessed July 3, 2018. https://www.mountvernon.org/george-washington/martha-washington/ten-facts-about-martha-washington/.
"The Correspondence of George and Martha Washington." The Washington Papers (blog). Accessed July 3, 2018. http://gwpapers.virginia.edu/history/articles/the-correspondence-of-george-and-martha-washington/.
"The Will of Martha Washington of Mount Vernon." George Washington's Mount Vernon. Accessed July 9, 2018. https://www.mountvernon.org/education/primary-sources-2/article/the-will-of-martha-washington-of-mount-vernon/.