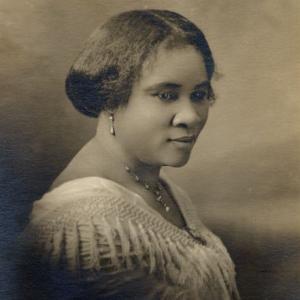 Entrepreneur, philanthropist, and activist, Madam C.J. Walker rose from poverty in the South to become one of the wealthiest African American women of her time. She used her position to advocate for the advancement of black Americans and for an end to lynching.
Born Sarah Breedlove on December 23, 1867, on a plantation in Delta, Louisiana, one of six children of Owen and Minerva Anderson Breedlove, former slaves-turned sharecroppers after the Civil War. Orphaned at age seven, Walker lived with her older sister Louvenia, and the two worked in the cotton fields. Partly to escape her abusive brother-in-law, at age 14 Walker married Moses McWilliams. When her husband died in 1887, Walker became a single parent of two-year old daughter Lelia (later known as A'Lelia).
Seeking a way out of poverty, in 1889, Walker moved to St. Louis, Missouri, where her four brothers were barbers. There, she worked as a laundress and cook. She joined the African Methodist Episcopal Church, where she met leading black men and women, whose education and success likewise inspired her. In 1894, she married John Davis, but the marriage was troubled, and the couple later divorced.
Struggling financially, facing hair loss, and feeling the strain of years of physical labor, Walker's life took a dramatic turn in 1904. That year, she not only began using African American businesswoman Annie Turbo Malone's "The Great Wonderful Hair Grower," but she also joined Malone's team of black women sales agents. A year later, Walker moved to Denver, Colorado, where she married ad-man Charles Joseph Walker, renamed herself "Madam C.J. Walker," and with $1.25, launched her own line of hair products and straighteners for African American women, "Madam Walker's Wonderful Hair Grower."
Initially, Walker's husband helped with advertising and establishing a mail order business. After the pair divorced in 1910, she relocated to Indianapolis and built a factory for her Walker Manufacturing Company. An advocate of black women's economic independence, she opened training programs in the "Walker System" for her national network of licensed sales agents who earned healthy commissions. Ultimately, Walker employed 40,000 African American women and men in the US, Central America, and the Caribbean. She also founded the National Negro Cosmetics Manufacturers Association in 1917.
Walker's business grew rapidly, with sales exceeding $500,000 in the final year of her life. Her total worth topped $1 million dollars, and included a mansion in Irvington, New York dubbed "Villa Lewaro;" and properties in Harlem, Chicago, Pittsburgh, and St. Louis.
As her wealth increased, so did her philanthropic and political outreach. Walker contributed to the YMCA, covered tuition for six African American students at Tuskegee Institute, and became active in the anti-lynching movement, donating $5,000 to the NAACP's efforts. Just prior to dying of kidney failure, Walker revised her will, bequeathing two-thirds of future net profits to charity, as well as thousands of dollars to various individuals and schools.
Bundles, A'Lelia. On Her Own Ground: The Life and Times of Madam C. J. Walker. Washington Square Press, 2002.
Gates, Henry Louis, Jr. "Who Was the 1st Black Millionairess? Amazing Facts About the Negro: Even if You Know the Answer, You Don't Know the Whole Story." TheRoot.com, last modified June 24, 2013.
Dwojeski, Anne E., William Grundy, Erica Helms, Katherine Miller, and Nancy F Koehn. "Madam C.J. Walker: Entrepreneur, Leader, and Philanthropist." Harvard Business Review, hbr.org, last modified March 26, 2007. 
Fisher, Walter. "Sarah Breedlove Walker" in James, Edward T., Janet Wilson James, Paul S. Boyer. Notable American Women: 1607-1950, A Biographical Dictionary. Cambridge: Belknap Press, 1971.
Madam C.J. Walker: Entrepreneur, Philanthropist, Social Activist (official website). Accessed October 10, 2014.
National Parks Service, U.S. Department of the Interior. "Two Entrepreneurs: Madam C.J. Walker and J.C. Penney." Accessed October 10, 2014. 
New York Times, "On this Day: Obituary, Wealthiest Negress Dead." The New York Times. May 26, 1919. Accessed October 10, 2014.
PHOTO: Smithsonian Institution
MLA - Michals, Debra.  "Madam C. J. Walker."  National Women's History Museum.  National Women's History Museum, 2015.  Date accessed.
Chicago - Michals, Debra.  "Madam C. J. Walker." National Women's History Museum.  2015.  www.womenshistory.org/education-resources/biographies/madam-cj-walker.
Books:
Hobkirk, Lori. Madam C.J. Walker, Journey to Freedom. North Mankato, MN: Child's World, 2000. [ages 9-12]

Lommel, Cookie. Madam CJ Walker. Los Angeles: Holloway House Publishing Company, 1993.

Lowry, Beverly. Her Dream of Dreams: The Rise and Triumph of Madam C.J. Walker.  New York: Knopf, 2003.
Websites: