Determined to Rise
Women's Historical Activism for Equal Rights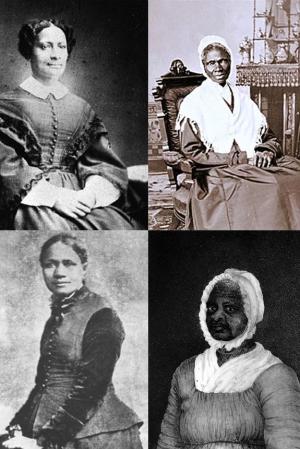 As the centenary of woman suffrage approaches, the National Women's History Museum presents a commemorative initiative, "Determined to Rise:" Women's Historical Activism for Equal Rights. This series of public programming features scholarly panels, public events, and lively discussions on women's history topics from the early 1830s when African-American women abolitionist groups organized to fight for freedom, personhood, and women's rights to the ratification of the 19th Amendment in 1920.
"Determined to Rise" shapes a broader understanding of the woman suffrage movement throughout the turn of the century, acknowledging not only the achievements resulting in the ratification of the 19th Amendment, but also its profound limitations.
Please join us for a discussion at an upcoming event near you.
The "Determined to Rise": Women's Historic Activism for Equal Rights traveling panel series is generously funded by Ms. Jeannette Sharpe.
---
NEXT DETERMINED TO RISE EVENT:
Monday, March 9, 2020
The Ebell of Los Angeles
743 South Lucerne Boulevard, Los Angeles, CA 90005
11:30am
Topic: Valiant Women of the Vote
Passed by Congress June 4, 1919, and ratified on August 26, 1920, the 19th amendment guarantees women the right to vote.  Achieving this milestone took decades of struggle and protest, continuing even after ratification.
Join Susan Scanlan, Member Emerita of the National Women's History Museum Board of Directors, for an inspirational presentation about the history of this important amendment and the brave women who fought for its passage.
Please Wear White – Wear white to honor the fight!
To register, go to https://ebellofla.com/event/monday-lunch-valiant-women-of-the-vote/
---
Tuesday, March 10, 2020
Hallock Auditorium, Lewis Environmental Studies Building, Oberlin College
122 Elm Street, Oberlin, OH, 44074
4:30pm – 6:00pm EST; doors open at 4pm
Topic: Tainted: Anti-Suffragism and Race Politics in the Crusade for Women's Votes
Panelists:
Angela P. Dodson, Author, Remember the Ladies: Celebrating Those Who Fought for Freedom at the Ballot Box  (Center Street Press, 2017):

Angela P. Dodson is author of "Remember the Ladies: Celebrating Those Who Fought for Freedom at the Ballot Box" about the woman suffrage movement in the United States and women's political gains up to the present. Dodson is also an independent editor, writer and consultant. She founded an editorial services company, Editorsoncall LLC, in 2012, to link freelancers to clients in need of writing, editing, graphic and photographic services. She earned a bachelor's degree in journalism at Marshall University and a master's degree in journalism and public affairs from the American University.

Angela is a former senior editor and former Style editor for the New York Times. She has most recently been an online editor and book reviewer for DIVERSE: Issues In Higher Education, diverseeducation.com, and diversebooks.net. She is the former executive editor of Black Issues Book Review. 

Dr. Carol Lasser, Emerita Professor of History, Oberlin College:

Carol Lasser is Emerita Professor of History at Oberlin College and former president of the Society for the History of the Early American Republic (SHEAR).  At Oberlin she taught about women, gender and race in American history, and chaired the History Department and the Gender, Sexuality and Feminist Studies Program.  Her books include Antebellum American Women (with Stacey Robertson, 2010); Friends and Sisters:  Letters Between Lucy Stone and Antoinette Brown Blackwell, 1846-1893, (with Marlene Merrill, 1987), Educating Men and Women Together: Coeducation in a Changing World  (1987), and, most recently, with Gary Kornblith, Elusive Utopia: The Struggle for Racial Equality in Oberlin, Ohio (Louisiana State University Press 2018).  Her articles address topics ranging from Civil War courtship to utopianism to the scholarship of teaching and learning. With students, she created Digitizing American Feminisms: Projects from the Oberlin College Archives (

http://americanfeminisms.org/

), featuring materials that bring feminist history alive. Her current projects include ongoing research on the life Lethia Cousins Fleming (1876-1963), a Cleveland woman of color who pursued a pioneering political career in the first half of the twentieth century.  Professor Lasser is also rethinking the racial implications of the Nineteenth Amendment in her work-in-progress, "Bending to the Color Line: The Fight for Woman Suffrage in Ohio," and she continues her work exploring Oberlin history, focusing on racial inequality in employment, public schools, housing and recreation from the 1930s to the 1980s.  She earned her B.A. at the University of Pennsylvania and her Ph.D. at Harvard University.

Dr. Ben Railton, Professor of English Studies and Coordinator of American Studies, Fitchburg State University: Ben Railton is Professor of English Studies and Coordinator of American Studies at Fitchburg State University in Massachusetts. He is the author of five books, most recently

We the People: The 500-Year Battle over Who is American

(Rowman and Littlefield's American Ways series). He also writes the daily American Studies blog, contributes the bimonthly Considering History column to the

Saturday Evening Post

, and is the Boston Chapter Leader for the Scholars Strategy Network.

Moderator: Tamika Nunley, Assistant Professor of History, Oberlin College:

Tamika Nunley is an assistant professor of American history. Her research and teaching interests include slavery, gender, 19th-century legal history, digital history, and the American Civil War.

At Oberlin, she created the History Design Lab that allows students to develop scholarly projects that involve methodological approaches that range from digital humanities, exhibit design, oral history, podcasts, historical fiction, and public history.

Her book manuscript, ''At the Threshold of Liberty: Women, Slavery, and the Boundaries of Freedom in Washington, D.C.,'' examines how black women strategically used the laws, geography, and community networks of the nation's capital to make claims to liberty during the Civil War era.

Her work has been supported by the Andrew W. Mellon and Woodrow Wilson foundations as well as the American Association of University Women.
To register, go to https://www.eventbrite.com/e/determined-to-rise-womens-historic-activism-for-equal-rights-tickets-93388356087
---
Thursday, March 19, 2020
The Forum, Michigan History Center
702 W. Kalamazoo St, Lansing, MI 48915
6:30pm – 8:00pm
In collaboration with Michigan Women Forward
Topic: Woman's Suffrage: The West Came First
Panelists:
Dr. Molly Rozum, Associate Professor and Director of Graduate Studies, The University of South Dakota (Vermillion, SD):

Molly P. Rozum, Ph.D., is the co-editor (with Lori Ann Lahlum) of Equality at the Ballot Box: Votes for Women on the Northern Great Plains, published by South Dakota Historical Society Press (2019). The volume includes her article, "Citizenship, Civilization, and Property: The 1890 South Dakota Vote on Woman Suffrage and Indian Suffrages." Rozum is Associate Professor and Ronald R. Nelson Chair of Great Plains and South Dakota History at The University of South Dakota, Vermillion and teaches the histories of South Dakota, and the Great Plains, and the American West, and Modern Women's History. Rozum grew up in Mitchell, South Dakota.
Dr. Lori Ann Lahlum, Professor, Department of History, Minnesota State University, Mankato (Mankato, MN): Lori Ann Lahlum is professor of history at Minnesota State University, Mankato, where she teaches courses on the American West, Minnesota history, and western women's and gender history. She and Molly Rozum edited Equality at the Ballot Box: Votes for Women on the Northern Great Plains, which came out with South Dakota Historical Press in 2019. Lahlum also publishes on Norwegian America.
Dr. Virginia Caruso, Historian and Member, Board of Trustees, Historical Society of Michigan (Plainwell, MI):

Virginia Paganelli Caruso retired in 2001 after 34 years of teaching history at 4-year liberal arts colleges, and community colleges. She holds graduate degrees from the University of Michigan where she received her MA, has a Specialist in the Arts degree from Western Michigan University, and her PhD from Michigan State University. Her interest in both Michigan and Women's History dates back to early 1981 when

she discovered that the standard texts on Michigan History were inconsistent about when women in Michigan achieved equal suffrage. Focusing on this topic for her dissertation, she has been researching and talking about Woman Suffrage, voting rights, voting in Michigan, and the political activism of women ever since. She currently serves on the board of the Historical Society of Michigan, moderates panels at HSM conferences, serves as a Michigan History Day judge, and is active with the local Friends of Michigan Library Group. She also conducts local history research with the informal local history group that uses the library's resources.

Moderator: Valerie Marvin, Historian & Curator of the Michigan State Capitol (Lansing, MI):

Valerie Marvin serves as the Historian & Curator of the Michigan State Capitol, a National Historic Landmark.

In this capacity, she oversees the Capitol's historical collections, and conducts extensive research on Capitol and legislative history, sharing her findings through publications, lectures, and social media.

She is a proud graduate of the University of Michigan (Bachelor of Arts in Russian Studies, 2005) and Eastern Michigan University (Masters of Science in Historic Preservation, 2009). She is an active member of the Historical Society of Greater Lansing, the Downtown Lansing Inc. Design Committee, and the Lansing Woman's Club. Valerie lives with her husband David in a 1906 home in downtown Lansing.
To register, go to https://www.eventbrite.com/e/determined-to-rise-womens-historic-activism-for-equal-rights-tickets-93316306585
---
Tuesday, April 28, 2020
The Newberry Library
60 West Walton Street, Chicago, IL  60610-3305
6:00pm – 7:30pm CST; doors open at 5:30 PM CST
Topic: Chicago's African American Women in the Fight for the Vote
Panelists:
Dr. Tikia K. Hamilton

graduated in 2015 from Princeton University with a Ph.D. in History. While at Princeton, she conducted research on the efforts of African Americans to overcome the racial disparities that existed under the segregated school system in Washington, D.C. prior to Brown v. Board. Currently, she is a fellow-in-residence at The Newberry Library, where she is completing revisions for her first book, Making a Model System: The Battle for Educational Equality in the Nation's Capital Before Brown. Dr. Hamilton also holds a Masters in African American Studies from Columbia University and a B.A. from Dartmouth College, where she conducted extensive research in the area of black women's history and organizational activism.  Possessing over a decade of teaching experience, Dr. Hamilton also has taught in various settings, including Princeton, the Latin School of Chicago, Sidwell in Washington, D.C., and Fieldston in New York City. She is the recipient of numerous fellowships and grants, including the National Association of Education's Spencer Fellowship, the Mellon Minority Undergraduate Research Fellowship, and Columbia University's Paul Robeson Fellowship. Dr. Hamilton also was a recipient of the UCLA Summer Research Fellowship, under which she researched black women's resistance strategies in the post-Emancipation period. She is also operates Triple Ivy Writing and Educational Solutions.

Dr. Wanda Henricks

, Distinguished Professor Emerita at the University of South Carolina, received her Ph.D. from Purdue University.  Her most recent book Fannie Barrier Williams: Crossing the Borders of Region and Race (University of Illinois Press, 2014) is the first biography of one of the most influential African American intellectuals and reformers of the late nineteenth and early twentieth centuries.  The book was awarded the Letitia Woods Brown prize by the Association of Black Women Historians.  She is also the author of Gender, Race, and Politics: Black Club Women in Illinois (Indiana University Press, 1998) and several articles and essays that include "On the Margins: Creating a Space and Place in the Academy" in Telling Histories: Black Women Historians in the Ivory Tower (University of North Carolina Press, 2008).  She served as a senior editor of the three volume Black Women in America: Second Edition (Oxford University Press, 2005) and is currently an editor of the Women, Gender, and Sexuality in American History Series at the University of Illinois Press.  She is now completing a book manuscript on the life of Madie Beatrice Hall Xuma.  A transnational study, the book explores the ways in which an African American woman negotiated Jim Crow America, navigated the institutionalization of apartheid South Africa and traversed race, classed and gendered global geographies during the Cold War. 

Dr. Kenvi Phillips

is the Curator for Race and Ethnicity at the Arthur and Elizabeth Schlesinger Library on the History of Women in America at Harvard University. An accomplished historian, she holds an MA in public history and a PhD in US history from Howard University. Before arriving at the Schlesinger, she worked at the Mary McLeod Bethune House in Washington, DC, and the Maryland National Capital Park and Planning Commission.

Moderator: Dr. Liesl Olson

is Director of Chicago Studies at the Newberry. Her research interests include twentieth-century literature, modernism, critical theory, feminism, and the visual arts. She is the author of 

Chicago Renaissance: The Midwest and Modernism 

(Yale U P, 2017), a history of the literary and cultural centrality of Chicago in the first half of the twentieth century; and 

Modernism and the Ordinary 

(Oxford U P, 2009), which examines a broad range of twentieth-century works that represent the habitual and unselfconscious actions of everyday life. From 2005-2009 Olson taught at the University of Chicago as a Harper-Schmidt Fellow in the Humanities Division. She has received fellowships from the National Endowment for the Humanities, the Newberry, and the American Council of Learned Societies. Olson completed her doctorate in English and Comparative Literature from Columbia University, and her BA from Stanford University.
Registration will be available soon.
---
Other Determined to Rise events will take place soon (more information to follow):
June 22: NCGS 2020 Conference, Sheraton Philadelphia Hotel, Philadelphia, PA