Lillian Wald
March 1867-September 1940)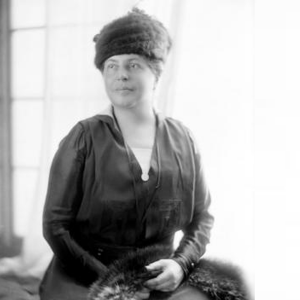 Lillian D. Wald helped to bring health care to the residents of New York's Lower East Side at the turn of the twentieth century. As a "practical idealist who worked to create a more just society," Wald fought for public health care, women's rights, and children's rights while running the Henry Street Settlement. 
Born the third of four children to a Jewish family in Cincinnati, Ohio on March 10, 1867, Lillian D. Wald experienced a childhood of privilege. Her ancestors had left Europe after the 1848 revolutions to seek new opportunities in the United States and had done well. Her father, Max D. Wald, was a successful optical goods merchant and her mother, Minnie Schwarz, was amiable and warm. Wald considered herself a "spoiled" child, growing up in a happy home always filled with books and music. In 1878, the family moved to Rochester, New York, which Wald considered her hometown. While there she was educated at the Miss Cruttenden's English/French Boarding and Day School where she excelled in languages, arts, math, and science. Wald applied to Vassar College, a premier all-women's college in New York, at 16 hoping to continue her studies but was rejected due to her age. She then traveled for six years, touring the world and working briefly as a newspaper reporter. 
In 1889, Wald met a young nurse who inspired her to go into nursing herself. She enrolled at the New York Hospital Training School and upon her graduation in 1891, went to work for the New York Juvenile Asylum, an orphanage. Beyond caring for the children, Wald helped with a class about home nursing for poor immigrant families on the Lower East Side. She also began classes at the Women's Medical College in New York. 
While organizing classes and providing nursing on the Lower East Side, Wald witnessed first-hand the hardship and deprivation experienced by poor immigrant families living in the neighborhood. The Lower East Side was an incredibly diverse and densely populated area. At the time that Wald was working there, it was also home to a large Jewish immigrant population. In fact, if the Lower East Side was its own city, it would have been the largest Jewish city in the nineteenth century. Many of these families lived in tenement housing, low-rise, cheaply built apartment buildings. Because rents were low, they were the housing choice for many newly arrived immigrants, and it was not unusual for a family of 10 to live in a 325-square-foot apartment. Because of the cramped quarters and lack of upkeep on the buildings, many tenement residents were frequently sick. 
After providing health care to a young girl's mother in a dirty, dilapidated tenement, Wald decided to dedicate her life's work to the tenement community. She left medical school and moved with a friend to the College Settlement House on the Lower East Side. In 1893, Wald coined the term "public health nurse" to describe those who worked outside hospitals in mostly poor and middle-class communities. With the help of donors and friend Mary Brewster, she also started the Visiting Nursing Service of New York to bring affordable and decent health care to the neighborhood. In 1894, Wald and Brewster started the Henry Street Settlement House, an organization dedicated to providing social services and instruction in various subjects for the Lower East Side community. Historians have since critiqued the settlement house movement for the ways in which it forced certain expectations and behaviors on immigrant communities. As part of her work with the Settlement, Wald established one of the earliest playgrounds and helped pay the salary for the first public school nurses in NYC. 
By 1913, the Henry Street Settlement had expanded to seven buildings on Henry Street with two satellite centers. It had 3,000 members in its classes and clubs and 92 nurses making an estimated 200,000 home health calls a year. Wald also made the Settlement available as a meeting place for the NAACP. In 1930, Wald retired and became the Director Emeritus for the Henry Street Settlement. 
Beyond her work with the Henry Street Settlement, Wald was a tireless advocate for the rights of women, children, immigrants, and laborers. She helped start the United States Children's Bureau, the National Child Labor Committee, and the National Women's Trade Union League. She supported and worked for a women's right to birth control and was a part of the women's suffrage movement. She also lobbied for workplace health and safety. She initially opposed U.S. entry into World War I but became the Chairman of the Committee on Community Nursing of the American Red Cross once war was inevitable. After WWI, she chaired the Red Cross's campaign to end the Spanish Flu epidemic of 1918 and represented the U.S. at International Red Cross Meetings. In 1922, the New York Times named Wald one of the 12 greatest living American women. She later received the Lincoln Medallion for her work as an "Outstanding Citizen of New York."   
Wald died on September 1, 1940 at the age of 73. She was honored at both public and private meetings, including one at Carnegie Hall where 2,500 people listened to speeches from the governor and mayor praising her work. Wald's legacy lives on in the Henry Street Settlement and the Visiting Nurse Service of New York as well as in countless other ways in which people approach health care.   
Feld, Marjorie N. Lillian Wald: A Biography. Chapel Hill: University of North Carolina Press, 2008. 
Krucoff, Rebecca. New York Neighborhoods: The Lower East Side. The New York Public Library's Teaching and Learning Program, 2012. https://www.nypl.org/sites/default/files/lowereastsideguide-final_1.pdf 
Lasch-Quinn, Elisabeth. Black Neighbors: Race and the Limites of Reform in the American Settlement House Movement, 1880-1945. Chapel Hill: The University of North Carolina Press, 1993. 
Stansell, Christine. City of Women: Sex and Class in New York, 1789-1860. New York: Knopf, 1986. 
Wald, Lillian. Windows on Henry Street. Boston: Little Brown, 1934. 
Wald, Lillian, The House on Henry Street. New York: H. Holt and Company, 1915.