Julia Hunt Catlin Park Depew Taufflieb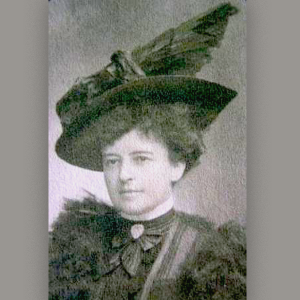 As a socialite, Julia Hunt Catlin Park Depew Taufflieb was known for throwing parties and entertaining many guests. She lived in many cities across the globe, but finally found a home in France. During World War I, she decided to invite more people into her home than ever before. She turned her large mansion into a hospital with over three hundred beds. The French government recognized her generosity and kindness, and she became the first American woman to be awarded the Legion d'honneur and Croix de Guerre.
Julia Hunt Catlin was born on July 6, 1864 in Vermont. Her mother was Frances Hunt and her father was Julius Catlin Jr., from New York. She lived in New York with her parents and her two sisters Edith and May. In 1889, she married Trenor L. Park, the president of the American Yacht Club and Vice President of the American Trading Company. His status in the community introduced Julia to the socialite lifestyle. Together they had three children, two of whom did not live to adulthood. When her husband died in 1907, she moved to Paris, France with her daughter Frances. While in France, she met Chauncey Depew who was a popular businessman. Depew was the nephew of Senator Chauncey Mitchell Depew from Buffalo, New York. He tried to go to court and legally change his name so people would not confuse him with his uncle, but the court decided against it. The two were married at King's Weigh House Church in England on February 15, 1911. A few years later, she and Depew divorced. However, in 1918 Julia married General Emile Taufflieb of the French Army.
During the first year of World War I, Taufflieb decided to turn her mansion into a complete 300-bed hospital close to the front lines of battle. Her mansion was called Chateau d'Annel and she ran it as a temporary hospital for four years. Using her own money, she provided the resources to take care of any wounded Allied soldiers in her area. As the number of people who needed treatment grew, she wrote a letter to the United States for money to support her hospital. There were over 1,500 refugees nearby and Taufflieb wanted to find a place for them to stay. She was sent $4,000 (almost $100,000 in 2018) to help support her aid work. She was able to stay at her home and manage the hospital even though the town was often under attack. Yet, when the German army began to come closer to France, it was no longer safe for her to stay in France. She went to England but was soon able to return after the German army left France. When she returned, other American people in France were inspired to open their own military hospitals during times of war. In 1917 she was recognized by the French government for her hospital and her dedication to helping injured soldiers.
Julia and Emile Taufflieb remained married and spent most of their time in Cannes, France after the war. Her only daughter Frances married the head surgeon at her World War I hospital in 1937. Unfortunately, Emile died a year later. In 1940, Taufflieb had to leave her home again for her safety during World War II. This time, she decided to come back to the United States and temporarily relocated to California. She returned to Cannes, France a few years later and died at her home in 1947.
Chaudhary, Yasmin. "American Socialite Was WWI Humanitarian Hero." The United States World War I Centennial Commission. 2013. Accessed October 9, 2018. https://www.worldwar1centennial.org/index.php/

"PRAISES AMERICAN NURSES.; Mme. Tauffleib Tells of Four Years of War Hospital Work." The New York Times (New York), February 24, 1919, Archives ed.
Taufflieb, Julia. "Memories of Rudyard Kipling (2)." Kipling. Interviews and Recollections., 1983, 319-21. doi:10.1007/978-1-349-05109-0_32.
MLA - Alexander, Kerri Lee.  "Julia Hunt Catlin Park Depew Taufflieb." National Women's History Museum.  National Women's History Museum, 2019.  Date accessed.
Chicago - Alexander, Kerri Lee.  "Julia Hunt Catlin Park Depew Taufflieb."  National Women's History Museum.  2019.  www.womenshistory.org/education-resources/biographies/julia-hunt-catlin-park-depew-taufflieb.