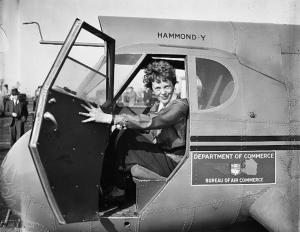 She never reached her fortieth birthday, but in her brief life, Amelia Earhart became a record-breaking female aviator whose international fame improved public acceptance of aviation and paved the way for other women in commercial flight.
Amelia Mary Earhart was born on July 24, 1897 in Atchison, Kansas to Amy Otis Earhart and Edwin Stanton Earhart, followed in 1899 by her sister Muriel. The family moved from Kansas to Iowa to Minnesota to Illinois, where Earhart graduated from high school. During World War I, she left college to work at a Canadian military hospital, where she met aviators and became intrigued with flying.
After the war, Earhart completed a semester at Columbia University, then the University of Southern California. With her first plane ride in 1920, she realized her true passion and began flying lessons with female aviator Neta Snook. On her twenty-fifth birthday, Earhart purchased a Kinner Airster biplane. She flew it, in 1922, when she set the women's altitude record of 14,000 feet. With faltering family finances, she soon sold the plane. When her parents divorced in 1924, Earhart moved with her mother and sister to Massachusetts and became a settlement worker at Dennison House in Boston, while also flying in air shows.
Earhart's life changed dramatically in 1928, when publisher George Putnam—seeking to expand on public enthusiasm for Charles Lindbergh's transcontinental flight a year earlier—tapped Earhart to become the first woman to cross the Atlantic by plane. She succeeded, albeit, as a passenger. But when the flight from Newfoundland landed in Wales on June 17, 1928, Earhart became a media sensation and symbol of what women could achieve. Putnam remained her promoter, publishing her two books: 20 Hrs. 40 Mins. (1928) and The Fun of It (1932). Earhart married Putnam in 1931, though she retained her maiden name and considered the marriage an equal partnership.
Earhart's popularity brought opportunities from a short-lived fashion business to a stint as aviation editor at Cosmopolitan (then a family magazine). It also brought financing for subsequent record-breaking flights in speed and distance. In 1932, she became the first woman to fly solo across the Atlantic—as a pilot. Her awards included the American Distinguished Flying Cross and the Cross of the French Legion of Honor. In 1929, Earhart helped found the Ninety-Nines, an organization of female aviators.
In 1935, Purdue University hired Earhart as aviation advisor and career counselor for women and purchased the Lockheed plane she dubbed her "flying laboratory." On June 1, 1937, she left Miami with navigator Fred Noonan, seeking to become the first woman to fly around the world. With 7,000 miles remaining, the plane lost radio contact near the Howland Islands. It was never found, despite an extensive search that continued for decades.
MLA - Michals, Debra.  "Amelia Earhart."  National Women's History Museum. National Women's History Museum, 2015.  Date accessed. 
Chicago - Michals, Debra.  "Amelia Earhart." National Women's History Museum. 2015. www.womenshistory.org/education-resources/biographies/amelia-earhart.
Web Sites:
Books:
Earhart, Amelia.  20 Hours, 40 Minutes. G.P. Putnam's Sons. 1928.

Earhart, Amelia, The Fun of It. Harcourt, Brace and Company.  1933.

Butler, Susan.  East to the Dawn: The Life of Amelia Earhart. Da Capo Press: Cambridge, Massachusetts, 1997.

Fleming, Candace.  Amelia Lost: The Life and Disappearance of Amelia Earhart.  New York: Swartz & Wade Books, 2011.

Lovell, Mary.  The Sounds of Wings. New York, New York: St. Martin's Press, 1989.