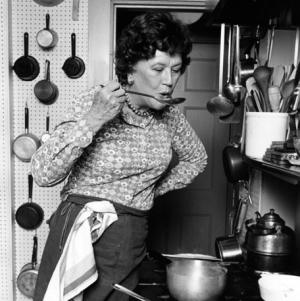 Famous chef, author, and television personality, Julia Child made French cuisine accessible to American audiences. She was one of the first women to host her own cooking show on television, providing tips and lessons on how to prepare French food simply and easily.
Born on August 15, 1912 in Pasadena California, Julia Carolyn McWilliams, grew up in a life of wealth and privilege. Her father was a banker and landowner, while her mother had came from the Weston family, owners of the Weston Paper Company in Massachusetts. Her father was civic minded and sought to instill such values in his children.
The Weston family typically sent their children to boarding school. For her high school education, Child was sent to the Katharine Branson School for Girls, a preparatory school in Northern California. Here, she attended classes in Latin, French, history, and mathematics to prepare her for college. Child also engaged in a wide range of sporting activities including: tennis, swimming, and basketball. Although not very scholastic, she was quite popular at school and was active in a number of school groups. Growing to a height of six feet, two inches, Child was the natural choice to be captain of the school's basketball team. She was also president of the Vagabonds, a hiking club.
Child's parents always intended for her to go on to college after high school. Her mother and aunt had attended Smith College in Massachusetts, so Child also attended the school. She majored in history and was quite active in college clubs, including the Grass Cops, an organization that's mission was to keep students off the campus' lawns.
After graduating from Smith College in 1934, Child moved back to California. However, in 1935, she returned to Massachusetts in order to take a secretarial course at the Packard Commercial School. After a month of training, Child quit the course because she had found a secretarial job with W. J. Sloane, a home furnishings company, in New York City. She worked for this company until 1939, when she was fired for insubordination over a mix up with a document.
In September 1941, Child began to volunteer with the Pasadena chapter of the American Red Cross to help get the country ready for war. There she headed the Department of Stenographic Services and worked in the Aircraft Warning Service. She also wanted to join the military, and applied to join the Women Accepted for Volunteer Emergency Service (WAVES) and the Women's Army Corps (WACs). However, Child was rejected from both organizations because of her height. She was too tall. Wanting to become more involved in the war effort, she moved to Washington, DC in 1942. In August of that year, she become a senior typist with the Research Unit of the Office of War Information. At the close of 1942, Child took up the position of junior research assistant with the Secret Intelligence Branch of the Office of Strategic Services (OSS), a forerunner to the CIA. She undertook a variety of positions at the OSS, including clerk at the director's office and administrative assistant in the Registry of OSS. She also eagerly volunteered to work for OSS overseas. From 1944-1945, she kept intelligence files for the OSS in India. The following year, she worked for the organization in China.
Following the war, she married Paul Child, whom she had met while working for the OSS in India. Paul Child worked for the US Foreign Service. In 1948, the couple was posted to Paris for Paul's work. It was in Paris, that Child began to take cooking seriously. She enrolled in the famous Le Cordon Bleu cooking school.
During this time, she also met Simone Beck and Louisette Bertholle. Together the three women published Mastering the Art of French Cooking in 1961. This book brought French cooking and cookery techniques to the American public. It also launched Child on her cooking career, which lasted for over forty years.
The Childs returned to the United States in the 1960s and settled in Cambridge, Massachusetts. At this time, Child was approached by television executives to host a cooking show, The French Chef, based on her book. The first program was shown on what came to be known as PBS in 1963 and remained on the air for a decade. It brought Child national and international recognition. She also won a Peabody and Emmy Award for the program. She went on to publish several more cookbooks, including a second volume of Mastering the Art of French Cooking. She also hosted several other television series, including Cooking with Master Chefs and Julia Child & Jacques Pépin Cooking at Home, for which she won a Daytime Emmy Award.
She established organizations to inspire others to share her love of food and to expand people's awareness of cooking. She co-founded the American Institute of Wine and Food in 1981, and created the Julia Child Foundation for Gastronomy and Culinary Arts in 1995. For her work, she was awarded honorary doctorate degrees from numerous schools, including Harvard University and Brown University.
Child died on August 13, 2004, having left a legacy of culinary art and education. Her kitchen, made famous by her cooking programs, was donated to the Smithsonian National Museum of American History. By visiting the Smithsonian museum, thousands of people now peek into Child's kitchen each year. The US Postal Service marked Child's achievements, when they included her in the 2014 "Celebrity Chefs Forever" stamp series.
Books
Conant, Jennet. A Covert Affair: Julia Child and Paul Child in the OSS. New York: Simon & Schuster, 2011.
Fitch, Noel Riley. Appetite for Life: The Biography of Julia Child. New York: Random House, 1997.
Newspaper
Websites
PHOTO: ©Lynn Gilbert, 1978, Cambridge, Mass. 
MLA - Spring, Kelly. "Julia Child." National Women's History Museum. National Women's History Museum, 2017. Date accessed.
Chicago - Spring, Kelly. "Julia Child." National Women's History Museum. 2017. www.womenshistory.org/education-resources/biographies/julia-child.
Books
Beck, Simone, Bertholle, Louisette, and Julia Child. Mastering the Art of French Cooking. New York: Knopf, 1961.
Child, Julia, and Simone Beck. Mastering the Art of French Cooking, Volume Two. New York: Knopf, 1973.
Online Exhibition
Video
The French Chef. WGBH, 1963-1973.